Every afternoon in Amer, more than 300 students aged from 3 to 15 spend their time at the Tushita Foundation learning from our teachers and from volunteers who come from the best Universities around the world such as the Institute of Political Science in Paris, la Sorbonne, SOAS, King's College London, Oxford University, University of Chicago, Harvard University, Milan Politecnico, and Princeton University.
As of lately, we have also benefitted from the support of Princeton in Asia who sends their highly motivated and dedicated fellows to volunteer with us.
The volunteers share their knowledge and passion with the children and the teachers working on projects like theatre, story telling, science, history, architecture, and more. Every subject is approached in an interdisciplinary manner and provides the support to learn English.
Thanks to our volunteers' ideas and enthusiasm, our students have already organised two plays, "The Magic Peacock" and "A Day at the Tushita Foundation", where they had an opportunity to act in front of their families and their classmates, every student was involved in the production. An on-going project is the Book of Me, though which the children develop self-awareness and creative skills, supported now by our collaboration with Outside the Lens, an organization devoted to literacy through photography. They have also learned the rudiments of rugby and have made objects out of discarded plastic bottles, learning as well how to recycle and make compost. They have read "The Little Prince" by Antoine de Saint-Exupéry and have written their own book, "Creatures of The Tushita Foundation". They have painted a mural on the walls of their playground and offered their families a photo exhibition portraying different aspects of life in Amer, the list is too long to be exhaustive here.
To learn more about the life of a volunteer at the Tushita Foundation, read the journals of those who have already worked with us.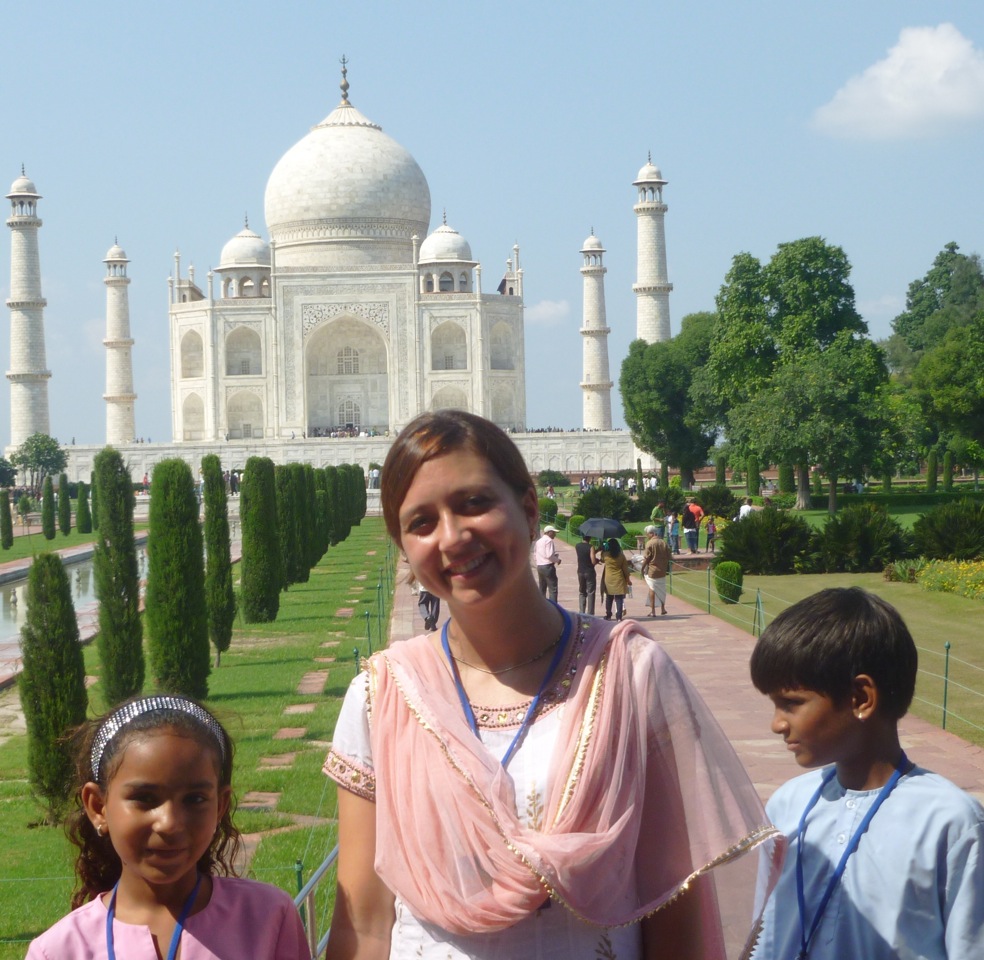 Giunia Petrillo was an undergraduate from La Sorbonne and Paris Law School when she volunteered at the Tushita Foundation.
My first day, July 17th. It has been a very long trip, I had to take three flights: Paris-Bahrain, Bahrain-Delhi and finally, Delhi-Jaipur. Subesha, who works at Tushita Travels, came to pick me up at Delhi airport. He took me to a hotel where I managed to rest before his colleague Mohit brought me back to the domestic flights airport where I boarded to Jaipur. Once landed, Veenaji and Gajjubana, the representatives of the Tushita Foundation welcomed me. They came along with Sara, another Volunteer like me who had also just got there. We went altogether to the Tushita House, a very welcoming home with a lot of light coming through and especially a lot of smiles…
Read More >
---
Anthony Emorine, Phelbé Pace and Cléo Fatourechi 
were, at the time of volunteering, undergraduates from the Paris Institute of Political Sciences.
Today was very interesting, as usual. After a morning spent mostly in reading, we went to the Foundation after a very good Indian meal. There, we were able to finalise our projects: children were already arranged as one class from 2 to 4pm, so we could observe the groups we will have, and even participate a bit. With the youngest children for example, I told them a story that Veena translated for me, and we both insisted on some key words that the kids remembered very well. Then Phelbé came in and participated in the activities. As for Anthony, he did his first class of geography to the middle-age children, which went on very well: all the children were very enthusiastic and implied in the lesson…
Read More >
---
Aurélien Bellucci
 was an undergraduate from the Paris Institute of Political Science and la Sorbonne,
 Jessica Ro
 was an andergraduate from Chicago University and
 Melanie Lyn 
was an undergraduate from Kings College London.
This morning I woke up quite abruptly while we started our first yoga session with the vigorous Manisha. Jessica and Mellie are apparently a lot more flexible than I am but the daily training should enable me to catch up! We devoured a fruity breakfast and got in the car that would drive us to Amber along with Veenaji, Puru and Gajubana. I remember now – enjoying a while of farniente on the terrace – that we were a lot more talkative on the way to the Tushita Foundation than on the way back, not less enthusiastic of course; but our first day of volunteering has been exhausting: the children are full of energy… 
Read More >
---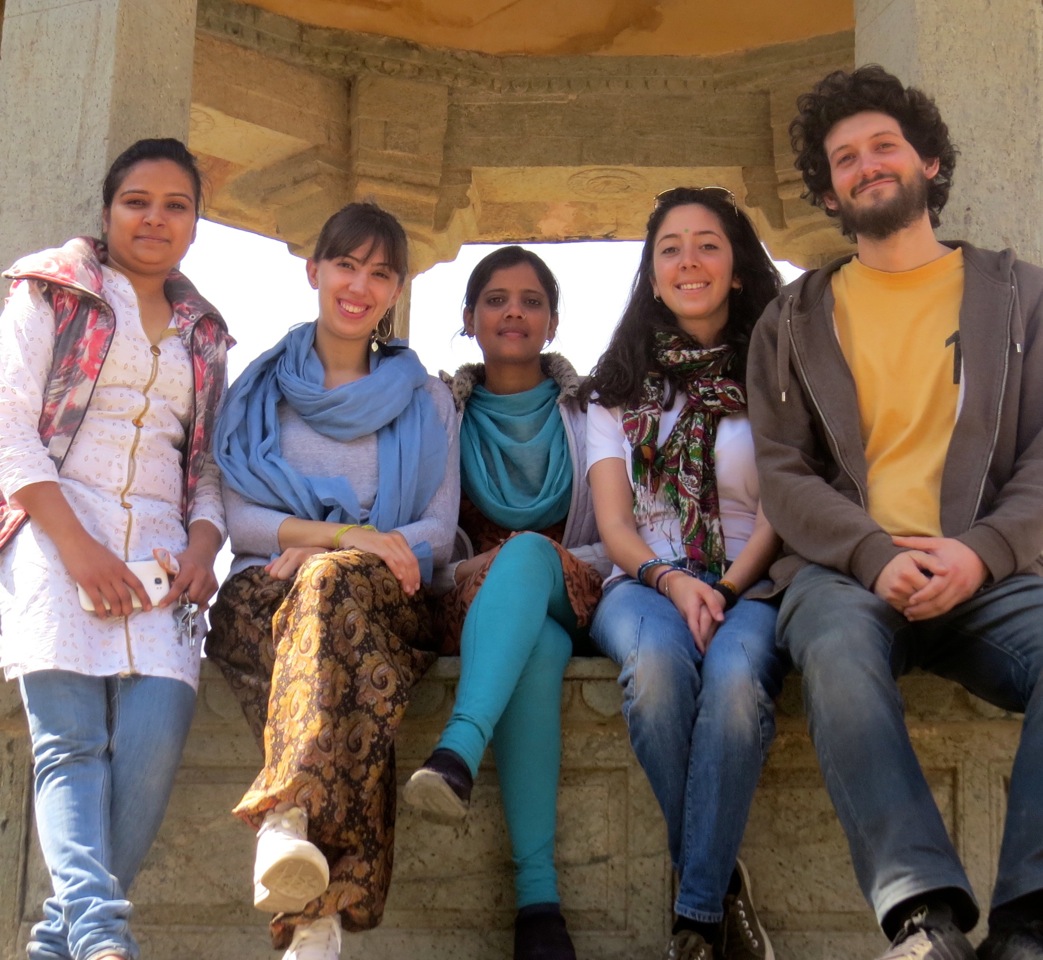 Federico Di Puma
was a graduate from SOAS London,
Ivana Mouawad
was an undergraduate from the Paris Institute of Political Science and
Silvia Caser Spolaor
was an architect studying at the Politecnico in Milan.
I finally had time to watch the short movie about the Yuwa Supergoats, the all-girls football team from Jharkhand which overcoming lots of troubles managed to go to Spain and reach the third place in an important tournament. I found it amazing and watching it I started thinking about what football (and sport in general) can teach us. So I'll probably try to teach the kids some history of football using examples of underdog people or teams. Some examples would probably be: Yuwa Supergoats, Senegal team at world cup 2002 beating France, Lionel Messi who managed to become the best player in the world overcoming the problems given by his very small body, Paolo Rossi against Brazil in 1982… 
Read More >
---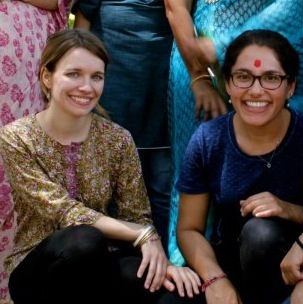 Amy Scoville-Weaver 
was an undergraduate from Sarah Lawrence and Oxford University and 
Geetika Mehra 
was an undergraduate from Harvard University.
Finally, we arrived at the Foundation. The building is how I imagined it, with a small sign declaring "Tushita" over the door and a chalkboard with an inspiring quote greeting the visitor. The lower level features a small office, with drawings and photographs of the children and past volunteers. Across from the office is a small classroom, where the little ones learn. I was unable to spend much time with them on my first visit, and look forward to getting to know them better on Monday. The older classes learn upstairs in three different classes, separated by age and English-speaking abilities. As Veenaji had to tend to other visitors, after introducing me to the teachers and students, I was left alone to observe and interact. I did not want to interrupt the lessons, but the children were so excited to have me there, I fear that happened anyway… 
Read More >
---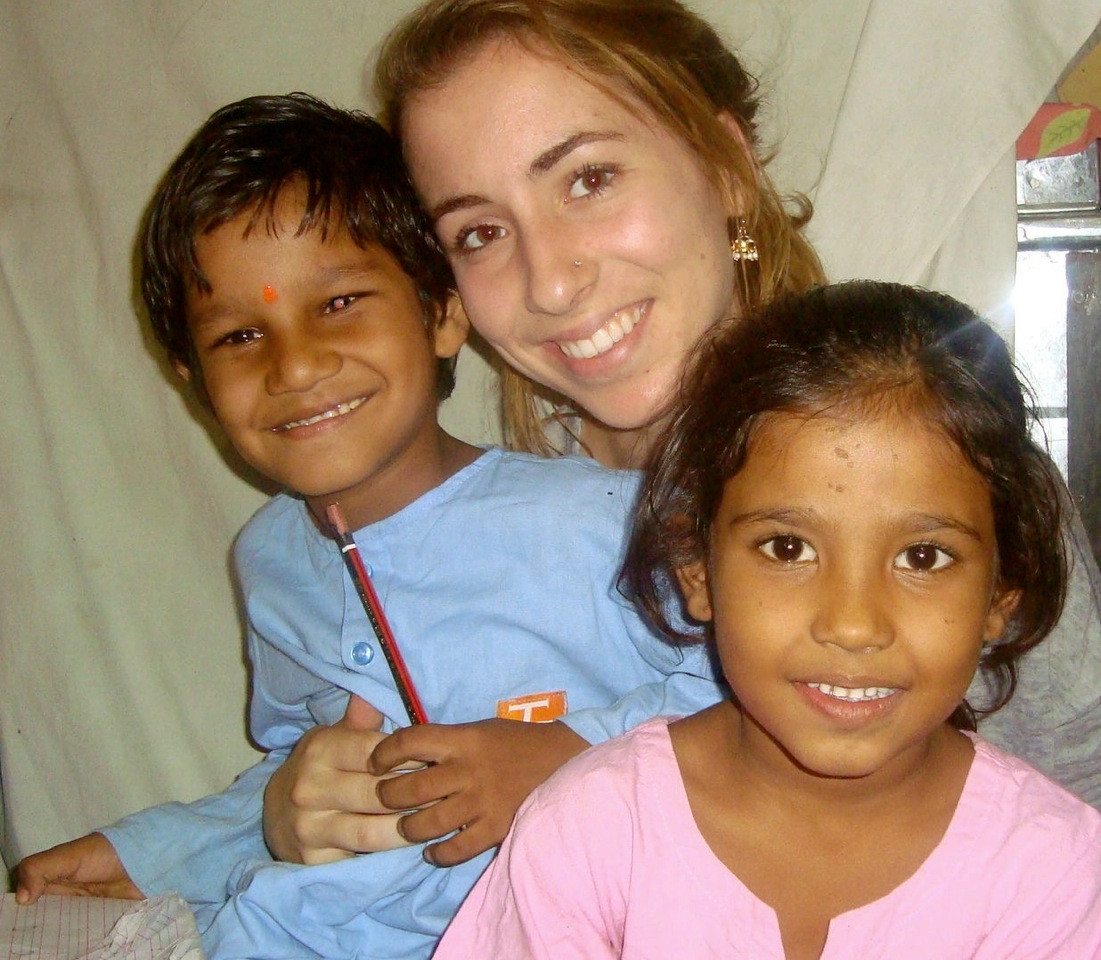 Rowan St. Clair was an art student from Hunter College.
Following yoga we worked on our rainbow and the colors again. I spoke for a few minutes about the sky, the sun, and asked if any of them had ever seen a rainbow. Few students had, but the ones who did were excited to share. I drew a picture of a rainbow on the board and labeled each band with the colors name. I then had the children draw and write what I had in their notebooks. Once they had finished this I had them come up one by one and read each color and then take the correct color from the box. This was an exercise in patience, and combined what we had been working on the previous days. Another lovely day with the little children. During the teacher session we read from the newspaper… 
Read More >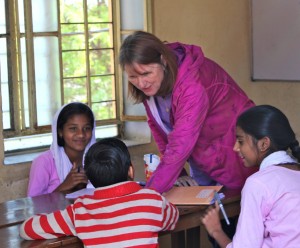 Sharyn Pridham is from Canada and used to practice law.
It seems the Harry Potter series is known here as well and my thoughts were this would be a good movie to start with – both because it is so popular and because I brought the full set of Harry Potter books with me, so that any student who wished to know more of the story, could read the book. At the first session, we reviewed "15 highly successful people who failed first".  I read first, followed by each teacher reading and then discussion of any unknown words. It was a wide range of people, some unknown, so there was plenty of interest. We next set up presentation topics and dates, and Ruksar presented on Wednesday with the topic "Bollywood". The ensuing discussion was very interesting as we touched on the topic of suitability in films of bad language, violence and sex… Read more >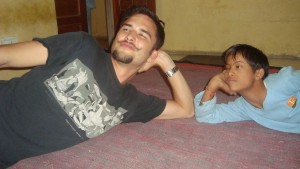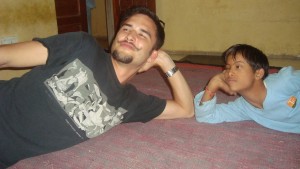 Alex Murray was an undergraduate from Chicago University.
Rowan and I took the bus and arrived promptly around half past noon. The teachers were assembled and, that day it was Priyanka's turn to share about Andrew Jackson. It was fantastic to see the surprised faces as Rowan and I scolded an American president for his actions against Native Americans. As I had anticipated, the session did include some positive points regarding our seventh leader reiterating my point that all people possess and act on both positive and negative qualities… Read more >
---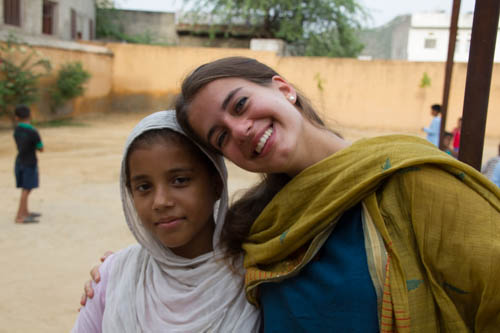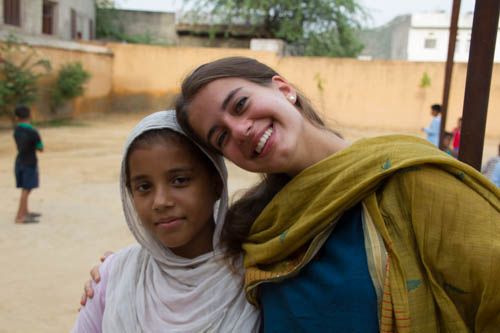 Francesca Violich volunteered with us during Summer break from Harvard University.
Of the younger children, Nena is my baby, with her dark hair and nose-crinkling grin. She loves to play hand games with me, and we count to one hundred together as we play, and she loves it when I get down on all fours and chase her around the classroom, pretending to be a tiger and growling. I know I'm not supposed to be picking favorites, but I am also especially drawn to Aisha, a girl in Payal's class, and Nurain, one of her good friends. I think Aisha is just gorgeous, with wide eyes, a full mouth, and a sassy temper. Nurain has a beautiful smile and very sharp eyebrows, and teases me relentlessly concerning my poor badminton skills. The girls imitate my flailings and laugh at me, and I laugh with them. Read more >
---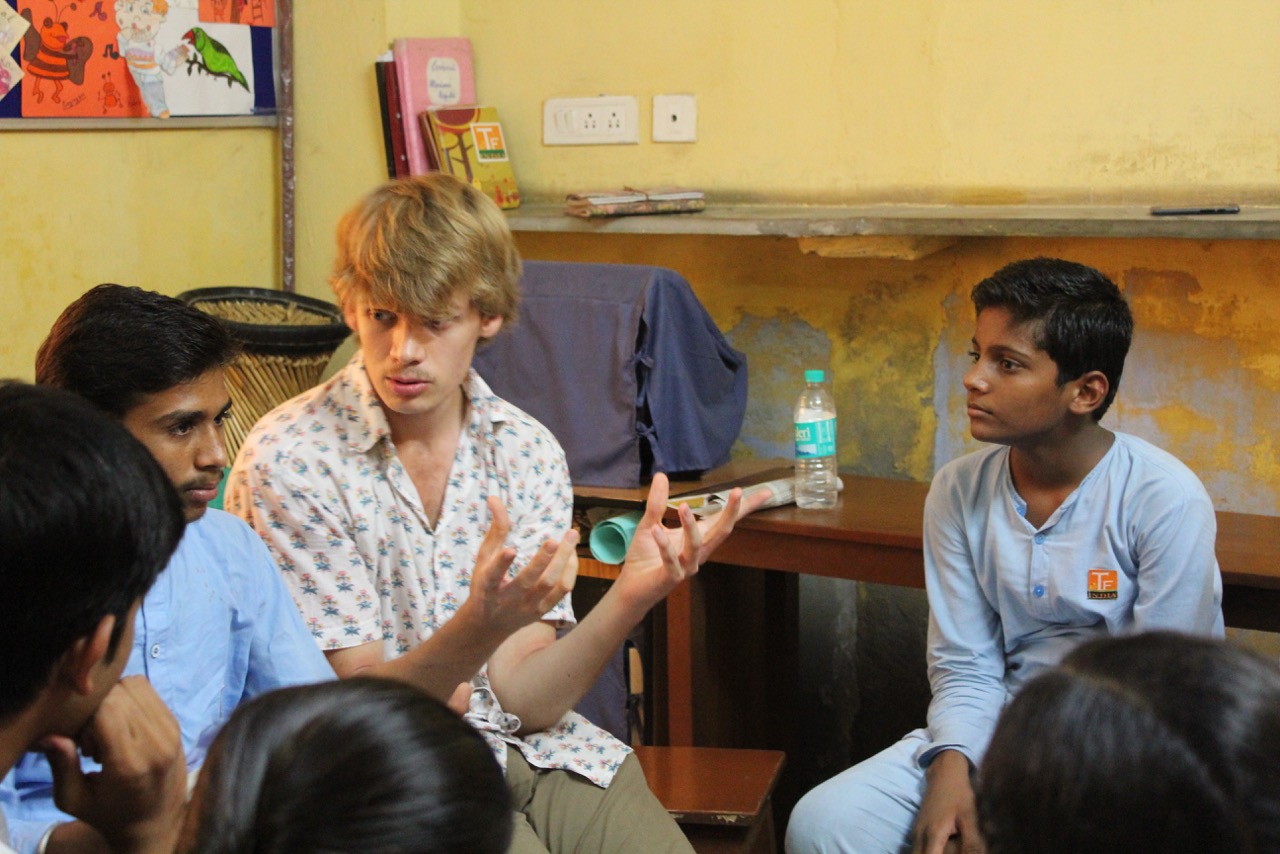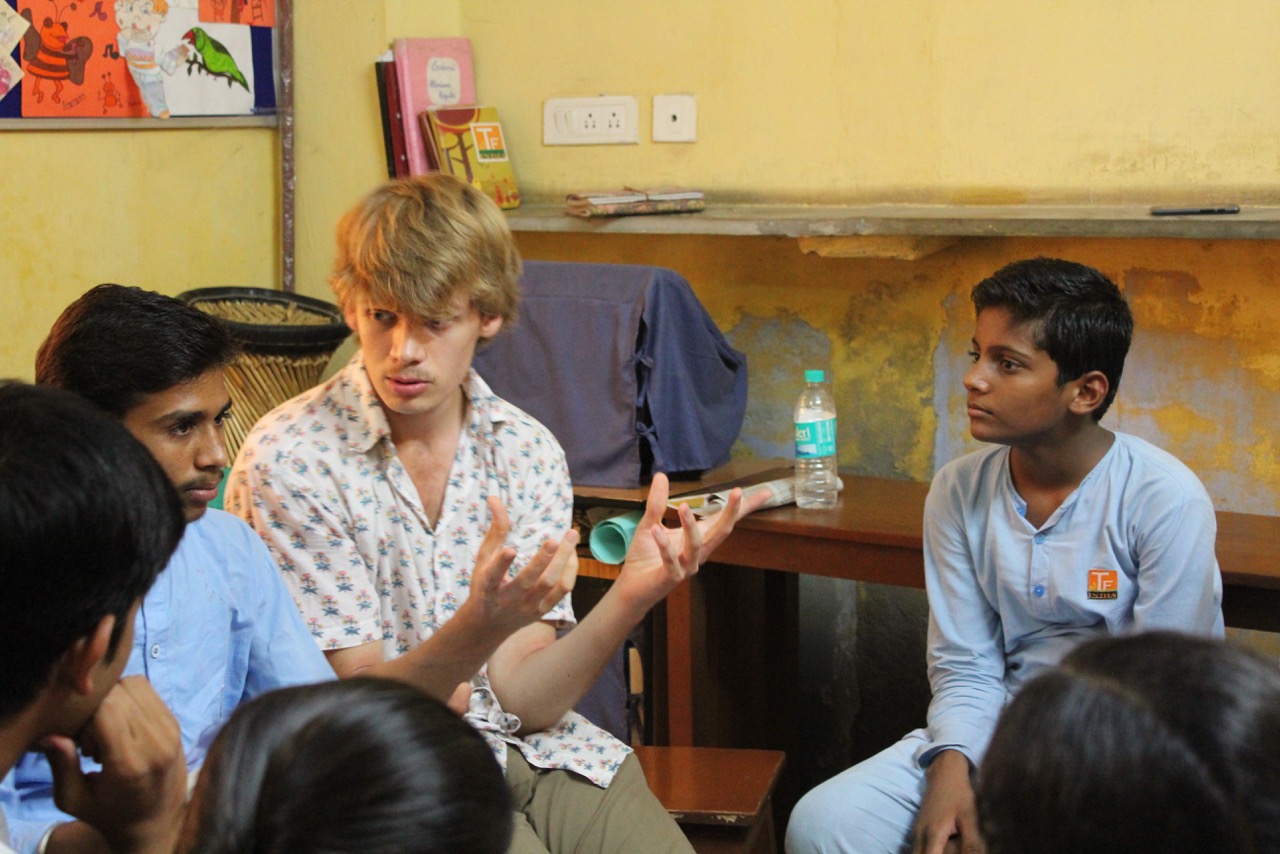 William Etheridge was a French horn player from the Royal Academy of Music and held a certificate from TEFL, Teaching English as a Foreign Language.
I feel in general, the teaching method employed by the teachers still focuses much to much on reading and writing exercises. I have heard snatches of conversations in English coming from Ruksar's class, however the other teachers seem to be still bound to reading and writing. They can't be blamed for this as I assume this is the way they were taught English at school, so they continue in this fashion… Read more >
---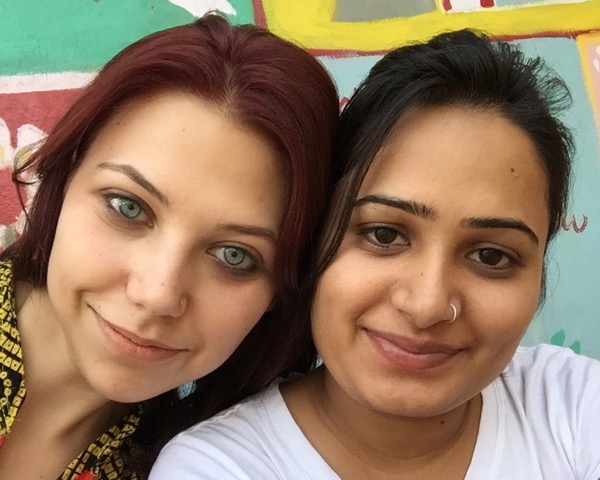 Anna Anrdiychuk
was born in Ukraine and went to the USA at the age of five. A graduate of the University of Chicago, she has taught English to children in a small rural town in Japan, before coming to the Tushita Foundation where she has spent eight months. Here is her letter to future volunteers and her answers to our questionnaire.
I volunteered at the Foundation from September 2015 to April 2016 and I'm writing this in the hope that it will be of some use to you during your time here. There now exists an exhaustive handbook (compiled by my colleague Caroline) which will help you navigate Jaipur, the Foundation, and India in general. I hope my letter and the various recollections of former volunteers on this page provide some useful information…
Read More >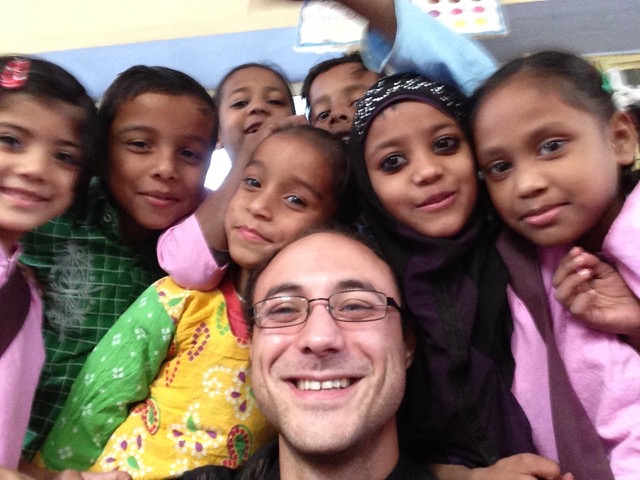 Ferruccio Eva
, a musician from Milan has spent six months with us and has gifted us the Tushita Foundation song.
I feel great and grateful. It's been a very good chance to work with people of a different culture, a different world. If you can do this with children is even better, it becomes a useful mutual teaching. The Tushita Foundation gives you a "third eye", making you look deeply in India's environment. Then the plans and the purposes behind the institution are one of a kind…
Read More >
---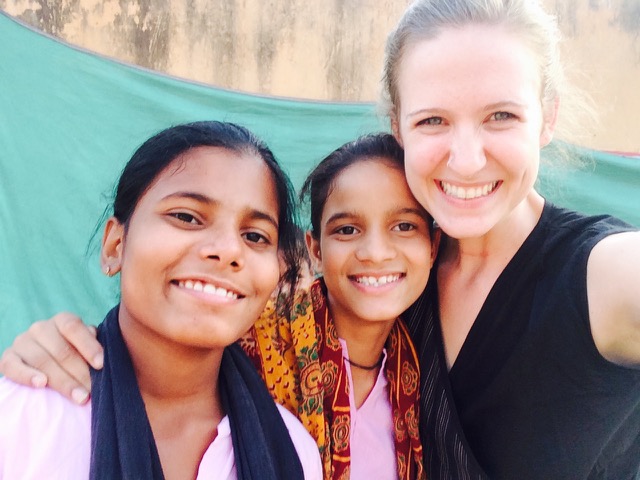 Caroline Carr
came to us from Berkeley California with the objective of teaching Art History to our children. She has dedicated 8 months of her life to our youngest children to whom she has taught English and much more using the Montessori methodology. She will be remembered as the teacher who did yoga in a sari.
I arrived at the Tushita Foundation in September of 2015. I was nervous about the 8 months ahead and my ability to make a meaningful impact on the students and the foundation. However, after having spent 8 months with the children and teachers of the Tushita Foundation, I can safely say that not only did I feel I made an impact on them, but that they made a huge impact on me. The Tushita Foundation has changed me and has helped me find a path in life. It was both rewarding and challenging in ways that I could never have imagined…
Read More >
---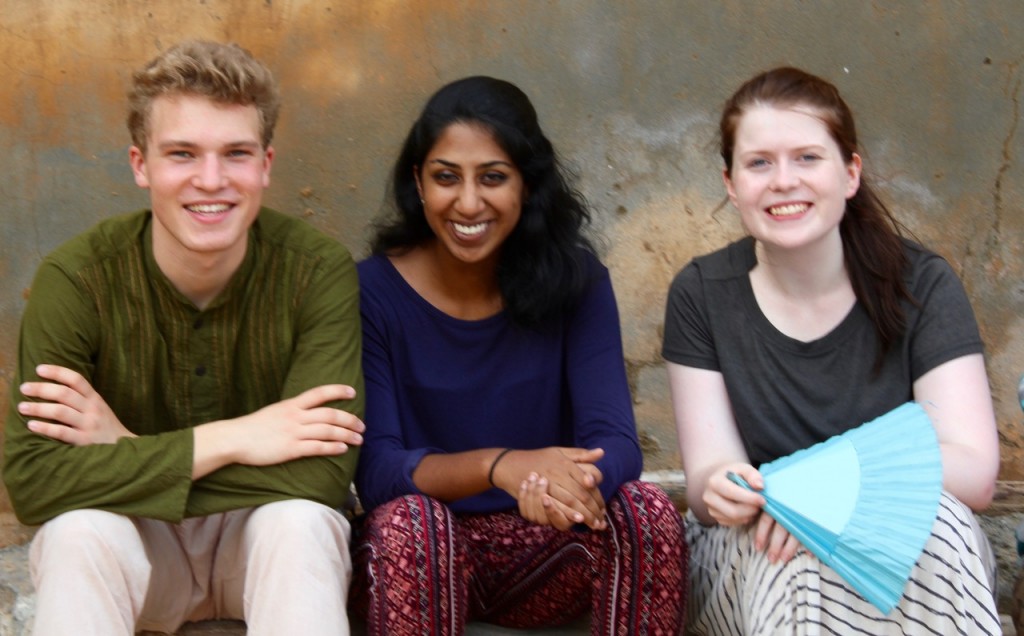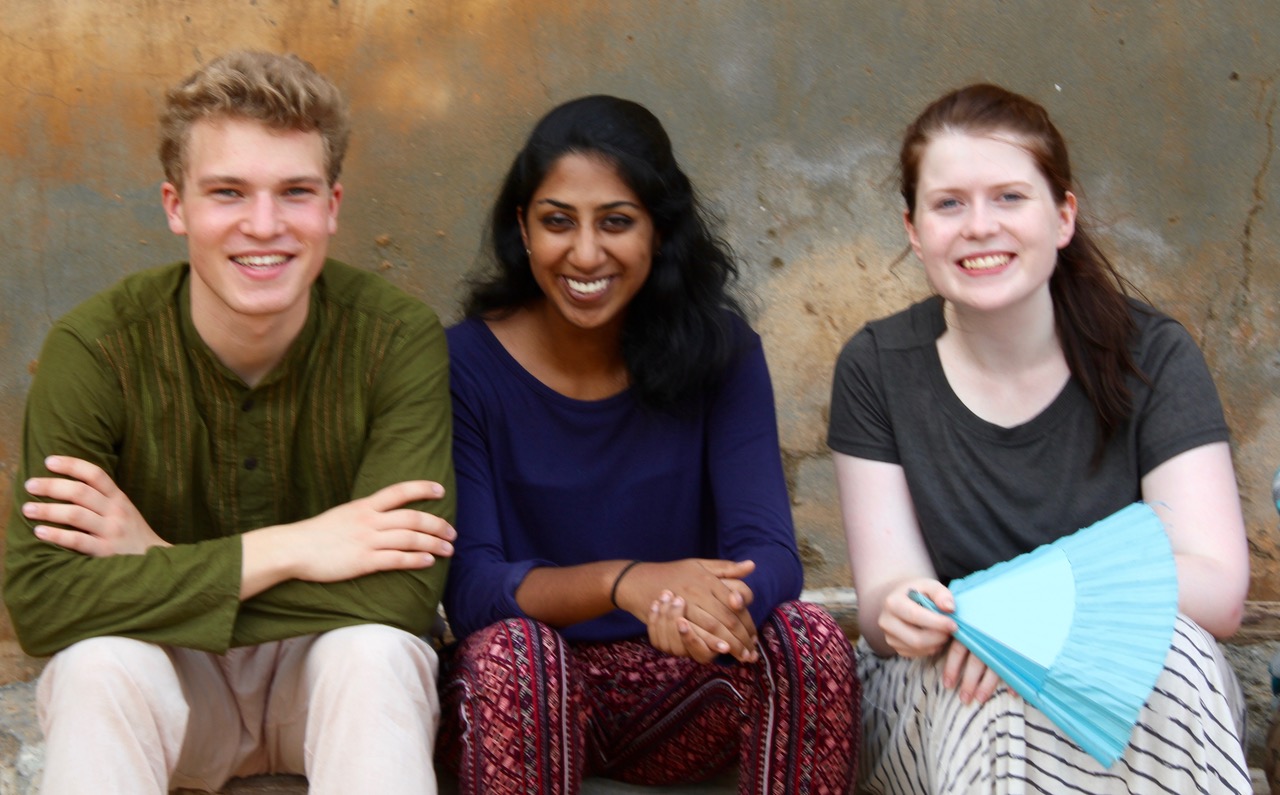 Markus Specht from Germany who studies political Science and International Relations at Science Po and Freie Universität Berlin, Zaynab Zaman from Princeton University in the USA and  Kate Hodkinson from Oxford University.
This spirited trio has volunteered at the Tushita Foundation during the Summer Program 2016.
After a lovely week settling into Jaipur, it was finally time to start teaching. We had a very packed week beforehand, visiting all of the sights Jaipur has to offer, including the Jah Mahal, the City Palace, and Amer Fort. It was great to get to know the other volunteers. We were all looking forward to teaching, although slightly apprehensive about getting started.
We started with the teacher sessions, where all the volunteers introduced ourselves and our families… Read More >
---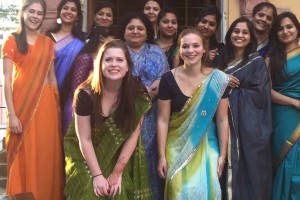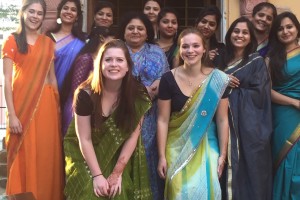 Kate Hodkinson stayed on until December and was accompanied by Hannah Ronald from Cambridge University and Julia Galbenu.
Today was my first day of teaching and I taught Shaloo's Class, also known as the middle class which are new to the foundation and their level of English quite low.
I taught both the first and second batch, then watched and helped Shaloo teach the same lesson to the third batch.
I taught the class very simple, one syllable comparatives – where the rule is 'add 'er' to the end of the adjective. I began the class by getting the students to name all the animals they knew… Read More >
---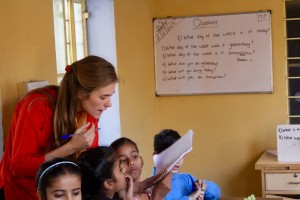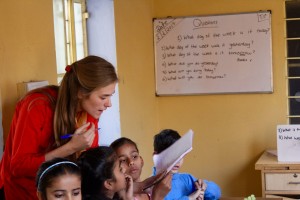 Julia Galbenu stayed on until March, bringing ecological awareness to the Tushita Foundation… Watch the Video >
---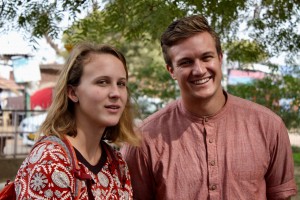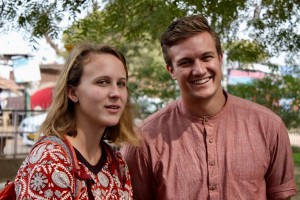 Perry Anderson and Tristan Gavin were two professional teachers, champions of phonetics who taught our children the syllabic method of reading. They were also responsible for introducing a system of assessment they designed specifically for the Tushita Foundation's needs…Read More >
---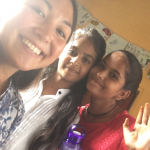 Samantha Chai has come from Princeton University and has spent her summer holidays 2017 at the Tushita Foundation teaching about water sanitation and conservation. Please read her blog with a daily description of the work she did.
She also ran the Hyderabad Marathon fundraising for the TF.
---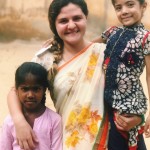 Ana Paula Berlin has come to the Tushita Foundation from Mexico, via the Institute of Political Science in Paris. She has brought her passion for art and creativity to our children and the teachers with stunning results.
Please read her blog post "All children are artists" here:
and her answers to our questionnaire that she filled in after the 5 months she has spent with us,
are here
.
---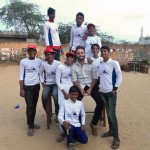 Dimitris
is a young researcher passionate about the ways in which power, dominance and social inequality are (re)produced, performed and disseminated through discourse. His academic and professional interests have a problem-solving orientation and aim at the attenuation of social injustice issues, such as education problems, viewed in all contexts: local, national and global. Dimitris is a graduate of the Universities of Oxford, Edinburgh and Athens.
Read More>
---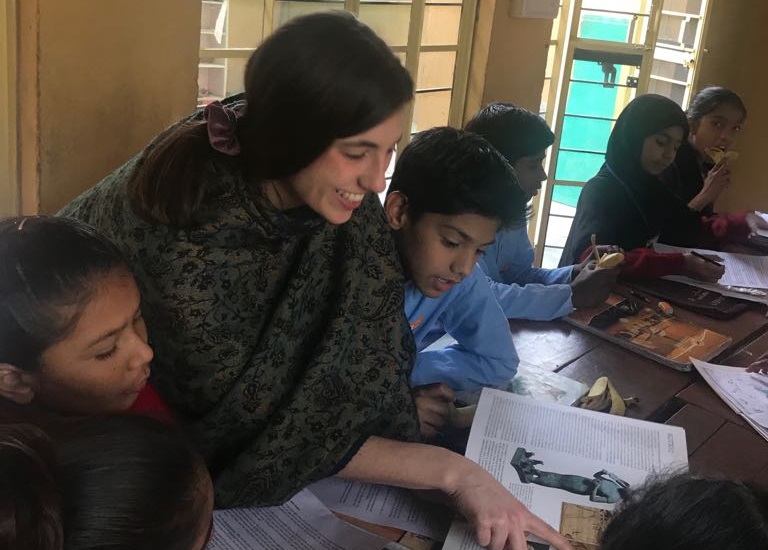 I'm
Sara
, I'm 24 years old and I come from Milan, Italy, where I've been studying Political Sciences and International Relations. When I chose to join the Tushita Foundation I did not really know what to expect from this experience; I thought why not?
Maybe it can help me find out what I really want to do
Read More>
---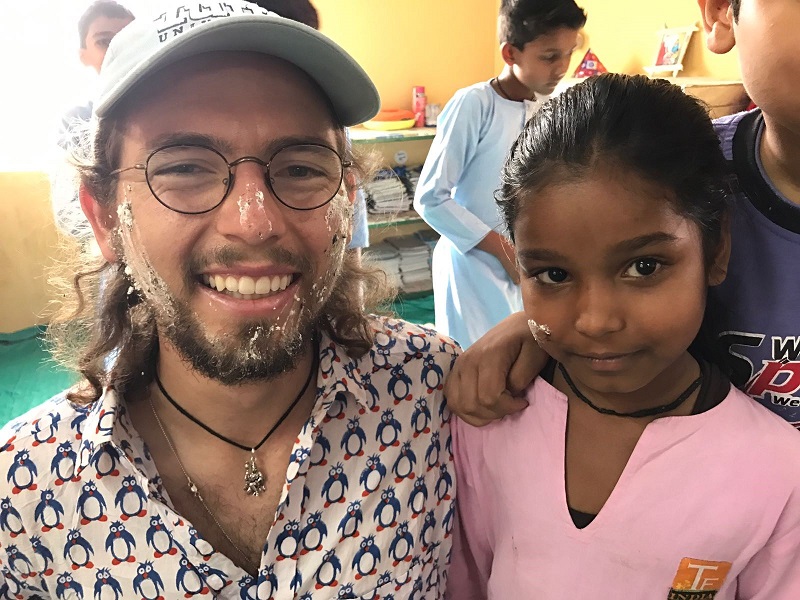 Ryan K Rosen
When I first arrived at the Tushita Foundation I wasn't quite sure what to expect. As we turned off the main road I knew we were close, and naturally I noticed my heart rate slightly start to increase. I was nervous. I was excited. I was ready for this new chapter of my life to begin
Read More>
---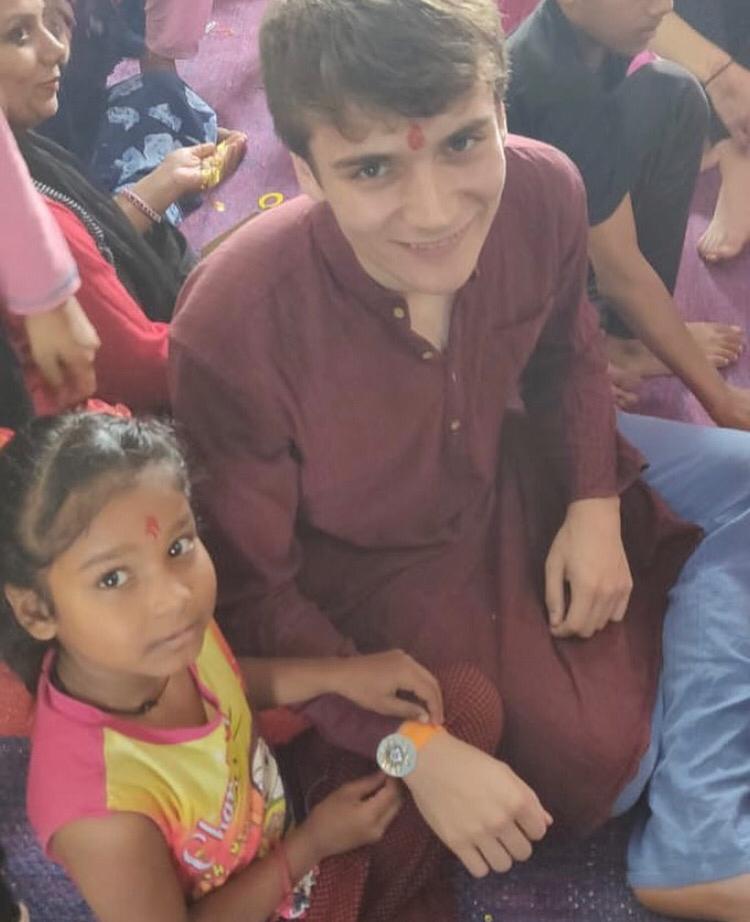 Oliver Northover Smith
Oliver Northover Smith, an undergraduate from Oxford University where he has studied Politics, Philosopy and Economics, has volunteered at the Tushita Foundation for two months in our Summer Program 2018.
His ambitious project was very successful with our students who were able to reflect about the functioning of economic realities through role playing exercises. In his class, we saw budding bankers, shopkeepers, industrialists, journalists and much more interacting with each other. Read More>
---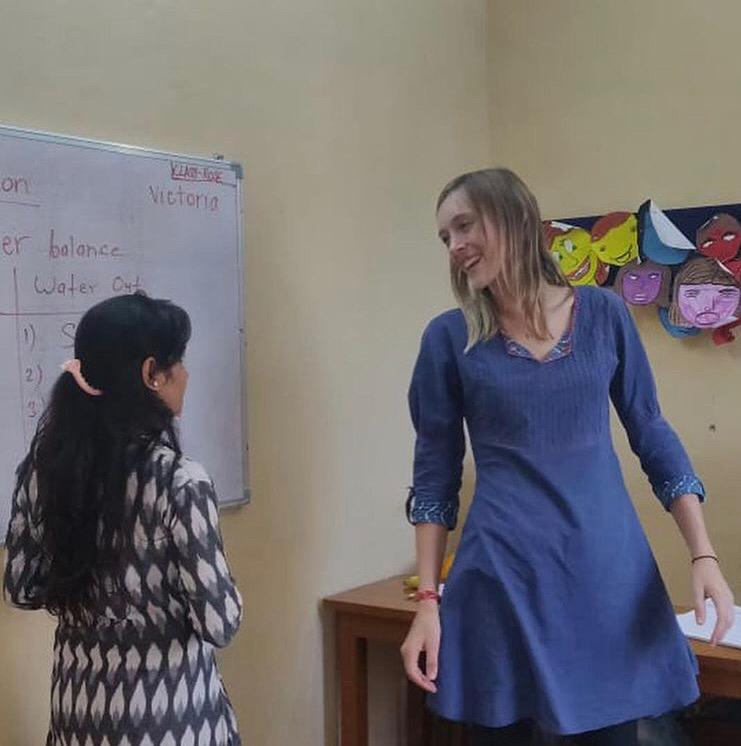 Victoria Lord
, is a Princeton in Asia fellow from Chicago who studied Psychology, Religion and Pre-Medical courses at Emory University. At Tushita for the entire academic year 2018-2019, she has taught our children about nutrition and health. She has enlarged the scope of her work with us introducing the subject to our students' mothers as well.
Highly appreciated and useful, the women's menstrual health workshops that she has helped organize. Focused on finding sustainable and hygienic solutions for the management of the menstrual periods, this workshop has helped empower the women of Amer giving them a safe space to discuss matters concerning their bodies. Read More>
---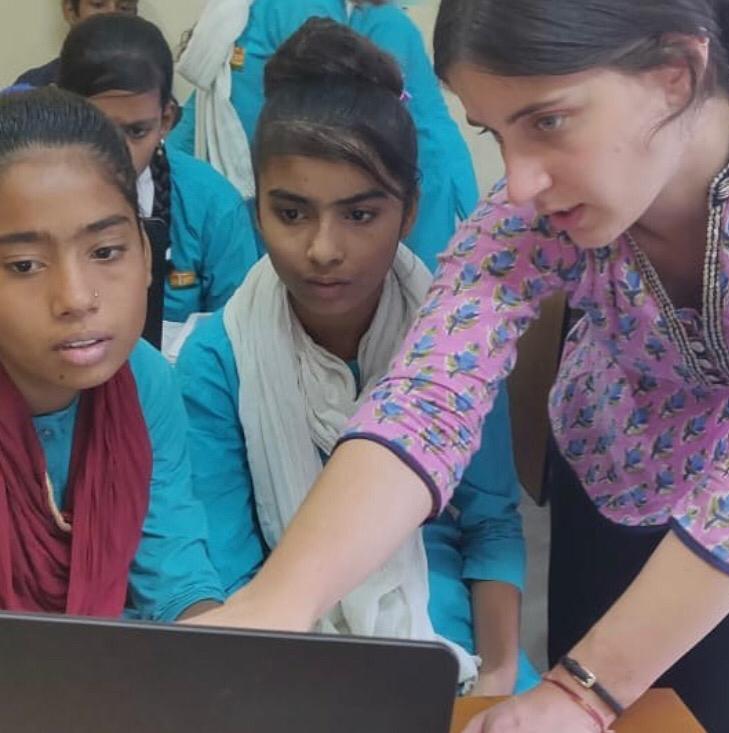 CJ Bellucci
, is a Princeton in Asia fellow that has come to us from Massachussetts in the United States, where she studied architecture and Italian at Mount Holyoke. She has worked for the entire academic year on a project called "Houses and homes around the world". This wonderful multidiscliplinary project has not only awaken our students' interest in the study of space, building materials, climatic conditions, but has made them reflect on the meaning of home and the emotions attached to it as well.
Read More>
---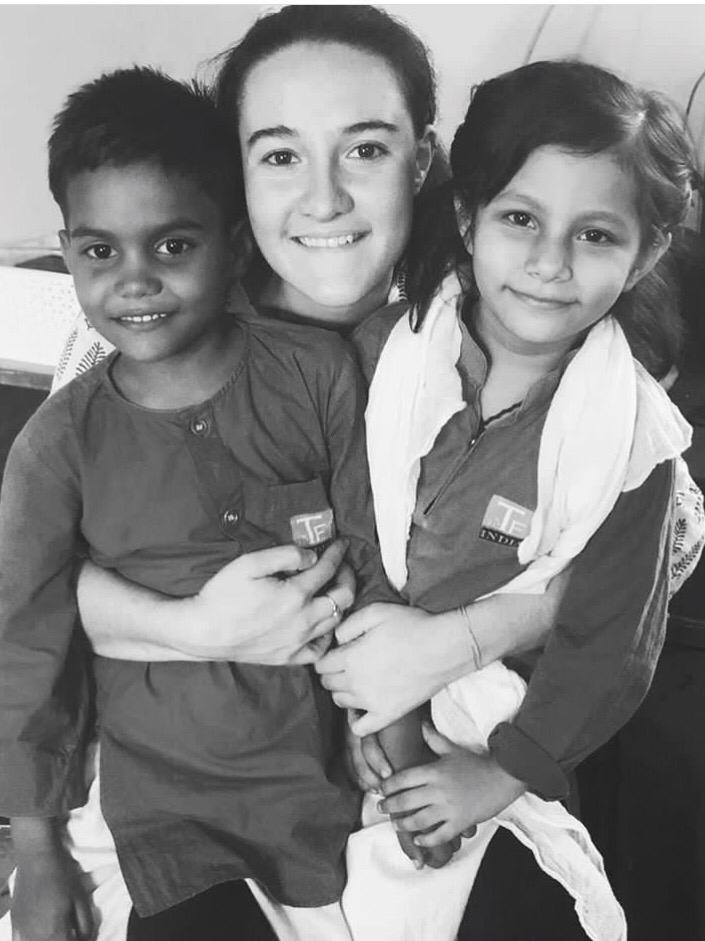 Sandra Berlin Olivarreta
, a pedagogue from Mexico City, joined the Tushita Foundation for ten months to promote wellbeing in children through socio-emotional education. Her main goal was to give them tools to become stronger and resilient, building their self-esteem. She taught even our youngest pupils of four and five to identify emotions, draw them and manage them sharing their feelings with others.
Read More>
---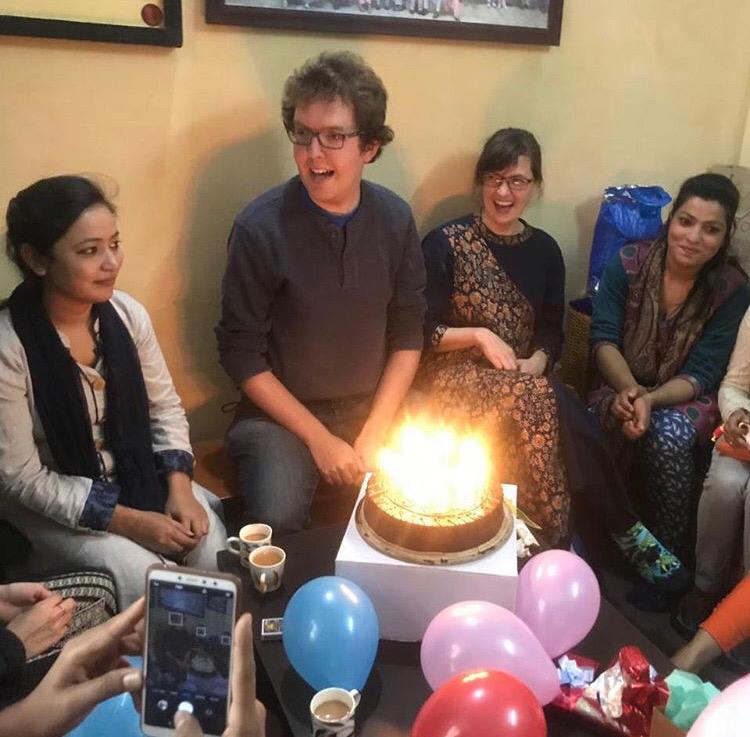 Chantal Mustoe and Jake Lever
, PhDs in chemistry and bioinformatics respectively, have moved from Canada to join the Tushita Foundation for three months. They have helped our children explore their creativity and taught them problem solving and critical thinking skills through hands-on science projects. Having shown our students how to make a self propelling paper rocket , they will be forever remembered as "the rocket scientists".
Read More>
---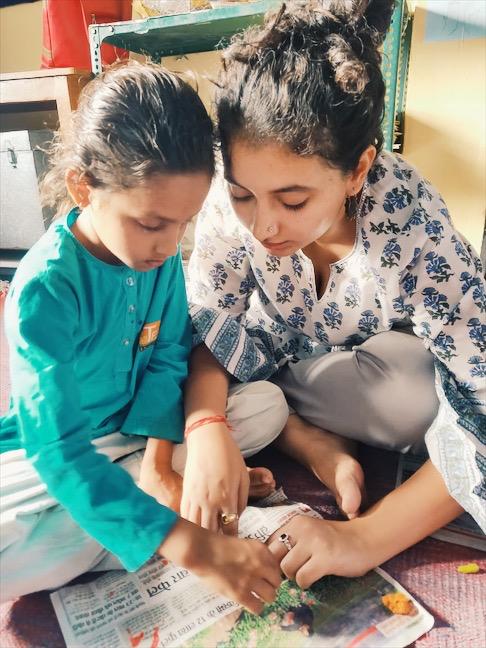 Soomal Singh
, a Bachelor's in Psychology from Delhi University, joined the Tushita Foundation as a volunteer for the entire academic year 2018-2019 to teach our newly admitted children of the Marigold class. She has taught them English through creative exercises and she has led classes for the women of Amer who wished to continue studying. She has focused on building self-esteem and self-appreciation through psychological exercises and has helped spread awareness about the importance of mental and physical well-being.
Read More>
---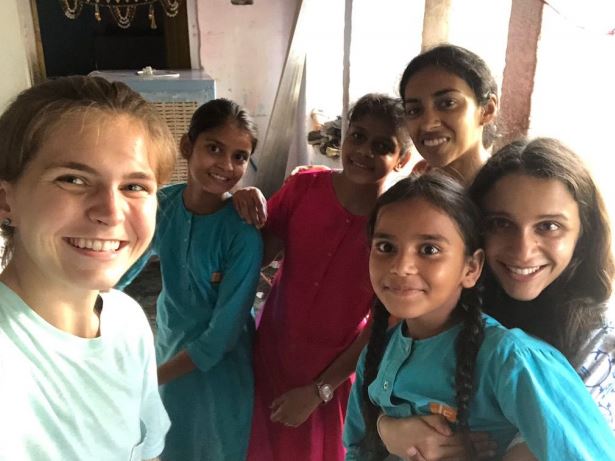 Chandrika
, is a student at Princeton University, where she is planning on majoring in physics.
She really loved her summer at the Tushita Foundation, and misses the teachers and students
very much!
Read More>
---