Amy and Geeti – Winter 2013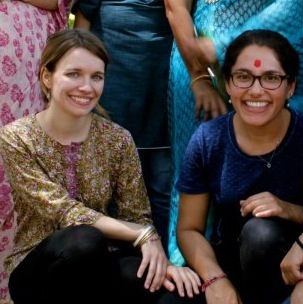 Tushita Foundation India
Winter 2013 – Volunteers' Journal
Amy's journal
January 4th 2013
FINALLY HERE!
I am very happy to begin this journal and my adventure with the Tushita Foundation for the next three months. After months of planning and deliberation, it is wonderful to finally be in Jaipur and begin my work with the children and the teachers. What a perfect start to a new year!
I arrived in Jaipur yesterday afternoon and was met at the airport by Veenaji, the manager of Tushita Travels, and her son Pierre. She remarked that she thought I would be taller, which is something I ALWAYS hear, and made me laugh. It is true that there aren't many American women shorter than five feet tall.  I was driven first to the office above which is my residence, located in the city centre in a lovely neighbourhood. On the ground floor is the travel office where I met some of the agents, who were very welcoming. I am currently borrowing a corner of a desk and a computer in the office, as my laptop is not picking up the wireless signal – the agents seem to have no problem sharing their workspace with a tiny American.
My room is located upstairs, in a very airy and open apartment. There is a tiny kitchen, a small dining room, two bedrooms and two bathrooms. Since I have arrived before Geetika, the other volunteer, I have chosen the bedroom with the en-suite and smaller bed and closest to the road. The other room is quieter, as it faces away from the street, but I liked the blue decorations of the other room and the large windows. However, my favourite feature of my new home is the open veranda, which is large and allows me full view of the surrounding neighbourhood. I can already see myself there in the mornings, drinking my chai, the traditional Indian tea with milk, and reading the newspaper in the sun.
After a non-spicy lunch, which was very thoughtful of my hosts, Veenaji and I travelled across the city to the Foundation. I can already tell that I will love Jaipur. It is open, with wide streets, and the architecture is beautiful and reminiscent of an era long past. The environment reminds me much of my home state of Arizona, with rocky hills and shrubs and open spaces. The road to the Foundation in neighbouring Amber is scenic, taking me through the old city and the "Wind Palace" (more on this later), past the Water Palace and winding past the Forts in the distance. Elephants and horses joined us on the road, which is tree-lined and winds towards Amber gracefully. I am so grateful to be away from the relative chaos of Mumbai and the endless traffic.
Finally, we arrived at the Foundation. The building is how I imagined it, with a small sign declaring "Tushita" over the door and a chalkboard with an inspiring quote greeting the visitor. The lower level features a small office, with drawings and photographs of the children and past volunteers. Across from the office is a small classroom, where the little ones learn. I was unable to spend much time with them on my first visit, and look forward to getting to know them better on Monday. The older classes learn upstairs in three different classes, separated by age and English-speaking abilities. As Veenaji had to tend to other visitors, after introducing me to the teachers and students, I was left alone to observe and interact. I did not want to interrupt the lessons, but the children were so excited to have me there, I fear that happened anyway. I can already tell that they are eager to learn and impress, and feel confident in their English. While I stood behind the class in the older classes, with the younger children aged about 10-13, I sat directly on the mat with them on the floor. They all thought this was very funny and were very happy to have me check their notebooks and write my autograph for them. When I would correct their spelling or tense of an English word, they all apologized to me, which is hardly necessary. Just a first observation. The teachers are lovely and were very welcoming. I look forward to getting to know them better and their English abilities, since it was difficult to gauge on the first day. The children are the very opposite of shy and I felt comfortable with them right away.
Veenaji and I settled on a tentative schedule, which is to work with the teachers on their English from 12-2 and then immerse myself with the children. The next coming week, beginning on Monday, will be one of observation and learning for me as I try and understand how I can most be of help here.
As eager as I am to get to work, I am also grateful to have the next few days to rest and recover from a head cold I picked up in Mumbai. I feel just a bit ill and need to talk about food choices with Veenaji, as I am used to fruit in the mornings. The shower and I are still working out the kinks and the stove is a bit of a mystery, although there are two gentlemen here to take care of any needs I have. I am so used to making my own tea and food, it will be an adjustment. It is chilly here, and I think I will have to go venture out to the mall and purchase a robe and perhaps another sweater. I also look forward to planning some of my lessons for the children and the teachers, although I am still unsure what it needed just yet.
I anticipate this time to be one of personal growth and intellectual challenge. I am so looking forward to developing relationships with the children, improving their English and nurturing their creative abilities. I am also very excited to explore the rich history of Jaipur and, of course, the fashion. I also mentioned to Veenaji the possibility of taking yoga in the mornings, so hopefully that is another art I can delve into during my time here.
NAMASTE!
January 5th 2013
I woke feeling a bit better today, although I still have a pounding head. My head cold is testing my patience but I am taking Veenaji's advice and trying to relax and feel at home. I did win my battle with the shower and figured out the hot water. Small victories!
I was surprised out my reading this morning to hear the notes from a brass band carrying from the street nearby. I suppose it was a wedding or some religious ceremony and I really enjoyed hearing the bold horns and woodwinds while I had my coffee. Many of the children expressed their love of music to me, even in my short time at the Foundation, and I have been thinking of how best to explore our mutual passion together. Veenaji mentioned the school does have a piano and I know the other volunteers worked with the children on pitch and basic music theory. My piano was never as good as my violin, but I was thinking of downloading some sheet music and going over basic notes. At the very least, I can play some Beatles songs for them. The beauty of music, as always, is its ability to transcend language. I can't remember if I mentioned to Rosenda and Jan that I was trained as a classical violinist and played for fourteen years. It will be nice to delve into music again, as it has been a couple years since I have played.
I am enjoying looking out over the balcony at the activity in the street below. As it is the weekend, many children are playing although I don't see many girls. The kites are also a joy to see, reminding me of when I used to fly them with friends in college. I'll have to see where can I buy one.
Another quiet day, as I rest and read and think. As ready as I am to get busy, the time to myself is really lovely. Things move slower in India.
January 6th 2013
Such a wonderful day! My first day where I feel myself and I think I am finally getting settled. Veenaji and her family were kind enough to take me shopping yesterday and I was able to get a robe and some other items I was missing. I was also able to buy mint and green tea, which I love, as well as oatmeal and honey for the mornings. I am starting to feel at home here now that my cold is (almost) gone and I am beginning to know the house and the people.
Woke early and had tea in the sun on the veranda. After lunch, the driver picked me up to meet my tour guide that Veenaji had arranged to show me around the Jaipur palace area. What a treat! The tour was amazing and I was in awe of the beauty of the architecture, the paintings, tile work and general grandeur of the palace. My words can hardly begin to do it justice, and I so wish I could insert some of the many photos I took today, but since the wireless here is still on the fritz, that will have to wait. I especially loved the astronomy section of the palace grounds and the largest sundial in the world. My guide was gracious and easy-going, although I feel just terrible that I didn't tip him while saying goodbye. I emailed Veena about it, so hopefully I can get him again and make it up to him, or perhaps leave it at the office. I am being treated so well here, so much better than I could have asked for.
After the tour, I left my bag with the driver and walked around the old market area. It was liberating, actually, to not have my bag and also to not feel rushed to buy things right away because of time-constraints. Instead, I walked and looked with an aim to get a feel for the city that will be home for the next three months. Of course, I was approached by many a seller (and some men who weren't selling anything but attempts at charm) and crossing the road by myself was an adventure in confidence. I think I have mastered the art of 'nahi chahiye'! Of course that often lead to further conversation, but it was all right. The trick is to keep walking and not be rude, but brisk. And I enjoyed walking by myself and taking it all in.
I am so excited to see more of the city and neighbouring areas and learn more about the history and culture of this rich place. But, one thing at a time – I am exhausted already and it is still way too early for bed. Tomorrow begins my official day at the Foundation and I approach it with an open heart and mind.
January 8th 2013
My first observation day at the Foundation went very well – the children are beyond adorable. I had intended to spend perhaps 30 minutes in each class, but ended up spending the entire time with the Sunflower class, which consists of the youngest students. Veenaji and I both agree that picking one class a day will help me to better immerse myself with the children and the teacher as I get adjusted. As I noticed on my first trip to the Foundation, the children are all very eager to please and demonstrate to me their knowledge. Observation quickly turned to active participation as the little ones brought me their books and we reviewed spelling and reading. As with many of the children I have worked with at this age, I noticed the tendency they have to guess at a word based on the first few letters, rather than take the time to sound out all the letters to arrive at the correct word and pronunciation. I can already tell that we will need to work on slowing down and speaking slowly, as most of the children think that if they say or spell the word fast enough, it will be correct.
Today, I will go to the next class downstairs and get to know them. If only I had a photographic memory, so I could remember all their names. One child at a time!
On the way to the Foundation, Veenaji and I stopped at the market to buy some wool for the women's cooperative she is hoping to get started. This micro-enterprise project is very promising and I look forward to hearing more about it and seeing it take root during my time here. My mind is buzzing with questions, as I knew it would, and I need to remind myself to take things slowly and keep focused on the children. However, it is all so interesting to me, it is hard to help! I want to know the attendance rate of girls versus boys; what age children enter the workforce; water availability; literacy rates; maternal health….the list continues. I will write down all my questions and keep them for later, when I feel more settled and my projects with the children have started.
I have also been thinking of the library and how best to get books here. So many of my friends are emailing me asking how they can contribute – a book drive perhaps? Shipping rates are expensive, but not impossible. Will continue to think…
And now, my favourite time of the day! Time to go to school.
January 9th 2013
Beautiful morning today, as I settle back with my tea and reflect on yesterday at the Foundation. I worked with Payal's class, which has a radically different feel to it than the Sonam's class of the day before. I particularly enjoyed noticing the different personalities of each child shine through as I talked with them and reviewed their work. I noticed Arash right away (it was difficult not to) as he was the loudest, quickest to answer and the first one to tease me in Hindi. Two sisters, who quickly elected themselves as my guides for the day, were very protective in telling the other children to hush and me not to listen to him. There was Nishin (?), who loves to draw, and drew me many pictures after I checked her work. All the children wanted me to put an A+ on their work and their preoccupation with arriving at the perfect grade is obvious. Indeed, they all seem to be extremely aware of being "correct" and seem to feel a sense of shame when I correct their work. I know the other volunteers experienced this and it is a challenge. (What is the grading system at the Foundation? Do all children receive a report card to bring to their parents?) As it is not for me to assign grades, I think I effectively evaded the problem by simply writing "Good Job" on their work, which they liked just as much.
I confess I am more nervous about working with the teachers than the students themselves. I talked with Veenaji yesterday about how difficult it has been for me to judge the level of English of the teachers, since they mostly speak in Hindi with the students (please note, I am only judging from the first two classes). I still don't know how to approach the time I will have with them beginning next week. If they can view me as a friend, and not a teacher, I think it will be easier. We will see.
The more I think of the violin idea, the more I like it. I hadn't even considered it as a possibility before coming here, but now it seems obvious. It has been a few years since I have played, so I am sure I am a bit rusty. I think the children will enjoy opera, as well, as it naturally brings forth a strong level of emotion to the listener. That may be a good activity, to work on "feeling" words, through music. (Ex: Debussy sounds "sad"; Mozart is "lively" and "happy.") Anyway, just ideas – that may be too difficult for them.
On a personal note, just got off the phone with my sister, Sara – It still amazes me how I can sometimes feel when she is upset, no matter how far away we are. Everyone always asks about our "twin powers," which we usually just laugh away, but perhaps there is some truth to it. Anyway, she is having difficulty at home and I am finding it hard to concentrate today as I think about it. She did tell me something that suits where I am very well – 'when you don't know what to do, do what you know.'
January 10th 2013
I have officially found my FAVORITE place in India (thus far) – the rooftop terrace of the Foundation. I didn't realize it was even there until I noticed the stairs behind Ruskar's class while sitting with them yesterday. So, feeling a bit like I was sneaking out of class, I quietly inched up the stairs with my camera. What a world! Finally, I could see all of Amer and the beauty of the old wall skirting up and over the surrounding mountains. Of course, there were kites, and women hanging clothes from their respective rooftops and it felt just so open and lovely. I hadn't realized how much being in such an urban environment was affecting me, but I finally felt like I could take a deep breath there! Coming right from rural West Virginia to Mumbai was quite a drastic change. Just as I was thinking how much bigger Amer was than I had thought, I heard a voice from behind me and turned around to see a woman calling to me from three rooftops away. She asked me if I was English, to which I responded "American!" and she grew even more excited. I met her downstairs with her sister-in-law and small son. Both of them spoke fluent English and knew Ruksar, who thought it was very cute that I was already befriending her friends. The women are very open here and it was nice to meet new faces. I didn't talk long, as I had effectively ditched Ruksar's class, and hurried back to finish up the day.
I thoroughly enjoyed observing Ruksar's class and reviewing the children's work. As with all the classes, we must work on speaking confidence. I also more clearly noticed how many children can write and speak a word, but are unable to express it in a sentence or even understand its full meaning. Ruksar also helped to assuage my fear about working with the teachers by expressing her desire to learn better English and I think we will get along beautifully.
Pryanka's  class today! Oh, also, registered for the Jaipur Literature Festival with Geeti. We are so excited. I have read William Darlrymple's "Nine Lives: In Search of the Sacred in Modern India" and would love to see him speak in person. In India! *Perfect*
January 11th 2013
Well, good news is that I have finally figured out the wireless (all credit goes to the travel agents downstairs), but bad news is that I am unable to load pictures into this document. Hmmm. Anyway, will keep trying. Really wanted to show the lovely photos I got from the terrace a few days ago.
Much thanks to Rosenda for responding back to me in such detail concerning my observations at the Foundation. I like very much the idea of reading a magazine article or book with the teachers to work on reading comprehension and furthering vocabulary. Ruskar suggested to me to pick a topic and work on speaking confidence with the teachers as we discuss the topic together. Rosenda is right – the teachers are very eager to learn more and I am growing increasingly eager to help expand their knowledge. The children in Pryanka's class took turns reading Cinderella yesterday and I wrote down words they struggled with, both in speaking and understanding. For example, "when the clock strikes twelve" prompted a very interesting discussion on word context – the children knew the word "strike" in relation to hitting a person or object (verb) and in its use as to describe a protest (noun), but not in the context mentioned in the book. While the children understood the basic premise of Cinderella (she is a maid, fairy godmother, finds her prince), the finer points of the story were, of course, lost on them. I know the teachers incorporate a story a week or something to encourage reading comprehension, and I will absolutely rely on them in my teaching.
Ah, my teaching! After observing all five classes, I feel I have a much better understanding of how the Foundation runs and my own role to play in it during my short time here. I spent some time yesterday flipping through the Books of Me and they are absolutely wonderful – moleskin! Such nice journals that have been offered by the company to the Foundation. I asked each of Pryanka's classes what they thought of the Books and if they would like to work more in them with me. Almost all children said they liked them and would enjoy drawing, writing stories and taking photos to include in their individual journals. I understand not all children have journals, but only the elder ones. I think this would be a good on-going project.
I saw that some of the journals began with Chapter 1 "Where I come From" and I like the chapter concept. I am drafting up ideas, but my initial thoughts are below:
Where I come from
What makes me happy
a) sports
b) music
c) my favourite colour
d) food
e) activities
3) My future
a) my profession
b) travel  – include some geography. Perhaps assign each child a country, with a quick fact sheet, and have them write about it
4) My Imagination
a) write your own story based on a sentence provided (Ex: The girl walked along the beach and found a doll.)
b) photos – take a photo of something that you like and describe it
c) drawings – perhaps give each child a picture of a famous piece of art (Ex: the Mona Lisa) and have them draw it themselves
Obviously, as the teachers have affirmed to me, the challenge will be encouraging the children to use their imaginations and reassure them that nothing they produce can be "incorrect." Again, these ideas are very preliminary and will no doubt change. Some may be too difficult.
I thought I would keep my own journal to do with the children at the same time to give the inspiration  (copying a problem here, though).
I wrote my sister and asked to her scan and email me old pages from the journals I kept when I was about 7-10 years old, so they can see my own struggle with English and expressing myself as a child. I'll print those out and distribute.
For the little ones, I am thinking I could still do a version of the Book of Me, but on a much smaller scale. Even though they do not have their own moleskin journals, we can create maybe a five page booklet out of construction paper and work on different topics (Ex: My favourite animal). Teaching songs will also be great for all the students, as they have all expressed a mutual love for The Beatles.
Finally, thank you Rosenda for explaining to me your viewpoints concerning teachers speaking English with the children. My observation was not meant to place a judgement either which way, but rather to understand the level of English spoken by the teachers.
Well, that was a lot. As evident, I am doing my best to get organized and create a loose structure for my time here.
Weather warming up today – what a treat to be typing this on the terrace!
January 11th 2013
Happy Kite Festival Day! Well, at the Foundation anyway. Very excited to go see the children fly their kites, and hopefully try my rusty hand at it. The children were so cute yesterday, telling me "see you at one of the clock, ma'am."
I met the computer teacher, Geeta, fresh from her maternity leave, and she was very kind and welcoming. I really enjoyed being with the younger children yesterday – I let them play with my camera and now have many pictures of their smiling faces to show my friends and family. Speaking of which, Dropbox is a great idea. I have an account already – does Tushita have a separate one? I will ask Veenaji today when I see her.
Thank you, Rosenda , for your comments on my lesson ideas. I can absolutely use the piano at the Foundation and I will inquire to Veenaji about the violin.  You are very correct that the little ones need a much more interactive environment to thrive and learn. I was thinking yesterday of working on a letter a lesson with them (Sesame-Street style), as I noticed they have a lack of understanding that each letter has a sound. We could draw, use songs and just have fun with each letter, its sound, and some words that begin with the letter. Thoughts?
I think I have Ruskar's, Sonam's and Pryanka's classes figured in terms of lesson outlines. Harder will be Payal's and Ruchi's classes. Ruchi and I had a nice talk yesterday about the children's levels – whatever I do should compliment what the teachers are already working on with the students. For example, yesterday Sonam was reviewing action words, so I taught them two new action words that were not included in the book. Communication will be key.
On a personal note, I am doing very well. It has been an adjustment, but a welcome one, for me to settle into a slower version of life. In the States, there is a certain tendency to determine success by how much one can do. Work hard, go to the gym, extensive social life. All good things in themselves, but to be out of the 9-5 routine is…beyond wonderful. I am not taking this time for granted, that is for sure. I wake up early, do some stretching and reading, than have my breakfast on the terrace. I write or read until lunch – I have also been using this time to work on lesson ideas for the children. I have taken a few walks around the neighbourhood, but I do miss running and the gym. I will be excited to begin yoga when Geeti comes. My cold is gone and I am much more used to the food and water changes. I am naturally very social, so I look forward to having someone else in the house to pal around and Geeti and I seem to be of the same mind set. I am very comfortable in my room and the house – feels like home!
I also greatly enjoy writing on a daily basis to Rosenda. This is the third journal I keep, actually, as I have a personal one and one for friends and family. How lovely to have the freedom and the time to write, write, write!
January 12th 2013
HAD THE BEST TIME YESTERDAY! Deserved all caps, it was so much fun. Veenaji and I stopped on the way to pick up these honey and sesame treats (the name escapes me) and we were off! When I arrived, I went right upstairs to the terrace were all the students and teachers were waiting. They all greeted me with excitement and I thrilled and surprised even myself by remembering some of the children's names. They showed me how to wind the kites and the children took turns letting me take my hand at flying. It took a while, but I finally got the hang of it – I even cut one kite! The children and teachers all cheered – I didn't have the heart to tell them I hadn't meant to! The girls were not as interested as the boys in kite flying, and I was quickly coerced into learning how to dance. Ruskar is an amazing dancer, I couldn't believe it! I did recognize some of the songs (all the ones from Dabaang 2) and, while I looked unbelievably silly, I did have a good time wriggling around with my little "coaches."
Payal dominated at kite flying, and was the reigning flier by the end of the day. Veenaji asked me to take pictures, and I did not disappoint since I got a bit carried away and took over 200 of them.
Tomorrow is the actual holiday and Veenaji mentioned that Beam really enjoys flying. Hopefully we can fly kites from the Tushita House terrace together tomorrow.
January 14th 2013
Well, the long weekend is over and it is time for the school week! I am equal parts nervous/excited about teaching – spent some time yesterday researching good activities to do with the children and organizing my ideas a bit more. We will see how they stack up to reality. I think, for the children who will not be working on the Books of Me, we will focus on improving English speaking, comprehension and vocabulary through some topics: NATURE, ART and MUSIC. This will allow me to expose the children to new ideas and experiences while also working on their English proficiency. The children told me so much about how they loved learning geography and music from the other volunteers, so this seems a good solution to incorporate it all. I will also do this in a more individualized way for the Book of Me with the older students. Any thoughts are, as always, greatly appreciated.
I enjoyed accompanying Veenaji and Soonam to the Mayo Boarding School in Ajmer on Sunday. It was really nice to see West Jaipur and also to experience the countryside of India. How LOVELY to see so much open space and green fields and goats and…all of it. I do love a road trip. Although, I must say, the highways in India take some…er…getting used to. Especially sitting in the front seat, since my stomach was bit off and the backseat would not have done me any favours. After my hands flew up to shield my eyes for the zillionth time as we dodged an oncoming car or tractor, Davsingh just smiled and said, "India." Well, true. And I was much better on the way back. A bit like driving in Manhattan, to be honest .Expect…well, tractors.
Yesterday was also a festive day – spent the morning flying kites on the terrace with Beam, Lal Sing and Mahindra, from the Foundation. The agents also came up to say hello for a bit, and everyone laughed as I tried to get the hang of it. What a holiday – I loved it. In the States, we would have paired it with a barbeque and a football game. Here, I cut papaya for everyone and enjoyed the day.
Today is also when I begin my conversation time with the teachers. I printed out a few poems and art pieces we can discuss throughout the week and I think it will be good. Ruskar and I have a standing appointment after teaching to review the quote she lovingly writes on the chalkboard in the Foundation entrance.
January 14th 2013…continued
Foundation cancelled today due to Muslim/Hindu riots. Better safe than sorry. It is sad though, not just for the children, but that this conflict continues. I am using my free afternoon to work on more lesson ideas for the children. Vocab etc.
Also, Rosenda – I know how determined you are not to create an atmosphere of competition between the students – do you think BINGO would be too much? Do you know this game? It is good at teaching word recognition…
Thanks!
January 14th 2013
Just had a relaxing massage and feel ready to conquer the day! My neck and shoulder have been hurting this week and Veenaji was very sweet to arrange a massage for me. I'm a new woman.
Really hoping that the children are all safe and I can go in to the Foundation today. I have been working on these little finger puppets made out of paper for the Sunflower class, but need either markers or paint to make them work. I forgot to get them when I went out with Veenaji to Crossword the other day. Which I LOVE. Books, books, books. Also, had a lovely time in the Children's Books aisle, grabbing things for the Foundation. I also downloaded some children's books on my Nook that we can flip through.
Am going to make an effort to learn the Hindi alphabet, since I have been avoiding that and just learning vocab. But, why not?
And just received a call from Veenaji and the Foundation is a go! YAY!
January 18th 2013
Quiet day yesterday at the Foundation, but still was so happy to be there. I decided not to start my lessons until next week, as so few children attended yesterday and today is another holiday. Veenaji arranged yoga for me this morning with Manisha – we discovered we were born two weeks apart from each other, which made us very pleased with each other. It was so nice to do yoga again – I used to do it daily, but my shoulder injury restricted me so much that it has been months. I will see her again tomorrow.
And my first taste of Indian rain! As the sound of pounding water began to drum on the windows last night, Lal Singh and I rushed around the house making sure everything was shut, than went outside and looked at the storm. It reminded me of the desert storms back home, which begin so fierce and sudden and then quickly tire out. It has been threatening more rain all day, so my sightseeing day may be cancelled. Which is just fine, because I can spend a cosy day at Crosswords, if so. Vijay and I will decide in a couple hours time.
Brrrr!!
January 22th 2013
The past four days have been very busy, both personally and here at the Foundation. Unfortunately, I haven't been able to keep any solid food down for the past 24 hours and am really hoping that I feel better tomorrow. Am cuddled in bed dreaming of sprite, which Lal Singh is off to get me.
But, in happier news, the weekend and my time with the children these past two days have been wonderful. Friday was a holiday and it rained in the night and early morning. It was lovely to see the clouds rolling in and the smell of rain here smells just like home. The dirt must be similar. Veenaji and VV were very sweet to arrange a tour of Amber and Jaigarh Forts for me in the afternoon and Kamal and I had a lovely time exploring them. While Amber Fort was beyond beautiful, my favourite fort was actually Jaigarh. There were very few tourists there, so it was lovely and quiet, and it was so lovely to see all of Jaipur and the surrounding countryside. On Saturday, I went to the Foundation for activity day and danced with the children. Geeti came on Sunday night, but the day was spent, unfortunately, dealing with some family matters at home. I am hoping things will settle soon. Geeti, however, is just lovely and I am THRILLED to have company. She is settled in the other room and we went for a nice walk yesterday around the neighbourhood and investigated a gym. We are already planning on the adventures we will have together during our free time and after we are finished.
I have survived my two first days of full teaching (today was a bit rough since I felt so ill, but the teachers were very kind) and I am so happy to be putting my lessons into place. Rosenda, you will be very pleased to know that the Book of Me is officially underway with Pryanka's class. The second chapter is titled "What Makes me Happy" and I had them write five sentences on what activity makes them smile. It was difficult, as predicted, to get them to think outside the box and feel free to be different. One student embraced it fully and wrote about how he loved love stories, although he was so shy about sharing. So cute. Lalit wrote "I like to read stories because I can see how people feel in the stories," which I thought was amazing. So, a good project. I look forward to continuing it. With Ruskar's class today, I am working on the theme of "Creativity" through "Art," so I had the children write about what they like to create ie: drawings, singing, etc. Ruskar's class needed a bit more prompting, but it was a good lesson in grammar and feeling comfortable expressing in English.
Today was also the first day of working with the teachers, which we were all excited for. I wish I had felt more myself, but I think it went well. I asked the teachers to tell us why they enjoy teaching and also what aspects of English they want most to improve on. All teachers say they want more practice speaking and in expanding vocab, with only one or two expressing a desire to improve grammar.
I feel very badly for Manisha, who taught me yoga the first two days, but whose father just passed away. In the States we would send flowers or a card, I am unsure what to do in this case.
I will write more about the children soon, as well as share with you my pictures from the Forts.
January 23th 2013
SO SO SO glad I feel better today. I still ate very little, and had to sit down a few times at the Foundation because I felt a bit weak, but all together – so much better than the past couple days. Geeti and I had our first official teaching session with the lovely teachers. We printed out an article about one celeb's statements on the Delhi rape and had a very good debate on whether women should be let out after night, how women feel in India and around the world and about the mentality of men towards women. It was very good.
I took over Payal's class today, as she could not be at the Foundation. I really noticed how much the English level varies between each batch of children within a class. We focused on question words (who, what, how, why, where, how, when) and, for the first class, it was very difficult for them to form sentences. The second class was much stronger, so what I had done with the first batch was too easy and I had to reorganize. With the third batch, I was able to do what I had planned on doing and showed a famous piece of art and had them describe it using the question words (ex: what do you see, how do you feel, etc). The picture was Van Gogh's Starry Night and they loved it. The village in the hills was something they could relate to, which I hadn't thought about. I think the overall theme of my teaching will be "Art: To Create" and will focus on what it means to create something, how everyone contributes something unique, etc. So far it is going very well. I mentioned the idea to Geeti of having a gallery showing at the end of the season, which she liked. She brought up the idea of having a week of "Show and Tell" which I think is fab. That is a big thing for us in the States.
January 24th 2013
Republic Day at the Foundation! Geeti and I travelled there with Veenaji after having a nice lunch and walk together. This was Geeti's first experience seeing the children dance and she loved it, just as I do. So much energy and confidence, even from the littlest dancers. Everyone was dressed so beautifully and the teachers greeted us with such happiness. The children danced, gave speeches and read poems in celebration of the day. As the sun began to wane, we were encouraged to dance with the children and Geeti was able to try out some "moves." I was happy I remembered some from last week. The BEST/SCARIEST part was when I put on "Bulletproof" by La Roux on my IPOD, turned around from the speakers and found myself facing about 30 sets of wide eyes and still bodies, everyone waiting for me to show them the dance to the song. When I got nowhere trying to explain that, in America, we don't actually have set dance moves for every song, I just made one up. It was very, very silly and I had no idea what I was doing, but the children followed my every move and it was a good time. Geeti laughed and laughed. We are all set to turn Tushita House into a mock-dance studio as we prepare for next week. We promised we would practice and have some dances to show them!
Devi Singh dropped us at a local bookstore and cafe, where we had lovely food and enjoyed being in a place that felt like home. We are looking forward to the literary festival very much this weekend! Wish you were here, Rosenda!
January 26th 2013
Just rushing out the door to attend our second day of the Literature Festival. Which is pretty much Heaven for me. So nice to hear from many authors I had read in college and Geeti also knows some of the panellists from Harvard. Deeraj, Kamalan's manager, is wonderful company and very knowledge about the written word, so he keeps Geeti and me informed throughout the Festival of things we should read, etc.
My stomach is still not super, so I decided to take some medicine today. Hoping it helps!
Off to rub shoulders with the Literati!
January 28th 2013
Hi Rosenda! So, yes, as if you don't already know, the literary festival was amazing. Even though by the third day, we were all pretty much "thought out." Very interesting discussions, and I am already planning, hopefully, to come back next year. The authors look unbelievable! Ian Mckwan, Margart Atwood, Amarta Sen…wow. I really enjoyed debating about different ideas with Deeraj and Geeti, it felt like college.
Now, it is back to the "real world" and to teaching. Geeti and I were very happy to be with the children the teachers again, after such a long time away, as well as. Deeraj accompanied us to the Foundation today, so I think the teachers were shyer than normal, but it was still a good discussion. We read "The Road Not Taken" by Robert Frost – we didn't have much time to discuss it, but will continue tomorrow. I worked with the little ones today and taught them the nursery rhyme "Hey Diddle Diddle" accompanying it with hand motions, which they all enjoyed.  They were a bit crazy today, since Sonam was out, still they did taught me how to play this game where you walk in a circle, than everyone freezes and whoever moves is out. We have something similar back home and it reminded me of my childhood.
January 29th 2013
Today we worked on adjectives within the context of the ART – WE CREATE theme. I have chosen it to be the umbrella idea for all my classes, excepting the Sunflower Class. We looked at a picture of Starry Night by Van Gogh and used adjectives to create sentences describing the photo. Much attention was placed on encouraging the children to describe the picture themselves, relying on feeling words and trying to stay away from always saying accha, which means good in Hindi, or great. One child said he liked the way the colours "shined," which was lovely. Another said he liked to see the "white air," which was also inventive. The children wrote three sentences each and than circled the adjectives. At the end of the class, I wrote, "You make Art. You are the artist," on the board and had them draw the picture from memory. They seemed to enjoy that, and it was interesting to see what aspects of the picture the children focused on. One child just drew the tree and the stars. Another actually drew the computer on which I was showing the picture, and than the picture inside the computer. It has been a good day. In the evening, Deeraj, Geeti and I went for some sight seeing, which was nice. Better almost the second time, since I could just wonder around and absorb the feeling of being there, rather than listening to all the information, a different experience.
January 30th 2013
Lovely day at the Foundation. Got a lot of work done and had time to teach the children Hangman, the game where the children guess letters in a word only the leader knows. I had Pryanka's class today and we worked on the topic "If I were a superhero, who would I be?" to be placed in their Books of Me. The first class had only two children, Shifa and Govind, so it was much easier to work with them and they did not have much difficulty in thinking of something. Especially when I started them off by saying my power would be to close my eyes and be anywhere in the world I wanted, in an instant. The second class was bigger, with twelve students, and they found the topic extremely difficult. Except for a few students, notably Kiran and Lalit, who caught on right away. The other students found it very difficult to use their imagination, or even to understand how that works. So, I spent some time telling them what it means to "imagine" something. For example, right now, I will close my eyes and be at the beach, but I am actually still in the classroom. But, I imagine I am at the beach.  Once I did that, I got many more answers. I found it very interesting how the majority of children said they wanted their superpower to help people in some way. Like, a power to build hospitals or give children toys. Other children were much more imaginative. Lalit said he would want to do anything with his hands, such as create fire. Anjli said she would be a princess. Putul said she would be a fairy and grant wishes. Rajni, however, said she would like to build hospitals and hire doctors. Which made me very happy. I was also impressed with Govind, who finished early and than told me he didn't want to draw. I said, "all right, what would you care to do?" And he said he would much rather write a story. So, he did. And it was a good story and he was very happy to do so. We will finish the topic next week.
With the teachers, for the first time, Geeti and I actually arrived on time. We finished our discussion on the Road Not Taken by Robert Frost, which all the ladies really enjoyed. I told them about my own personal decision to leave home for college, and how although it was very difficult and would have been much easier to stay at home, that the decision had been the right one for me. Ruksar and Pryanka also told us of their own decisions to continue in school and it was lovely to hear from them. Now, we are reading a short story together called "Gift of the Magi", by O. Henry. It is about a young, married couple at Christmas with little money. The wife sells her hair to buy her husband a watch chain, but her husband sells his watch to buy her combs for her hair. Difficult in terms of vocab, but they understood the story. We will delve deeper tomorrow.
I will leave you with what Suraj wrote in his Book of Me today:
If I could have a superpower…
I wish I had the power to fly.
I could visit the whole world without an aeroplane.
I could play with birds in the sky.
I could race with the aeroplane.
January 31st 2013
A busy day today, but a good one. Geeti and I jammed out to great music in the car on the way to the Foundation and arrived pumped and spirited. We had an addition of two new girls to our English class with the teachers, so I do believe the word is out. Geeti and I drafted up a worksheet with each paragraph of the story broken down in terms of words not understood by the teachers, and with definitions included. It was difficult going through it all, but very helpful. I am glad to see the teachers are using their notebooks and writing down words they don't understand, as well as concepts. Tomorrow, we will focus more on the plot behind the story. Geeti and I stopped at Crossword on the way home, in search of the board game Scrabble. We didn't find it, but we did buy a game that is similar. I hope the teachers will enjoy it.
I taught in Ruksar's class today, which went very well. Last week, we defined Art as something we create and this class connected with that idea. The heading was IMAGINATION and I showed them Starry Night by Van Gogh, since that was a hit with the other classes. They like how the village is surrounded by hills, just like Amber is. As I did with the other classes, I asked them to tell me what they see and wrote the words on the board. I also asked to tell me how the picture feels. Tanveer was very creative, and said that he felt that the colours were very dark and made him feel darkness and sadness. This was interesting, since all the other students had just said that they liked the picture. In the first batch, Afrien said that she felt like the picture made the village seem right in front of her, which was an excellent opening into defining "vivid." In the next class, we will write a story together about a character in the village. The first class voted on a girl character named Kuchbu. The second class voted for a boy and a girl, named Anthony and Sara. You can guess where they got those names (last summer volunteers). The third class has only three students and is at a much lower level. We worked on adjectives, than played Hangman and finally did some word scrambles. They became more confident in the end.
February 2nd 2013
I love the start of a new month, its like a mini-beginning. Woke early and am listening to the sound of water splashing in the garden as Bim waters the plants, which almost sounds like rain. Imagination is required.
Had a very fun day at the Foundation yesterday. Geeti and I arrived, lunch in tow, and finished up our discussion of the Magi. Speaking of which, I loved "The story of Naku and Neeko" that you wrote. Very fantastical but real from a moral standpoint and, of course, I enjoyed the twin element. We told the teachers you had written something for them, and they are very excited to read it next week. To give them a bit of a break, since the Gift of the Magi was so difficult, we decided to teach them how to play charades. And it was fantastic! I thought they would be shy, but they picked a word out of the hat and just acted it beautifully. Ruksar was a sight – she was hopping on the ground on her knees and I was just running through as many animals as possible (getting a bit carried away) and shouted "elephant!" She just stopped and looked up at me, with this perfect expression like "seriously, Amy? An elephant? Do they hop?" We died laughing. Finally, I figured out it was a frog and recovered face.
With the kids, Hangman is proving a big hit. They love it, and it is great to work on word spellings and vocab with them in a fun way. Had a lovely moment (one of many) yesterday. I believe I told you a few entries ago that Govind from Pryanka's class wrote a story after he was finished with his assignment. I had asked everyone to draw a picture in their Book of Me, and Govind just looked so unhappy about it, so I asked him and he just whispered, "I don't like draw." So, I said, "Alright, what do you like?" And he said, "write story." So, he did. It was a pretty dark tale, actually, about a man who beat a child and ran from the village and the police caught him and justice was served. But, it was very good! And he thought of it all himself, which is pretty wonderful. I praised him, corrected his grammar for him and went on. Yesterday, while I was teaching Payal's class, he came up to me with his notebook, informed me that he had written another story and would I mind looking at it for him? It was about a fish and a King and was very creative. It reminded me of when I was a child, writing, and I would pass my little stories and poems to a particular teacher who always read them for me in her free time and encouraged me. Since you are a fellow writer, I thought you would enjoy to hear that Govind shares our mutual love.
Also, Veenaji told us you are coming this month! We are so excited to meet you!
February 4th 2013
Good evening! Had a lovely weekend and a good, although exhausting day, today. As you saw, the activity day went very well on Saturday. I spent a lot of the day making sure my camera didn't fall out of tiny hands. I enjoyed rocking Geeta's (one of the teachers) newborn baby, Nanu. So.cute. I must have held him for over an hour as I watched the kids draw. It was Geeti's first activity day and I think the level of energy present surprised her! She wasn't feeling all that well later in the evening, so we went out for some Italian food and ice cream together at Little Italy. Sunday was a pleasant rest day. We both slept in and chilled, and took a leisurely walk to the two nearby malls. We also went to Mr. Beans (a cafe ) for the first time, and read the paper and drank Fanta in the garden. So nice there. Like a little oasis. I understand why the other volunteers enjoyed it so. We also popped into a cute shop next door, where I am sure I will spend some money buying gifts before I leave. Which is already in less than two months! How did that happen?
Taught in the Sunflower class. We are working on the sounds of letters, since that is something that really needs to be focused on. Geeti and I both recognized that pretty early. A child can read something they have memorized (ex: jumping, panda, polar bear) but not a simple word like "the" – but we have already made progress on that score. Sonam is wonderful with them. Some people have a gift with little children and she absolutely has that.
Quiet night tonight. My wireless is not working again, so I am nestled downstairs in the office. Will read a bit than go to bed. Yoga tomorrow. I really like Manisha, our teacher.
February 5th 2013
It rained all night! And part of the morning! So nice to wake up to the freshness brought by a good rain and the clouds rolling in. Taught in Ruchi's class today, which went very well. We worked within the same theme of Art: What we Create and focused on sentence structure.
Ex: Identify subject, object, article, verb, helping verb, etc. for the first two batches. To make it more interesting, and since the class enjoyed Van Gogh's Starry Night so much last week, I had them look at Van Gogh's The Cafe and go from there. We first identified the nouns, verbs and adjectives present in the painting and then created sentences. For example, "A man and woman are drinking tea in a cafe." Next week, I told them, we will use our imaginations (a concept they also learned today) and write a story of our own based on the painting and the characters present.
For the third batch, we spent the majority of the class discussing the meaning of a noun and an adjective and creating sentences including them. We used Starry Night as platform for this, as these children did not see it last week. This batch is at a much lower level than the others, as previously explained, so we did not focus on sentences. Rather, we worked on identifying nouns and adjectives within a sentence and then vocabulary. We also played Hangman as a treat, which all the children adore.
Tomorrow, we will refocus on your story, Rosenda, as we did not meet with the teachers today. Should be fun!
February 6th 2013
I worked with Ruksar's class today and I am quite satisfied. Geeti and I are working on the theme of stories, with me focusing on the use of imagination to create Art. I have defined Art as "something we create that is unique" and can include writing, dancing, cooking, singing, etc. All the boys, of course, ask me if playing cricket can be considered art, so of course, I said yes! I have been working with Van Gogh's Starry Night for a few weeks and we started with that. I wrote one sentence to begin the story and asked them to write the rest, after deciding on a character, gender and name. First sentence – "Kuchbi left her house quietly." Than, describe. I told the children to close their eyes and imagine that they are in the village in Starry Night and that they are watching the character emerge from her house. What does she see? Is the moon bright? Where is she going? Why? And they have total power to make her do whatever they want. Aliens emerge? No problem. They loved it. I had a chorus of children yelling at me in Hindi, so they had to settle and be reminded to try to speak only in English and use full sentences. I reminded them to remember to use their articles, helping verbs and prepositions before they spoke, which helped. And it was…just my favourite thing. Seeing them decide what to do with Kuchbi and answer my questions concerning how she feels and what adjectives we should use. So, we did that and the children tied off the story very nicely by saying she met a King who whisked her away to his palace and married her. Typical, but still sweet. The second batch of children had a little tougher time with it, since their level is lower and they are naturally a bit shy. But, they got the hang of it. My last batch couldn't handle such an activity (just four boys) so we worked on just naming adjectives and nouns present in the painting. I always like to challenge them to express how they are feeling and really pushed them to answer why they liked the painting. One boy, Arbaz, told Ruksar to tell me that he liked the painting, but found that it made him feel very lonely since there were no people, just a sleepy town surrounded by hills. I wanted to hug him! Such a fresh and original answer and, incidentally, exactly the way I feel about the painting. It had always made me feel a bit morose, despite its beauty.
With the teachers today, it was a bit of a win-lose. I felt inspired to ask them to discuss the Ganga and pollution (faith versus health) but the article I chose was just way too difficult for them in both content and vocabulary. The topic is also very challenging and I could tell it made them uncomfortable to discuss. However, having said this, three of the teachers came up to me after the class to tell me that, although they felt that it will be difficult to talk about for them, they do want to attempt to try the topic. So, we're going for it. I can already tell it will be a very riveting discussion.
Yesterday, I also had a very fun class session with Pryanka's children. We discussed the natural environment, to take a bit of a break from imagination, and I showed them pictures of the Sonoran desert and the Grand Canyon. Which is my favourite place in the world. I asked them to describe in their Books of Me what they like about their home environment, or perhaps, do not like. Govind (who continues to give me stories for editing) wrote "I like the peacock in Rajasthan because of his voice." Shifa wrote, "I like the mountains of Rajasthan because they are so high and big. I do not like the cobra because it is very dangerous. " Just a sample.
Finally, I very much enjoyed Geeti's take on India in her entry. We have been talking about that together a lot – I am having quite a bit of difficulty in describing India to my friends and family, and to myself. The closest I seem to get is to say that, here, life is lived in front of you, like a real, tangible thing. The same I can say about worship. It is almost…visceral. But, as you can see, I am having difficulty. India is elusive. I keep trying to catch on to her step, but she changes the tune. I don't know. I'll get there. Or perhaps, never will. Maybe that's the point.
February 8th 2013
It is just past 5:00am here – my apologies for not writing last night. I was feeling a bit under the weather coming back from Veenaji's house last night, so after setting out my clothes for today's adventure, I fell fast asleep. I am sharing Geeti's head cold.
We had a lovely dinner at Veenaji's. It felt like being back home for both of us. She is such a good mother for us, and of course, an exceptional chef.
Yesterday, I worked in Payal's class, which was a bit smaller than usual. I had Rukhsar, one of the students, and her son with me, which is always a treat. I am so happy she still attends class despite her marriage and having a little one. I gave him a book as we worked on sounds together, along with little Muskan. I also showed them the picture of Starry Night, since they hadn't seen it, and we worked on vocabulary. For the other two batches, who are at a more advanced level, we worked on sentence structures. I used pictures to initiate the conversation, the classes especially enjoyed a picture of a stone cabin in snow in Sweden! The final class finished early and were very keen to play a game, so we did. At first Hangman, than Charades. So much fun.
I am just gulping tea and waking up. Very excited to see the Taj Mahal and the Yamuna River. I was telling the children how my dream was to come to India, and see all these wonderful sites. They thought it was so funny, "you dreamed of coming here?" "Why? Yes!"
Also, thank you for your response yesterday. I appreciated it a lot. I do feel helpless to describe my feelings for India, but I am glad I am not alone, or perhaps, I am the majority. Also, I agree with you on the Ganga. We will see where the conversation leads us. I am very interested to hear what the teachers have to say…I learn so much from them.
February 10th 2013
Geeti and I love our lazy Sundays, as we call them. I woke early and did my hand washing. BimSingh was very sweet to string an extra clothing line up on the terrace for us to hang our clothes…looking over, I saw another woman doing the same thing on her terrace which made me smile. After Geeti woke and we had lunch, we explored a bit more of the shops around the street, in search of a dry cleaning store. Then, we went to the mall in search of a card for a friend and ear buds for Geeti. Now, back home for the night, we will plan our lessons for the week and relax. Glad she is feeling better.
Yesterday was such a lovely day and we were so well taken care of by everyone. Veenaji was very sweet to schedule a driver for us as well as a reservation for lunch at a lovely little hotel. While I loved the Taj Mahal, my favourite part of the day was seeing the Yamuna River and investigating the fort with Geeti. We had fun tromping about the complexes hidden behind its walls and posing for silly pictures together. Thankfully, we both have the same sense of humour so we don't have many dull moments! The Yamuna River was both a joy to see as well as a depressing sight. It is still beautiful, of course, and we have already established its own identity as a spiritual, cultural and economic entity for India. But, seeing how polluted it was with my own eyes absolutely affected me. And it should, I think.
I have copied and pasted here the blog post I wrote for my family and friends this morning:
Ah, the Taj Mahal. Not unlike how the Eiffel Tower has become the image of Paris, so has this monument secured itself as the image the world has of India. Visiting it, I wasn't sure if my excitement rested in the knowledge that I was actually seeing the Taj and, therefore, crossing that monumental image off my bucket list – or if it stemmed from an actual desire to, well, see the Taj. It likely doesn't matter. Whether my breath was taken away because I expected it to be, or because I was overwhelmed by the immensity of the tomb itself, I was still impacted by my visit. The gleaming white marble, the pleasing symmetry, the precious-stone inlays – the way that the tomb promised quiet in its very nature, despite the noise that came from the crowds surrounding it. The nature of the people themselves – from oddly dressed tourists to traditional Indian families, everyone seemed awed by the same thing.
Leaving the tomb, Geeti and I sat on the preciously cool marble and gazed out at the Yamuna River that skirts behind the complex. The river, the largest tributary to the sacred Ganga, weaves slowly and heavily below the large marble terrace of the Taj Mahal. On its banks, across from the complex, sits the ruined foundation of the second Taj Mahal, the uncompleted sister tomb meant to house its creator. To the left, the mighty, red walls of the old Agra Fort can be seen. A boat made its way slowly across the river and I watched its progress from above, the Taj behind me, a permanent observer of the river and all her changes. Where she had once been mighty and clean, the Yamuna has borne her own struggles – not from age or rust or neglect – but from steady and increasing pollution, exploitation and overuse. I have read about the plight of the river systems in India for years. Seeing it up close, at the base of one of the most famous sites in the world, stirred in me a sadness I wasn't quite prepared for.
We visited the Agra Fort and explored its maze of interior palaces and complexes, terraces and hidden stairwells. No where near as properly preserved as the Taj Mahal, the deterioration of its once vibrant frescos and tile work added its own beauty and magic to the expansion of rooms and vaulted ceilings. We spent two happy hours there, marvelling at a relic of ancient India surrounded by a modern city and hugged by a timeless, yet ever-changed river.
As Geeti and I watched the sunset over the passing fields and villages as our train made its way southbound – to home – I was reminded of what Diana Eck said about India: that India must be seen to be known. One can see all of life, death and suffering in the same glimpse in this country. It is overwhelming and intriguing, repulsive and beautiful in the same breath. But, it is India. And, yesterday, I got to experience just a little more.
February 11th 2013
Hi Rosenda! The discussion about the Ganga with the teachers today was good, if very difficult. Priyanka and Ruksar spoke the most, although Ruchi also came in at the end. We discussed whether it is an insult to say the Ganga is polluted – to which Priyanka said very well that the Mother Ganga is not polluted, but the water is. The difference between the physical and the spiritual. We discussed the concepts of culture and tradition and why people can still choose to bathe in something they know is polluted. We discussed the role of the government and of the communities themselves. I wish more of the teachers felt comfortable speaking, but it was a difficult issue. Hopefully, simply listening to our discussion was helpful.
Tomorrow we will do something lighter, an Emily Dickinson poem, I believe.
I worked with Sonam's class today. So proud of them. They have been working very hard on a nursery rhyme to sing for you when you come. They can sing it almost perfectly now. I must have listened to it 40 times today. We are focusing on sounds, which their quick, little minds are just devouring. Their capacity for memory boggles me.
Tomorrow is Ruchi's class. Still toying with what I will do with them.
February 12th 2013
Hello dear Rosenda! Thank you for your sweet response to my last two entries. I love especially what you said about my inner landscape expanding and changing in this country. Since I have come here, many perceptions I had about myself and the world around me have altered. India…is something else. And yes, I am overjoyed that I have this experience to befriend the women here and learn about their thoughts and aspirations and dreams. I couldn't ask for better. Today we read Emily Dickinson's poem on Hope and W.H. Auden's heart-breaking poem, Stop all the clocks. Have you read it? Link enclosed: http://homepages.wmich.edu/~cooneys/poems/auden.stop.html.
For the Dickinson poem, we discussed the use of metaphors and what hope means to each of us. One teacher said that hope has the ability to keep you warm, despite the cold. Another liked its ability to help you fly, when you feel like you cannot. Such beautiful interpretation.
The Auden poem was terribly sad, but so beautiful. Like it is meant to be. One teacher had tears in her eyes, she felt it so keenly.
After, Geeti and I asked them what they would like to talk about next. Ruksar said she really likes talking about complex topics, because it inspires her to bring about change. We all had a laugh when we talked more about this – Priyanka said we could start our own social movement in the office! The government would never suspect! Just for fun, but still, the underlying meaning behind this is clear – they enjoy, more than Geeti and I thought they would – talking about such difficult issues and debating them and being challenged by each other's ideas. They wish, now, to discuss issues relating to dowry, access to education for girls and women's rights. We are fast becoming a college seminar. We are also throwing Bollywood in there, though.
I read "The story of Naku and Neeko" to Ruchi's class today. It went very well. I think they liked it and made sure to stress the moral of the story. Within that, we discussed the components that make up a story, such as plot and setting and characters. Will serve us well when we write a story together next week.
February 13th 2013
Had a breezy day today, both in weather and in spirit. Yoga with Manisha this morning, which was challenging in two parts: the exercise and the fact that her mother is ill and she was coming from the hospital. Geeti and I assured her she didn't have to come today, but she wanted to. I suppose routine is everything. After yoga, Geeti and I downloaded an article on barriers to accessing education for girls. I never thought I would be getting back into my human rights roots while with Tushita, but it has been a beautiful surprise. In our session, we asked the teachers what they thought were the biggest barriers, all of them agreeing that the mentality of a male-dominated society was at the top of the list. We did notice a bit of a difference between the Muslim and Hindu teachers, which they also acknowledged. We also discussed the difference in rural versus urban areas and, for these teachers, who are from the middle-class, many of the issues presented in the article were not relevant to them. Tomorrow, we will discuss the impact that education has on women, children and society.
I taught in Pryanka's class today. The students are getting used to flex their imagination muscles now and the lesson flew by. I asked them to write under the heading "If I could be an animal…" and let them just have fun with it. For example, where would you go if you were a tiger? Would you scare your friends? If you were a whale? One child, his name escapes me just now, wrote that he would be a monkey and go to a cinema and see Dabaang 2 and scare all the moviegoers. So cute! Kiren wanted to be a unicorn and we had a fun time trying to draw one. The Book of Me is slowly but surely progressing!
Off to make valentines for the teachers with Geeti and watch a sappy, romance movie. This is the season after all.
February 14th 2013
HAPPY VALENTINES DAY!
Had such a wonderful, loving day today celebrating with the teachers and the students. We danced, played games and drew to our heart's content. Geeti and I made valentines and we received so many in return! And tomorrow we are travelling to Delhi!
Ready for sleep and a 4:00am wake up call…I am so excited to meet you!
February 21st 2013
Dear Rosenda,
You will be also very happy to hear that we have started the lending library again, per your suggestion. I talked with Pryanka yesterday during class and she retrieved the old lending registrar that Chloe (one of last summer volunteers) made in September. Three children borrowed books and they will be returned next week. I realized we have a large lack of books for middle level readers – the nursery rhymes are too easy and the fairy tales and storybooks are just a bit too difficult. I will discuss with Veenaji and then make a trip to Crossword to see if we can pick up some books for that level.
The class with the teachers was very interesting yesterday, as we discussed social media and its power. The majority of the conversation actually revolved around the ladies' fear of Facebook and other social media sites – Ruksar said that Facebook is actually referred to as 'Fakebook" here. In the end, Geeti and I just told them it was a personal choice and that there is always risk. They also asked if we could show them how to use Twitter and other sites better, so Geeti will bring in her Internet stick one day. Today, we did something a little different. We showed them Edvard Munch's The Scream and discussed what it meant to them, how it made them feel. Geeta pointed out how interesting it was that the setting was so idyllic around the screamer, but he was obviously suffering and she said the contrast was very interesting to her. Ruksar was adamant that he was screaming because of noise, which was interesting to me because I always perceived as reflective of a silent turmoil. Describing it as a native-English speaker is hard, so I was concerned it would be too difficult, but they really seemed to enjoy it. We also printed out an article and, per your suggestion, Geeti and I read it aloud first before having them read it and then going over vocabulary. Tomorrow is game day!
Geeti and I were overjoyed to hear that the property across from the Foundation has been acquired. What a pleasure it will be for the children to have a garden and a playground. I can hardly wait to come back one day and see it developed and being used. Have you heard of the book "Last Child in the Woods?" It is a study on the effect that lack of nature has on child development. While perhaps not too applicable for our children, since Amer isn't exactly an urban environment in the strictest sense, I doubt they have the same kind of experience that children back home do, rambling through the woods or the deserts. This space will give them a safe pocket of nature and play.
In class yesterday, we continued to work on the Book of Me around the topic that Geeti picked out about Paradise. I encouraged drawing and they children had so much fun. Vedpul's Paradise was really funny – he wanted robots to ride bikes and create electricity, he is our little engineer. He has made an automated car last week out of a cell phone box, a light switch, a battery and two wheels. I couldn't believe the level of his innovation.
Today, I worked with Ruksar's class. I showed them The Scream as a contrast to Starry Night, and it was clear they enjoy Van Gogh much better. The colours appealed to them more, although I think it was good to work on vocabulary related to feelings of fear and unhappiness as well. When I asked why they liked Starry Night better, many of them wrote they liked the church in the picture because they had never seen a church with such a steeple before. I told them many of the temples remind me of churches in that they have a steeple (of sorts) reaching skywards and they laughed and agreed.
It was such a joy having you here and being able to put a real face and voice to the reader behind my ramblings. Have a safe journey.
February 22nd 2013
Geeti and I just returned from a lovely dinner together and I am sitting here with peppermint tea and a happy heart. I like Fridays at the Foundation, as it is the end of the week and we can all just be a bit silly. Of course, I can be silly most days. I read Little Red Riding Hood to Payal's class and we went over each scene to work on question words. Ex: Where is the wolf? What do you think is going to happen? I made sure to do all the voices. I don't mind making a fool of myself in the slightest if it keeps the children interested. Aresh, who was very vocal about not liking stories, loudly proclaimed, "I am boring" in response to my question if he was paying attention to the story. So, we had a chuckle. And went over what "bored" means. Also, played word scrambles at the end, which some students were very good with. We also have two additions to Payal's class, Jainab and Zoya, who were very sweet. On a less bright note, I dipped into Priyanka's class to say hello to the older students and was surprised to read in Kiren's notebook about her teacher at school beating her with a stick when she gets answers wrong. I suppose I shouldn't be surprised, but the concept of hitting a child in a school is just so foreign and hideous to me. I asked her, "They hit you?" and Lalit and Kiran and others immediately jumped up to say, "Yes, ma'mam, of course." I just stood there shocked for a moment. Mentioning it to Geeti on the way home, she told me that Payal's new students had apparently asked Payal if Geeti would hit them if they answered incorrectly. I realize now, more than ever, what a sanctuary Tushita is for these children. I have been here over a month, but it really sunk in today. To have a place to learn freely, without fear or punishment like this…
The teachers also told Geeti and I this week that a baby girl had been left in a plastic bag in the temple nearby. She was all right, thank God, but apparently it is not unusual. The skewed sex ratio and the preference for girls…standard. I asked them why they felt more girls were left than boys, and Priyanka said it was because of dowry. We didn't talk more about it, but I hope we will one day. You had asked them when you were here about whether they felt that dowry's caused trouble in the village, didn't you? Maybe I don't remember correctly…anyway, it was an acknowledgment that I found very interesting for her to make about a problem that happens in Amber that is presently causing difficulty.
Played Charades with the teachers today in the sun upstairs, which was a nice change. I am looking forward to activity day tomorrow and drawing with the children. I am exhausted and ready for sleep. Good night.
February 23rd 2013
I won't tell anyone but Geeti, but Samode Palace sounds wonderful! I was wondering what to do for Easter this year and this seems like a wonderful celebration…I really hope it works out! The children will LOVE the eggs. As will I. I was hoping to go one some sort of field trip with all of them while we are here. Let me know please if you need any help planning, although I don't know what I could do.
Had a very exhilarating day at the Foundation. The weather was just on the cool side following a rainy night, which made for ideal dancing weather for the teachers and the children. Ruksar danced a traditional Rajasthani piece and, getting into the spirit of things, Ruchi and her dressed me up in her long scarf Rajasthai style, with part of it tucked into my waistband and the rest of it covering my hair and back. The children loved to see me in their dress and we spent the better part of two hours (staying well beyond 4:00pm) dancing and being silly. Even Veenaji danced! I thought of you throughout and how much fun it would have been if you could have been with us. Geeti and I discussed on the way home how much more comfortable the children are with us now. Afreen was weeping over something in the beginning of the afternoon and I just sat with her and we hugged for a while until I got her to laugh by "pretending" to sing a Hindi song (very poorly, of course). I love being able to identify the children's unique personalities and having inside jokes and welcoming the little ones to crawl into my lap on the mat. I thought I would be so homesick, and I am to an extent, but I can never be lonely with so much love given to me on a daily basis. That love is the light that shines through any darkness here.
Puskar tomorrow! Manisha is also taking us to Central Park (a slice of NYC in Jaipur, non?) for a yoga morning event. So, we have a full day.
February 23rd 2013
Sunday morning dawned bright and early for Geeti and I, as we hastened to Central Park with Manisha to celebrate World Yoga Day. I love Central Park (both in New York and here, as a matter of fact). It actually reminds me considerably of the University Park in Oxford. The layout is almost exactly the same. Anyway, we did our yoga in the grass and marvelled at all the flexible men of India. And there are many. Afterwards, we rushed home to find Devi Singh waiting for us to gather Veenaji and drive to Amer and than Pushkar. We had a lovely lunch with Soomal, Veenaji's daughter who studies there, then explored the magical manufacture that seems to be Pushkar. How can a place seem at once sacred and like an amusement park at the same time? So many tourists and things geared towards them. A Pink Floyd cafe? Please don't think I am being pretentious in any way, I am, after all, also a tourist myself. The natural and sacred beauty of the lake and ghats and the temple overrides any crowd though. Still beautiful. Still "authentic." The discernment between the unreal and the real remains, and will likely always, be a challenge. I loved having chai by the water with Veenaji and Geeti and watching the sun slowly set. A memory I will cherish for the rest of my life.
Unfortunately, perhaps due in part to not being fully over my cold, I was up most of the night with a cough and chills. Awoke this morning feeling quite unwell, so stayed behind to rest for the day. The sun is just beginning to wane as evening approaches and I feel much better. I needed to sleep and just rest. While my natural tendency is to always push through, I have learned over the years that there are few more important things than listening to one's body. I haven't felt myself for about a week now and needed this quiet day. Tomorrow, I hope to be back in action and ready to face Ruchi's class.
Finally, my "friend" from London sent me a book that arrived today which the children will love. It is called Seasons of Splendor: Tales, Myths and Legends of India by Madhur Jaffrey. It is a collection of stories that were told to Jaffrey while she was growing up in Delhi and is utterly enchanting. I learned all about Krishna today. The children already know the stories, I imagine, but reading them in English will be helpful, I think. Reading Snow White last week, I realized how much I didn't like the story. All the concern with the fairness and beauty of the princess as "white as snow." I realized that I was only reinforcing to the children the misguided idea that fair is beauty while reading it. Hmph.
February 27th 2013
Going to take my hand at writing you in the mornings, as often I am so tired in the evenings that I don't do it justice. Yesterday was a good day – we read a story called Igdhah with the teachers. Geeti found an English translation online and, since all the teachers already knew the story having read it in school, we were really able to focus on vocabulary. Geetamam is a wonderful reader! She does all the voices. Must be her full-time job as a mother, to be a story teller.
I was in Ruchi's class today and, since the class size was a bit small, we did not finish writing the story we were working on last week. Instead, I decided to read Igdah to them. They apparently read it in Indian schools in the sixth level, but I thought it would be good to hear it in English and discuss vocabulary. Some of the students did already know the story and had to clap their hands over their mouths to not give away what happens. After we discussed the story, we played a word scramble game, where I write cta on the board and they must unscramble the word (cat). Jayant was REALLY good. Ruchi and I were shocked. I had no sooner put the letters up that he was screaming out the word. He got out of his seat and slowly inched closer and closer, so Ruchi and I didn't even notice until he was standing face to face with the board. The other students did their best as well, but no one could beat him. And he is only six! It was fun.
Off to get ready for yoga. Manisha informed us that we will be teaching the postures next week. So we can better learn them. Oh, the fear.
It is getting warmer here and the days longer. We read two poems by Tagore today – can you believe, I have never read him before? What a master. I am going to buy his book the minute I get back to the States. We only got through the first poem, titled Freedom, today but will read the other tomorrow, titled Journey Home. Which fits this season of my life very well. I won't post the entire poem, but I love this bittersweet line:
The traveller has to knock at every alien door to come to his own, and one has to wonder through all the outer worlds to reach the innermost shrine at the end.
Obviously, traveling isn't only from one geographical location to another. I think that is what he is saying here. Geeti and I remarked today on how our human rights seminar has changed to an undergraduate literary review seminar. Geetamam showed us her notebook today. You MUST read it. Like Sonam, she writes all her feelings down as well as summaries of the stories and vocabulary. Geetamam wrote a response on the role of social media to empowering women, as well as the value of women. I read it quickly, but I remember she wrote something like "a woman can perform all the tasks a man can do, and than some tasks that he cannot do."  On the same subject, Pryanka asked me if I noticed the difference in English levels between the female and male students. I hadn't actually noticed a particular trend, although I will pay closer attention now. She told me that many of the girls do not go to private schools but are sent to government, while more boys attend the better institutions. And, of course, when a family has both a son and a daughter, they are much more likely to send the boy to a private school. Of course, not surprising. She told me the situation is improving which is great to hear.
I started a new topic with the Book of Me today, which is both challenging and hopefully fun for the children. The prompt is "My Dream Adventure". To encourage vocabulary expansion, I have asked them not to start with sentences but with creating a list of vocabulary they will use in their sentences. For example, if a child wants to swim in the ocean with sharks, he will use words like swim, wet, cold, afraid, etc. The Hindi-English dictionary you purchased in Delhi is coming in so handy. We used it all day and the children seemed very excited to learn new words and see the English word near its Hindi counterpart. It was a difficult topic for the children, because so much of what they want to do they know so little about. For example, Hamish said he wanted to go to London and play in the jungle there. So, I made sure that they had at least a general idea of what made them chose their adventure. Surej said he wanted to go into a submarine and see whales, which I thought was very imaginative. Vedpal, our resident innovator, said he wanted to go to America and see the missiles and robots there. Jitender said he wanted to go to space and pointed to a picture of Neil Armstrong on the moon in his schoolbook. I told them I would bring them pictures of each activity or place they picked next week to inspire them and teach them more about the adventures they have chosen. We were able to use new words such as "explore" and "discover" and "struggle." We talked about what it would feel like to be on a plane and what a "journey" means. We discussed feelings, such as loneliness and courage. I am excited.
Well, it is dinnertime here. I truly miss field green salads, I must say. But, of course, I'll miss Indian food when I am home. Isn't that always the way?
February 28th 2013
Had a nice day today. I read a story from the book I mentioned in my last entry to Ruksar's class and we used the dictionary to look up unknown words. Which was amazing. A few of the students had never used one before, and it was wonderful to watch them have that experience of seeing the word in English and Hindi. The story I chose was about the romance between Savitri and Satyvan. Savitri is such a strong, feminine character and we focused on words like courage and bravery in describing her. We all thought it was very interesting that Savitri goes in search of her husband "and she did this fearlessly," traveling to cities and distant shores. The girls especially gravitated towards her, while the boys enjoyed Satyvan's love for her. Do you know the story? Veenaji said she read it as a child, but none of the children knew it. They did recognize Yamraj, the God of Death, and enjoyed seeing the beautiful illustration of him in the book. I loaned it to Geetamam, since she expressed an interest in reading the stories in English.
Had a bit of a late start to class today with the teachers, and just talked about the second Tagore poem. Which was more difficult for them than Geeti and I had expected and we realized too late that the vocabulary and the sentence structure was perhaps too advanced. However, as always, the teachers rose to the challenge with brilliance and, by the end, were offering spirited and insightful interpretations of its possible meanings. I learn so much from them.
March 2nd 2013
It has been a wonderful start to the new month. Geeti and I woke early and went for a run together in Central Park, which we loved. After our run, we did some yoga near the parking lot and were regarded with some humour by smartly dressed gentlemen playing golf. Then, we decided to walk to Mr. Beans and treat ourselves to iced coffee. We laid back and, enjoying our coffee, read the newspaper for an hour or so. The weather seems to know that it is March and the heat index has risen in response. WARM. Bordering on hot, hot, hot.  Drying my hair on the terrace reminded me of home.
Yesterday was a lovely and relaxing day at the Foundation. For a little while, we received a large group of French visitors, one of whom gifted pencils to the children. Geeti and I taught the teachers scrabble with a game we bought at Crossword a few weeks back. We thought it might be too quiet for them, or boring, but they seemed to really enjoy it. Pryanka and Ruchi won. In Payal's class, I again read Savitri and Satyavan, partly due to popular demand. They had heard about it from Ruksar's class and wanted me to read it to them. I always find Payal's class the most challenging in the Foundation – there is such a wide range of English levels and I always feel like the lesson is either too easy or too difficult for some of the children. Yesterday was good though. While Payal translated as needed, I really emphasized to the children to try and understand some words in each sentence as I spoke them and the more advanced children were able to explain to the other ones. I was very impressed by their ability to listen and discern what was happening in the story. Of course, it helped having a smaller group and being able to sit on floor with them in a more interactive way. We also used the dictionary (LOVE IT) and I encouraged the children to borrow it as needed when they don't know a word.
Looking forward to activity day today, although I don't think I'll be dancing much with this heat. Geetamam wants me to teach yoga to the children (we got on the subject playfully yesterday) so maybe I will bring my mat. It is a different option for the children that don't want to draw or play or dance.
Also, the clear-up of the Tushita garden is going well. Geeti and I are paying close attention and are taking pictures in a spirit of "before and after." How nice it will be to have that space for the children and the community. Maybe, next year, we can have yoga outside!
March 3rd 2013
Officially been in Jaipur two months today! Both easy and hard to believe…so much has happened and I have learned so much since I first arrived. Of course, the best product of these past two months have been the relationships I have developed with the people around me – the children, the teachers, Geeti, Veenaji, you…the list can go on. What a blessing.
Speaking of blessings, we are all very excited to see the land being cleared so efficiently and hear that we will all be planting trees and plants next week in celebration of the new site. Surej and his friends were already playing cricket there yesterday. Yesterday went well, although it was very busy and crowded, since it was too hot on the terrace for dancing. We all crowded together on the second level, which got a bit messy. I tried to teach some yoga moves to the students, but there just wasn't enough room. Our outdoor space can't come fast enough!
Geeti and I saw Silver Linings Playbook yesterday, which was very good. Have you seen it? Gripping and funny and heart-breaking, all at the same time.
Geeti told me she wrote to you about our brainstorming session we had together on Friday concerning this last full month for us at the Foundation. We will approach Veenaji tomorrow about meeting to discuss the feasibility of getting the children cameras, etc. Geeti also had a wonderful idea that we should have the "gallery showing" of the children's artwork and photography, including Books of Me, outside in the new space as a way to reach out to the community concerning the role of the space, as well as letting the children show off how brilliant they are to their families. Ideas? Thoughts? We just thought of it last night, so we need to bring it by Veenaji.
Next week will be busy as I do the research for the Books of Me "My Dream Adventure" topic. I promised the children I would bring them information and pictures about the locations they don't know much about, such as Paris and London.
March 4th 2013
Almost have the gate finished around the green space! YAY! We are all so excited here. Went for drinks with Veenaji and Gaju Bana to toast this evening, which was nice. They have been working so hard on it. We also used the time to discuss the ending exhibition project that Geeti and I have been working on and it was well received. I think it will be wonderful and a good way to introduce the wider community to the space and let them see the kids work.
Good day today with the tiny tots, as Geetmam calls Sonam's class. Really working on teaching them that each letter has a sound (sometimes more than one) and how each sound makes up a word. The concept is very foreign to them, they are so used to just spelling words without understanding anything beyond that. But, Sonam is in agreement that it needs to be done and we even made up a game today to get them to start thinking of sounds of words, rather than just memorizing their spellings. It will take time and practice, but all worthwhile things do.
With the teachers, I printed out a story and we read it together and marked the vocabulary. Ruksar told Geeti today that she was flipping through channels on the television and found the English news and was able to understand it well. The said hearing our accents was really helping her, and Geeti and I did a mental high-five. So happy for her.
Going to work hard on my adventure research for Wednesday and then go to sleep. We had a lovely day with Manisha yesterday, seeing some sights and getting coffee. We also went shopping for housewares at Soma. I want EVERYTHING.
March 5th 2013
Thank you so much for your response! I feel the same way concerning the places and the people I love.
I very much like the idea of placing a sign under each tree with the name of the person who has planted it. From a community development perspective, it has been very interesting for me to witness the development of the space and the reaction of the community to it. You are absolutely correct in emphasizing the importance of parent involvement in the space so that it can be well understood the true purpose and identity of it.
The idea of having children take portraits of each other is an interesting one. Geeti and I were originally thinking of themes, such as "home" or "friendship" or "nature" and we can absolutely include portraits in that.
We are also planning a "USA DAY" one Saturday this month, where we can highlight certain aspects of our home country that the children do not know. We will make an American snack (likely popcorn, although apple pie would be lovely) and perhaps the have the little ones decorate a flag. We also think the older ones would enjoy hearing how the U.S. was also a British colony, just like India.
With the teachers, we read a short story by Ray Bradbury called "All Summer in a Day" and also watched a film with an adapted screenplay of the story. Which really helped the teachers visualize the story. I have never read it before either and it was truly heart-breaking. It tells the story of a group of children at a school on Venus in some future time. It has rained constantly for seven years and only one of the children can remember seeing the sun on Earth. The story features their anticipation as they wait for the rain to stop in the afternoon, which the planet's scientists have predicted. I won't spoil the story for you, but it was very good. To be expected from Ray Bradbury, of course. We didn't have much time to discuss the story, but will tomorrow.
With Ruchi's class today, we continued writing our story that we started during your visit. The setting was the cafe in Paris as featured in Van Gogh's work. I find it helps to give the lower-level children a visual platform from which they can use their imaginations. The first batch envisioned a man and a woman dancing, and then an alien stealing the man away, prompting the lady to go in search of him. The second batch said a waiter dropped his coffee on a lady, making her scream "AHHHH!!!" Ruchimam and I acted that part out. The third batch could not write such a story yet, but we did write a short one based on a horse and a girl (who I drew on the board) with a focus on question words. Ex: What did the girl do? How does she feel? Who is she with? I am noticing an improvement in the children's listening ability and speaking confidence notably from when I first came. Which fills me with such joy.
March 6th 2013
Thank you for your email! I am more proud of the children – they work so hard. The teachers too. They are using the notebooks I bought them for every discussion and, as they wish, give them to Geeti and I to check their grammar and language use.
Today, in Pryanka's class, we continued on the topic of My Dream Adventure. I printed out topic sheets for each student related to their specific idea, which had a small paragraph giving them more information and then pictures to inspire them. And it worked out really well. Their words started flowing after seeing the pictures and I was SO happy to see some of the children using adjectives. You will be pleased to hear that Shifa and Kiren picked "Paris" and talked about all the fashionable dresses they were going to buy. They really liked seeing the photos of the cafes and the "Arc de Triomphe" I gave them, as well as a model wearing Chanel. I hadn't fully realized that just taking a plane is an adventure in itself for our kids, so the beginning of their descriptions feature them going to the airport and sitting on the plane and then their feeling concerning this. Abi Sheik did a splendid job of describing his entire trip, including the clothes he would bring, on his adventure of going to America to learn from NASA scientists. I never knew he enjoyed science so much. Or that Kiren wants to be a fashion designer. Pryanka has been doing more topics when I haven't been there as well, so we'll be including "Our Dream School" and "Our Happiest Day" in the Books of Me as well.
With the teachers, we had them read the story again, since yesterday they just listened to us. We also compared the video to the story, which was really interesting and I loved how diverse their answers were. Tomorrow, we will plunge into the significant amount of vocabulary.
March 7th 2013
How this week is flying by and indeed, my time here. Only one month left! How did that happen? And it will be a busy one too. Tonight Geeti and I will be planning the America Day we will have on Saturday in place of games and dancing. The children will arrive in staggered batches and we will teach them about geography and history. The little ones will colour. Still a lot to be figured out though and not much time!
Today was good. We delved into the vocabulary from the story and then had them put away the paper version and just listen as I read the story to them. They understood so much more after knowing the vocabulary and it was very useful to us all. Tomorrow is Scrabble day. Pryanka will probably win again. She smoked us last time.
It is a Thursday, so my day was spent with Ruksar's class. We had three new students in the class, so I taught them and refreshed the old students on the main concepts to know when I'm teaching. First, imagination is key. So, we went over what that meant. I was very pleased to see the older students describe to the newer ones, in detail, what imagination is and how to use it in class. They used my example of closing your eyes and being at the beach. I reminded everyone that there are no wrong answers in my class and that I do not grade their work. The only thing I ask of them is to listen as hard as they can and to TRY and speak English as much as possible. Even if they make a mistake, that's just fine. Ruksar emphasized how Geeti and I help the teachers with their English, so they should not be afraid to be corrected. The new students seemed visibly more relaxed after hearing this. I read to them the Ray Bradbury story, which they enjoyed. Nenzi listened intently and, when I read the last sentence, exclaimed "Finished?" She wanted more, you see. We talked about how it would feel to live in a world without sun and always rain. I made the sound of rain on the table by tapping my fingers increasingly louder, reminding me of the rain sticks we used to play with in Arizona as children. They are made of cactus skeletons with the cactus needles placed inwards and small beads inside. When you turn it over, the beads fall and it sounds just like a desert rain. I wish I had one to show them. As always, the more interactive the better.
My favourite part of the day – After the third batch left, I went up to the roof terrace to take a breath and look out over the village, as I love to do. In the distance, behind the construction of the playground, I saw three of Sonam's students waving to me from in front of a house. They were too far for me to tell which little ones they were, but all I had to do was begin the hand motions to our "Hey Diddle Diddle" song and they immediately started to the whole thing.
I directed them from the roof and they responded from way below. I couldn't see, but I imagine they were singing it too, in their sweet little voices.
March 9th 2013
Survived America Day with hardly a scratch. No, just kidding, it was great. Geeti and I woke early this morning and divided up our tasks. She put together two posters comparing aspects of Indian and American culture and society, which we will now hang at the Foundation, and I was in charge of making applesauce. A LOT of cutting and dicing, but it turned out really well and the children enjoyed it. Veenaji even brought me cinnamon, which made the dish extra special. As I said before, we had the children come in staggered batches, with the two lowest levels first followed by the three older classes. With the little ones, we told them a little about America and then had them each colour one star, which we will place on a big American flag cut-out and give to the Foundation as a reminder of us when we are gone. Than, we had them listen and give actions to our "traditional" songs, which we picked as "Somewhere over the Rainbow" and "What a Wonderful World" by Louis Armstrong. The lyrics for both songs are perfect for the children and the teachers especially loved them.  Ruksar, in particular, so I gave her a print out of the lyrics to take home. It was such a wonderful moment to share such iconic and beautiful pieces of music with the Foundation and see them laugh as we sang, "I love you" along with Louis Armstrong! For the older children, we focused more on history and none of them seemed to know that America was also a British colony for many, many years. They also enjoyed the songs, in particular the Whitney Houston rendition of "Star Spangled Banner" that we played for them. It was a lovely American-themed day and it was nice to do something different on a Saturday than just dance and play games. I never want to peel an apple again though.
Yesterday, we played Scrabble with the teachers and Pryanka won again. She is really terrific at that game, I must say. I was with Payal's class and we read Gulliver's Travels together, as well as played a few spelling games. Gulliver's Travels is not really as interesting for the children as I had hoped it would be, but we learned some new words, including "voyage" and "fear."
Tomorrow, Veeaji and I will go walking in Central Park together. She keeps telling me she wants to, so I'm holding her to it. Soomal will be home soon and we are all looking forward to this with anticipation.
March 11th 2013
Geeti and I had a perfect Sunday yesterday. We woke early and went for a jog in Central Park and then we walked leisurely home, passing through the markets and buying bananas and coffee. Then we both fell asleep on our yoga mats on the terrace in the afternoon and then had a lovely dinner at Anouki. I can hardly wait to visit Geeti in Chicago and see what kind of job she gets. So blessed to have her with me on this adventure!
We decided to discuss women's rights on a global scale this week with the teachers, and showed them a clip from Half the Sky: The Plight of Women Worldwide, the documentary based on N. Kristoph's book. It will be really insightful to hear their perspectives not only concerning the struggles of women outside of an Indian context (which they told me they know little about), but also on how they feel watching a documentary told from a Western perspective. That last point may be too hard for them to express, but we are going to try anyway. I think Prianka and Geetamam are especially excited for this topic, although all the women watched the trailer with intensity.
Was it Sonam's class today, the little tots. They are picking up on sounds readily now and a few of them are finally realizing, I think, that sounds come together to make words. And that you can break up a big word into tiny parts, sound them out, and than put them together to arrive at…your word! Its a slow process, but so important and I hope that Sonam continues to focus on this when I am gone. The children just can't keep memorizing the spelling of words without understanding the meaning behind the spelling. We played a game today where I said a word – sand – and than asked them to tell me the first sound they heard in the word, than the second and the third and so on. It was very good and, while the majority of the children aren't quite there yet, the ones that do understand are vocal and excited about this new concept. I also taught them "Somewhere over the Rainbow" with the actions Geeti and I made up on Saturday.
This month is going to be so wonderful and busy. Udaipur this weekend (which I am really looking forward to) and then Holi and then Easter and then…I'm off for further horizons. I am planning my trip already, although, as I think I mentioned, I have to cut my trip short due to family concerns back home. I had planned to stay a week later than my three months, but I think I may have to leave on April 3. Which feels just way too soon. But, c'est le vie. I can promise one thing – I'll be back to India.
March 12th 2013
Today was actually a tough day, although it ended very nicely. We didn't get to have time to meet with the teachers for our session, as we didn't arrive at the Foundation until 1:30 pm. We used the time we did have to discuss the project and how we are going to implement it. I think it will not be feasible to have it in the outdoor space, but that is all right, indoors will be just fine. We are getting some things together and I am praying it all works out well. I do think I will have to leave here directly after Easter – So excited for Samode Palace, by the way – and the time is running away from me. But, we can do it. Geeti and I are on board. And I think it will be a wonderful culmination of the work we have done these past months on supporting the children's creative abilities and emphasizing that worth.
Today neither Sonam nor Geetamam were present, so Geeti and I thought we could handle the little children ourselves. Not so much. After the first batch, Ruchi came in to save us. It was very difficult, and although I tried to stay patient, I confess that it was a struggle. I'll give extra hugs tomorrow.
We ended the day with a treat – Gaju and Veenaji took us for south Indian food on MI Road with their son Pierre. I really like uttapum, a sort of rice pancake with onions and tomatoes. Afterwards, we went for ice cream. I will miss this wonderful couple dearly. Every time I think about leaving, tears well in my eyes. Seriously. Still, I would rather be sad to leave than happy. It means so much to be sad. It means I loved well and was well loved in return. Even on inpatient days, like today.
March 13th 2013
Thank you so much for your email this morning – almost made me cry…my emotions have been a bit closer to the surface than usual of late. I gave many hugs today, including a BIG one for Sonam. Never have Geeti and I been so glad to see her! With the teachers, we watched a ten-minute clip about a school, co-founded by an American girl, located in Kenya. We talked about the difficulties that all girls face around the world. Pryanka asked an interesting question on whether African countries have a lower female-male ratio than India. Geeti and I didn't know, although I suspect not, but we will get them the information tomorrow. We also had an interesting, although rushed, conversation concerning the problems that the American girl in the film faces as an outsider coming into a community, the way the community reacts to this, etc. Geetamam recognized the link to Tushita Foundation right away, in terms of building community trust, and was very articulate in her position. Which is that it will always be difficult to make change happen, whether it has local or outside origins, and creating local partnerships and cooperation is key to any project. The topic was a bit too difficult for them, but it was thought provoking, which made it worth it. I love the friendships I have with each of the teachers, which are as unique as their individual personalities. Sonam is kind and thoughtful; Geetamam motherly and warm; Ruksar is fiery and elegant; Pryanka is intellectual and observes everything; Payal is curious and playful and finally, Ruchi is sassy and funny. We had great fun looking up "sassy" in the dictionary today. Poor Ruchi. We love to pick on her.
In light of Gaju's and Veenaji's 20th wedding anniversary today, they decided to begin the planting of the trees and flowers on the outside of the gate. It was a bit rushed, but it all worked out and they were thrilled. What an accomplishment. Now, it finally feels like the garden belongs to the Foundation. The children planted with their bare hands and, when that was finished, we played ball games together in the unfinished space. Still so much work to be done, but oh, how wonderful it was to first use the space in this beautiful way. My camera has officially breathed its final breath and I was only able to snap a couple of photos, which I will email you now. I am going to skip yoga tomorrow to walk to the mall and buy a new one. I can't not take photos in Udaipur!
March 18th 2013
Udaipur is a very photogenic city and we had such a relaxing time meandering through the streets, sitting on the hotel's rooftop terrace overlooking the lake and doing some shopping. I really enjoyed walking through the extensive rooms of the city palace with Geeti and the artwork was stunning. An afternoon rain shower caught us by surprise and we enjoyed splashing through the puddles on the palace grounds and watching the clouds roll over the lakes from the windows. Of course, we missed the children and are very excited to see them at the Foundation today!
Today was a quiet day at the Foundation, but a good one. We started off the week right with that Tedtalk Video that you sent us where the Afghan woman talks about women's education in her country. The teachers really enjoyed it, although only Ruksar, Geetamam and Prianka spoke today. There was an especially interesting moment when Geetamam said that she was under the impression that Islam did not agree with sending girls to school, to which Ruksar very elegantly and calmly explained that this was by no means the case, and that there is a difference between the laws made by people in the name of religion and the religion itself. I asked them whether they felt that it was as important for fathers to support their daughters in India to which they all agreed, although we also made the argument that it is always easier to have the support of your parents in whatever venture you do, and in whatever country you live. The point the speaker was making, of course, was that in male-dominated societies (is there a society that is not male-dominated? How do we gauge the level of this?), the support of men to empower women is critical to success. Is it a necessity? We didn't know. Ruksar wants to talk next about male-dominated societies, but Geeti and I may need some preparation work before we try and tackle that.
I taught in Payal's class today, since I missed them on Friday. With the first batch, which is only three students all of whom are at a very low level, we focused on answering basic question words (Who are you? What colour is this?) and then made it fun by drawing images of words on the board (rain, rainbow) and making sentences from these words. With the other two batches, I decided to throw caution to the wind and write a story with them, similar to what I have done with Ruksar and Ruchi. I drew pictures on the board (a raincloud, a ship, a mermaid) and used those as images that needed to be used in the story. It went really well! Before the problem was resolved, I had them each write down their own individual endings. Mohan, Avash and Jitender were very inventive and Mohan absolutely has the nature of a storyteller.
Feeling a bit unwell today, again. Am going to go to sleep early and hopefully will be able to keep more food down tomorrow. India doesn't seem to be agreeing with my stomach. I can't think of anything else to do, I'm trying to eat as healthy as I can.  Any suggestions?
March 19th 2013
As nice as Udaipur was, it is also great to be back in our schedule of things and with the children. We missed them over the weekend. Thank you for your response to yesterday's session with the teachers. I think that Sonam, Payal and Ruchi still do not feel as comfortable in their English as the others, which is especially obvious when we discuss difficult topics such as what was discussed yesterday. We try and not push them to speak, since we want them to feel comfortable and not as if they are being singled out. Having said this, they do speak much more than they did even a month ago, and with increasing strength and articulation. We are very impressed, as always. Today, we just played Scrabble and we will probably read a poem tomorrow to give a break from difficult topic discussions.
In Ruchi's class, we continued our story writing activities. I showed them a picture of an elephant pushing a baby carriage (https://pinterest.com/pin/262616221990984040/) and than we wrote a story about their day together. I also wrote a separate story that I read to them once they had finished writing theirs and they enjoyed it. The goals being to use imagination, speak aloud in English and listen to and comprehend English. All of which we accomplished beautifully. The children, especially in Ruchi's classes, are speaking so much more confidently now. Anas, in particular, enjoys stories. Arshi was also very keen to speak and share with me her ideas, as was Aman Khan and Jayant. Such active, little minds! In one story, it was decided that the baby's mother had lost the baby at a train station and that the elephant took care of him before giving him back, with a few shed tears. It was very sweet.
To end, thank you for sending us that video of Vandana Shiva highlighting her seed-saving campaign. I just love her. I think that video may be too difficult for the teachers to understand in its entirety, although discussing the impact that the Green Revolution had on India (society, ecology, etc) would be a very interesting topic for them. I'll research some articles and then, after discussing the background, show the video.
March 20th 2013
And, we're already off on the photographic project! Today was a bit of trial run, but it went well. Here is what we decided – children will be randomly paired, with one child as the photographer and the other as the subject. The artist will take a photo of the subject doing or looking as they want them to be, as long as the face can be seen and the photo is clear. Than, they will switch. Geeti was with the little ones today, who cannot handle such a project, so it fell to me to do the "test run". The first bit was rough, as issues quickly came to rise. For example – I thought that the children should be randomly paired together and switch off as "subject" and "photographer." However, the girls were immediately shy about having a boy as a partner and I spent a good ten minutes running around to the teachers and getting their advice. Culturally and religiously, is this breaking some sort of taboo? Can they not be alone together to take their pictures? Will parents be angry? Shouldn't we try to push them out of their comfort zones? But, shouldn't we be making them feels safe here? I didn't know. But, finally, I just asked the kids. And told them to be honest about whether it was a real problem, or if they just felt shy because it is new for them. And it was the latter. So, crisis averted. Than, I had to explain to them that they could make their subject do whatever they wanted (within limits) as long as the picture showed their face. They can have the subject sit down, stand up, smile, not smile, be outside, be inside…. I thought this may be difficult, but, as always, my kids surprised me. Most of them, once they had the camera in hand, were very fast in deciding what they wanted the other to do and effective in communicating it. One pair went to the office and took a picture on the couch, while the other held up a flower. Some of the children decided they wanted to take pictures on the roof, while others used the computer as a prop. Abi Sheik, who was very nervous about having his photo taken, was very confident and decisive when it came to taking the portrait. He had Minnie sit in a corner, and then grabbed my water bottle and poured some water in her hand and had her put water on her cheeks to represent fake tears. So, her portrait was of her crying. Which we hadn't even discussed. For Satyam, it was the first time he has ever taken a picture before. Which explains why he was so excited. They were so careful with my camera though, the sweeties. I also asked them from not to show their photo to their subject after it is taken. A surprise for the recipient. What do you think? We are going to do the other classes tomorrow, so any adjustments or ideas you have, at this initial stage, would be great. They seem excited about it though and it was real fun.
While we had prepared some materials for the teachers today, we were unable to print them out because of a power outage this morning. So, we asked them what they would like to discuss and Geetamam asked for our advice on improving their teaching strategies. It was strange for both Geeti and I to offer such advice, mainly because we are not teachers and they know their students and their needs better than we do. However, we were able to suggest a few ideas in improving the children's confidence in speaking English, which I think was helpful and seemed appreciated. I, of course, mentioned the importance of teaching children the sounds of each letter, "sounding out" words and breaking up words into smaller pieces when reading. I also emphasized the importance in conversing with the children without the notebook in front of them, and perhaps having days where the children do not write at all, but just listen and speak. I have seen that the majority of the children can write and read sentences wonderfully, but face such difficulty in actually forming a sentence verbally. And the teachers agreed and told us that mostly it is writing that is taught in schools, and there is a much less focus on speaking. So, yes – it was a very productive day. I will send you some portrait examples tonight.
March 21st 2013
The second day of the project went really well and one batch of children is already finished completely. Which is great, since many of them have exams coming up and will be in and out of the Foundation. We did amend the structure of the project and let the children pick their partners, rather than being randomly assigned. Which was better. It let them feel more confident and less shy, which was a problem yesterday. Pryanka and I will talk to the children who took photos yesterday and if they would like to change partners and re-take, than we will do that next week. The children bounded everywhere today – in the office, on the terrace, outside in the unfinished play area and it was great fun. We decided it would be a good idea for the children to write about their subject, who was usually their close friend, and they each made sentences describing their partner (ex: Kushi dances beautifully, Nagish is very talkative). I found some large card stock paper in the cupboard and had them write their sentences on it, decorate the border as they wished and just leave space for the photo that will go in the middle of it, once they are printed. They also wrote the name of their partner in BIG letters on the top as the heading. We will laminate them and than have the little photographers present them to their partners.
With the teachers, we picked two poems since Sonam was requesting them. She loves poetry. Today, we read Maya Angelou's Why the Caged Bird Sings and Poe's My Annabel Lee. My two favourite poems. Ruksar really loved Why the Caged Bird Sings – I imagine it spoke to her, as a woman who feels so restricted in her life and by her family. Veenaji was also with us today and participated the whole time – she got really into the poetry and making sure the teachers knew what the poet was trying to say. It was really, really good.
March 22nd 2013
Yesterday, I was with Sonam's class and we did our own, revised version of the portrait project. I have never been with Soman's class on a Friday, which is actually drawing day. Sonam draws a picture on the board, in this case a snake, and then all the children copy it. I asked her, when they were finished, if we might do something a bit different and ask the children to draw something from their own imaginations, rather than copying. She said she didn't think it would work, but I pushed a bit and she said we could try. So, in the spirit of the portrait project, I asked them to all draw pictures of themselves. At first, many of the younger ones asked us to draw it for them, but we emphasized that it wasn't for a grade and that they could do anything they wanted – purple hair, blue skin, and it worked really well. Sonam was visibly surprised and told me that she really didn't think the children would be able to draw on their own like that. But, of course they could! To have a bit of fun, but also challenge them more, I drew two pictures of myself on the white board. One was a normal picture, the other, I drew in the spirit of Picasso – my mouth was where my eyes should have been, my eyes were drawn wide apart and where my mouth should have been – my ears on one side of my head – everything a mess. Picasso would have been proud, I think. You should have seen their faces! They all got quiet and just looked at it, so puzzled! I asked them which they thought was better, and they all pointed to the normal drawing of my face. They didn't like the surrealist view of my at all! Only Kashish noticed that I had placed tears coming from my haphazard eyes in the Picasso drawing, and so she said she didn't like it because it made her feel sad. The others weren't quite able to articulate why they didn't like it, but were very certain that they didn't. I told them they were both pictures of me and that neither of them were incorrect drawings, because you can't be incorrect in art. They liked that. It was a good exercise and fun too.
It was also very sweet. Sonam and I were both very tired yesterday and, thankfully, the children were also more mellow than usual. I think the weather played a part, it was cloudy and the heat was more oppressive than usual. Anyway, Sonam and I just sat on the floor together, my head on her shoulder and her head resting on my head as we rested and watched the little ones draw. I will miss her very much, her gentle spirit and her quiet patience.
Today is HOLI, the festival of colurs. And I need to muster up more energy than I currently have. Geeti and I are off to do battle. Wish us luck.
March 23rd 2013
HOLI WAS UNBELIEVABLE!
Excuse my very American-like exuberance. But it was that exciting. Geeti and I woke early and met Lucie and her friend, Marion, at Hawa Mahal as they were in town for the weekend. It was so nice to see Lucie again and meet a new friend! We walked around the Old City for a while, window shopping and searching for some cheap clothes they could both wear to play Holi, since the clothes they brought would stand no chance against the colours. Veenaji, Soman, Bim Singh and Devi Singh picked us up on their way to the Foundation. It was a very cramped car, full of excited people, toys for the children, colours and snacks. Upon arrival at the Foundation, I gave the girls a tour around and we watched as the last of the big stones being removed from the garden and the ground sprayed with water, to minimize the dust – as with many things in India, everything was finished JUST in time, even though it didn't seem like it would be. We danced a bit while waiting for the garden to finish being prepared. Kiren and I double-teamed Lucie and Marion to dance the Goomer and Fevicol. They really seemed to enjoy it and the children loved them, of course. Than, it was Holi time! It happened So quickly. One minute, I was removing my sunglasses and the next, I was under ATTACK.
I couldn't even open my eyes, everything was colour around me and the feeling of dozens of tiny (and not so tiny, thank you teachers) hands smoothing chalk in my face and hair. When I could finally scramble away to safe ground, I just sort of stood there, in a daze like a lost soldier on a battlefield, absorbing the effervescence around me. It was the MOST fun I can possibly imagine. I can't even explain it. The colours, the noise, the excitement, the laughter – we turned on music and danced for an hour or so after the colours ran out and just went a bit mad with it all. Despite the activity ofPriyanka and Soonam and Ruksar would come up to me (laugh hysterically at how smashed I looked) and then softly put color on my cheeks and say, ever so sweetly "Happy Holi." I colored the cheeks of the little ones and said the same to them and…it was just lovely. The children all thought it would be hilarious to put red down my scalp and forehead so I could be a "married" woman, and I still have a pinkish tinge to my hairline. Among other places on my body. I prefer not to think about how much chalk my lungs inhaled yesterday. I will dropbox the pictures tonight for you. So wish you could have been there, although you wouldn't have been spared. Veenaji wasn't, despite best efforts. Oh, she danced again. So did Kiran's mother, which was really lovely to see.
Afterwards, we all ate sweets and had tea and just sat together and absorbed the beauty of the day and the holiday. I couldn't have asked for a better first Holi or better people to celebrate with. It will be a memory I will cherish for the rest of my life.
March 24rd 2013
Today was a bit of a mellow day, as class sizes were small likely due to the impending holiday and exams. I was with Sonam's class and we focused on sounds for the majority of all three batches. It is truly heartening to see their progress, which is outstanding. I love watching children learn how to read and seeing their eyes light up when they discover, "Hey! I know that word!" Kashish and Shradha are getting very good at it.
With the teachers, we had a very light day as we didn't want to get involved in a topic before the two-day break. Geeti made a very nice slideshow on her laptop of holidays that we celebrate in America and we each talked about them and our favorites. The teachers were most excited about Halloween, which is also my favorite holiday, so that was really fun to explain and intrigued them quite a bit.
Oh, by the way – the teachers and Geeti and I will also take portraits and write about each other, like the students! I drew Ruchi. I already know some wonderful adjectives for her – sassy, smart and capricious only a few.
March 27rd 2013
Back at the Foundation after two days of holiday. Which were really lovely. Geeti and I toured the Albert Museum on Tuesday and also visited the Bhander Mander, which was truly breath taking. We sat on the temple steps and watched the sunset over Jaipur before heading to MI Road to catch dinner with a friend we met in Delhi. On Holi, Veenaji was very sweet and arranged a friend to take us to her home, where we spent the entire day and evening watching movies with her and Soomal, her daughter and eating her delicious cooking. I may smuggle her back to the States. Along with Bhim Singh. How I will miss their food!
Today, I woke early and planned my lesson for the day. Had a nice, relaxing yoga with Manisha before heading to the Foundation. For the teachers, we decided to read through the English newspaper together and we each picked articles that seemed interesting to us. Pryanka read one about the lack of local artisans at the Jaipur Art Festival (which was very sad to hear) and poor Geetamam thought her article was about education, but it turned out to be about sports. The heading was very misleading.
In Ruksar's class, I made sure that everyone was finished with their photo projects before having a two-part lesson. The classes are MUCH smaller now, since so many children are taking or studying for their exams, which is good only in the sense that I can have more personal interaction with the students. It also gives us an opportunity to really focus on strengthening conversation skills, which is vital, as you know. So, I asked them a question (How was Holi? What is your favorite place in the world?) Then I said they could ask me any question they wanted, and I would tell them the truth. So, they asked me how I liked India and (my personal favourite) how I feel in India) It was very good and I was pleased to see them gaining confidence in piecing together sentences and listening carefully. After questions, we changed topics and discussed the Tushita Garden for the last half hour. I asked them to look at the garden now and than describe to me what they would wish to see. Mahek said she wanted a table with chairs and a pot of flowers in the middle. Yasin wanted a swimming pool and Zenab a swing. I also told them about my garden at home and what I grow. They asked me if I sell the vegetables at market, and I was sad to say that most people in America buy their produce from large grocery stores, rather than locally. This they didn't seem to understand, and I hope they never have to. Of course, if Walmart gets here… Anyway, Mahek and Aayisha in are such smart whips of girls. Mahek has the potential to go really far. She speaks English extremely well and her family is very supportive. She told me she reads the English newspaper with her father in the evenings. She is about to go on her break from school and asked me to give her a project to work on so she can keep busy. I encouraged her to use the library and check out some books, which I saw her doing the other day.  She didn't come to the Foundation for the first two months of my work here, so I am only now just beginning to know her. Aayisha is such a little teacher. I was alone with the third batch today, as Ruksar was assisting other students, and Aayisha kept us right on track, telling the others to be quiet and how to spell a word, but she didn't do it rudely. I hope she pursues her studies in the future. Especially with the girls, I wonder how their futures will look.
Getting ready for my final days here and Easter! I'll fly out of Mumbai on April 11. But, I'll be back.
March 29rd 2013
Today was a wonderful day! As you know, Dheerj and his exceptional mother accompanied us to the Foundation today, which was such a joy. We had a very exciting game of Scrabble with the teachers with our highest scores yet. Geetamam and I won in a very close match. We sealed our victory with the word "jinx." It was good.
I was with Payal's class today, which was also very small and fit my purposes of simply speaking with them and having them listen to my English. Like before, I asked the students a question and then they asked me one, but to make it more interesting, I told them I would tell them the truth EXCEPT for one lie, which they would have to figure out. My lies were very obvious, but it kept them on their toes and made them listen well. Just like Ruksar's class yesterday, they asked me how many family members I had and than were stunned to hear that my parents were divorced. I debated about telling them, but I think they are old enough to discover that things are not the same in other countries and divorce can be normal in some places. Jitender said, in perfect English, "Mam'am, I feel sad that your parents are divorced." It made me so happy to hear him speak about how something made him "feel" and express that. It was a really good day with them, we just sat there together and talked. I asked them about their hopes and dreams and I told them mine. Talib wants houses in Paris, London and New York, by the way. I told them I was leaving very soon and they asked me why I couldn't stay. So, I told them the many reasons I couldn't stay forever with them and then they asked me how I felt about India. And how I felt about the Foundation. And lastly, how I felt about them as students. Really! This all happened! They have grown in such confidence since I have been here, it's hard to believe. I told them all they had taught me and how proud of them I was and they listened so well. I am getting teary-eyed thinking about it, so I better stop.
Went for a dinner with everyone after work and got home late. Tomorrow will be prepping for Samode Palace! YAY! It will be lovely.
Also, I talked to Mahek again today and encouraged her to take home one of the chapter books I bought for the library. I'll show it to her tomorrow. She is so confident now, but I can also tell that she doesn't quite fit in with the other children. She prefers to study and is naturally introverted and I see such potential in her. I am giving my address to the children so they can write me, and I imagine she will.
March 31st 2013
HAPPY EASTER!
And what a joyous and beautiful day it was. We woke early and a bit tired, after having a very late day yesterday helping the teachers finish organizing the trip followed by a traditional, Rajasthani dinner at Veenaji's home with Dheeraj. I honestly don't know how everything got pulled together, but it did. These teachers, headed by Veenaji and Gagu Banu, could lead military strategies; they are so effective. Dheeraj picked us up and we met everyone, piled into the buses and off we were! I don't know how exactly dancing on the bus works on bumpy roads here, but it did. We arrived at the palace and took a quick tour – it was beautiful, especially the paintings and mirror rooms – and then it was time to begin "Operation Hide the Eggs". Dheeraj, Gaju, Geeti and I dove into the daunting task of hiding the eggs in a VERY LARGE garden in only about ten minutes. We were still finishing up as the kids came in and were just shouting, "Go! Go!" It was hilarious and so much fun.
Your eggs and your idea to have an Easter egg hunt were a complete success. As I was the only person who had ever hunted for eggs, or celebrated Easter for that matter, I was quickly designated the "Easter speech giver" to the children before letting them off their mark. Itold them that Easter is a festival Christians celebrate to signify the end of winter and the birth of spring. They actually did really well with the majority of eggs found intact, although I did spot a chipmunk with one of them in its mouth. The bird played too.
After the children finished the hunt, we all sat down to a lovely lunch of paneer, Indian cottage cheese and dal, split lentils, followed by gulab jamun (my favourite) and butterscotch ice cream (Geeti's favourite). The chef was so considerate and respectful of the children that he stopped by all their tables to ask them how they liked the food and if they were happy. They were so respectful and well mannered so that we all just relaxed and had a lovely lunch together. Dancing followed and then a magical puppet show. And, before we knew it, it was time to go.
My words hardly do the day justice, so I will dropbox you photos tomorrow. I took over 200 plus many videos. I will have to figure out a way to get those to you as well.
Wish you could have been there. Thank you so much for organizing such a splendid outing. I spent Easter with so many people I love dearly – couldn't have asked for better.
March 31st 2013
Only three more days left at the Foundation and just four in Jaipur. I am sitting on the terrace, my favourite place at Tushita House, and feel so very blessed by all I have done and seen here. But, I will save this reflection for my last entry on Saturday. And thank you for your response. The capacity for love to travel beyond physical distance is, indeed, a wonderful thing.
Geeti was ill yesterday, so Soomal and I attended the Foundation on our own. You would have loved it since I decided to discuss dowry with the teachers and it went very well. I was nervous about their reactions and even their thoughts concerning dowry practices, a topic I myself don't know much about. Or didn't, until yesterday. I wasn't going to ask if they thought dowry was a good or a bad practice (I was unsure if I should) but Geetamam pounced on that one right away, all agreeing it is extremely damaging to society and the pursuit of female equality. They shared stories they have heard in the village about women being treated poorly due to dowry problems, but also happier stories about a doctor near Ruksar's house who refused to marry at all if his parents asked his bride for dowry. We discussed the underlying mentalities behind the dowry system and its devaluation of women. I was intrigued to learn that the problem often happens after the marriage, when in-laws then ask for further money and mistreat the bride. If a divorce is pursued, it affects not only the wife and her social standing, but also that of her siblings. I suppose I should have known that, but it was still a bit shocking to me. I will miss these discussions so much. Geetamam and Priyanka and Ruksar are the most talkative and therefore have the most insight. I wish I could have heard more from the other teachers these past three months, but some things take time.
I spent the day after the English session with the teachers mostly in Sonam's class, but also darting in and out of the other classes to make sure that everyone had taken their photos. Most od the children have and we will spend Thursday and Friday completing the project. It was my last day with Sonam's class and it was difficult, as I knew it would be. The older students all know when I am leaving, but I didn't want to tell the little ones in case they wouldn't understand. I don't know how the other volunteers navigated this. I put them in a circle and, as I did with the older classes, I asked them to ask me any question they wanted and then I would respond to them. And they had to TRY and speak in English. And, of course, they surprised me. Some of them can understand most everything I said, particularly Angli. They asked me how many elephants I have (I have no elephants) and how many cats (I have four cats) and what my favourite colour is (lavender). And, it was good for them to try and speak in sentences. They never do that, but just speak the words they know. Then, Sonam happily translated for me while I told them how proud I was of them, and how happy they make me.
I told them not to be scared to be different. And that it was okay to make mistakes. And they just were quiet and listened and than asked if we could play a game. We did and I had to step outside, as I was getting misty-eyed and had to pull myself together.
I didn't think about this until just now, but did you ever see/read The Help? There is this scene where she tells the little girl that she is smart and kind and important. Its simple, but I realize now how incredibly vital that is not just to a child, but to everyone. To be reminded of those simple truths that are often obscured by the harshness of life and the pressure to conform or settle. The children make me feel so needed and important every day, because I am needed and I am important to them, every day.
Today is a holiday, so I will finish up last minute things I need to do before I leave on Sunday for Delhi.
April 4th 2013
Today was a quiet day at the Foundation, as we mostly just finished our photo projects (to be laminated tomorrow) and many of the students were absent or nervous about impending exams. I was with Ruchi's class today and we reviewed what we have done the past few months together – art, imagination and stories – and then we did "Questions and Answers" together. Deepika and Sandeep are much more confident in speaking English, as well as Arshi and Muskan. WONDERFUL!
With the teachers, the discussion concerning child marriage went very well and they taught Geeti and I a great deal about the issue, which is so prevalent in Rajasthan. We read an article discussing a grassroots, women's effort to tackle the issue from within and then discussed possible solutions and problems. We also watched a short video clip from an Indian documentary filmmaker, which they enjoyed. Everyone was surprised to hear the statistics of child marriage in India (47% of girls are married before 18, according to UNICEF), although with statistics, it is always hard to get an accurate picture. We asked them if these stats sounded true from their own personal experience of living in Rajasthan and they said yes and that it was a widespread issue in the village. I am glad I was able to finish up my sessions with them on such a strong topic. I hope the volunteers coming will continue these sessions! Such a great idea to have them, Rosenda. Thank you so much.
Tomorrow, Scrabble tournament. Let the games begin.
April 7th 2013
And so we come to my last entry as a Tushita Foundation Volunteer. How the days have sped by. It is hard to believe that my time is Jaipur is over and, indeed, my time in India. But, as I assured the children, when they asked me when I would return, that India is a place that will always remain in my heart, and I will return, one day.
Yesterday was a wonderful and joyous day. I woke up early and walked down the road to buy Veenaje orange and yellow daisies, which were bound together so thoughtfully and carefully by the shopkeeper. No gift I can give Veenaji can properly do justice for all she has given me the past three months, but flowers are a good way to start. She told me she had been wanting to have flowers in her office for a while and was so pleased to receive them. Then, I hurried home with an armful of disies and one rose gifted to me by the shopkeeper. There I met Manisha for our last yoga session. I bought her a scarf and she gifted me bangles. We hugged and promised to keep in touch. I will miss her ready smile, her artful stretching and her questions about the American way of life she use to pepper us with every morning. Geeti and I had our final toast and jam breakfast together before getting ready to walk to Mr. Beans where I treated us to iced coffee. We toasted or time together and the work we have accomplished. She is very exited to have me guide her on a hike of the Grand Canyon when she'll visit Arizona next. We made our last foray to Soma, where I bought final gifts for the teachers (fabric pencil cases) and some lovely cotton scarves. Then we have just enough time to meet Veenaji and Soomal, gather our gifts and books bought for the children and rush off for my last activity day with the children.
They were all waiting for us upstairs, full of excitement. Zoya and I danced together right away, then Veenaji called us back downstairs for a surprise, seven beautiful traditional Rajput dresses for all the teachers and us the volunteers to wear. We dressed up in Ruchi's class and fussed about with our bangles, anklets and bindis.
Soomal and Geetamam were upstairs keeping the children entertained, although some students came down and rushed upstairs to let everyone know that a surprise was on the way. When we ascended the stairs hiking up our skirts and stumbling comically, the children were so happy and exited. They surrounded us telling us how beautiful we looked, wanting photos taken with us, laughing with my endless struggle with my head covering. The speakers were placed outside and we danced for the children, we all enjoyed and I will treasure this moment. When the little ones had to leave, I hugged them and gave them chocolate bars that Geeti and I had bought for the occasion. And we danced some more until the older children made me sit down and gave me presents. It was unexpected and filled my heart with joy. I received many jewels and was soon wearing four pairs of earring of different size and shapes. Govind's present was particularly lovely, he wrote a story for me in four parts "to read on the aeroplane please". But I read a piece already, it is about a girl from a city called America. It is very well written. I imagine he will do the same for Geeti since she encouraged him so much. While the children were making their own ways home, one by one, the teachers and the volunteers kept dancing together until we stopped and sat together in the fading sun, laughing and joking as we always do. Payal, Ruchi and I went up to the terrace and watched the sun set behind the hills.
We then shared in the office a chocolate cake that Soonam had made for us until we fell silent, none of us wanting to leave. We exchanged gifts- Ruksar had a mug with pictures of my "most memorable moments" on it; Ruchi a hand painted elephant, and we sat and laughed some more, talking about how much we loved Scrabble and Charades. It was past eight before we decided that it was time and we slowly got up and I began giving my farewell hugs and kisses. Geetamam went first, but then returned with her husband who thanked me very eloquently for assisting the children of Amber and for being a good friend to his wife. She called me on Pryanka's phone few minutes later to tell me that she missed me already and to thank me for the card I wrote her. We are the best Scrabble partners, we win every time. Then, the remaining teachers, Geeti and I walked out together and hugged one more time on the Foundation doorway, all of us trying not to cry, therefore not speaking much.
The lights of the Amber Fort lit our way home over the mountain that night and I let myself cry looking at it one final time. But not for long, because as sad as I am to leave all the people I have grown to care so much for, new adventures await. The day held much more laughter than tears and was such a joyous occasion.
Veenaji, Bhim Singh and Geeti saw me off at the train station at 5:30am, which was terribly kind of them. I waved to them from my passenger seat until the train pulled out of the station. I felt such a connection to Jaipur and the family I have become a part of there.
Thank you so much for this opportunity and the continued support you have given me. Words are inadequate to express fully the love and generosity I have experienced during my time there. I could have not asked for a better placement both professionally and personally. It is still so fresh now and I imagine the full impact that the Foundation has had on me will emerge in time. I will miss so dearly the children's smiles, their unquenchable thirst for knowledge and the love they shared with me. Not only was I able to teach, but I was also able to delve into complex social issues with a band of women who have continually inspired and challenged me to think beyond my own reality. The opportunity to come close to the teachers through this medium of daily sessions was one of many surprises the Foundation offered me. It afforded me unparalleled insight into Indian society, women's issues and life in the country. Thank you again, Namaste.
Geeti's Journal
1/21/13
First day at the Foundation and my initial nerves were totally relieved. I was so impressed by the respectfulness and kindness of the children. Their curiosity was also very heartening. The teachers were very welcoming, passionate, and enthusiastic as well.
The daily quote written on the board when one first enters the Foundation is motivational, inspiring, and downright cute.
I hopped around to observe several different classes- the youngest class was immediately welcoming and most of them really wanted to impress me, which was quite endearing.
Overall, I was very happy to know that I would be working with the Indian teachers. I think collaborating with them allows for mutual learning and promotes creativity in lesson planning.
1/22/13
Day two and I stuck to one class today (the second level). Ruchi Mam (the teacher) let me jump right into teaching. She opened the lesson for the day (nouns and pronouns) but let me take over for most of the class. With her guidance, I think the lesson went really well and the kids responded so nicely to my presence despite it only being my second day at the Foundation. Having a job that I genuinely enjoy is quite refreshing.
1/23/13
Today I worked with the fourth level class. I mostly observed, but also helped Ruksar Mam a bit. We worked with question words (how, what, where, why) in relation to the children's parents. They answered several questions about their parents and then drew some pictures.
As other volunteers and teachers have mentioned, the kids do struggle with expressing their own ideas and creating their own unique sentences. They can relatively easily write down sentences that are dictated to them (they know the words, the spelling, etc.), but still need to work on translating their own individual thoughts into unique sentences.
Nevertheless, I continue to be impressed by these kids (their kindness, passion, willingness to learn, respectfulness, etc.).
We also had our first class with the teachers today. We read and discussed an article regarding the gang rape in Delhi. I was so impressed by the reading comprehension of the teachers and so incredibly happy to have the opportunity to hear their thoughts on this case and the many topics related to the status of women in India more generally. I hope they enjoyed it as much as I did and I cannot wait to continue with this class (and hopefully discuss some more light hearted topics, too!).
1/24/13
Today at the Foundation we celebrated Republic Day (a little bit in advance of the actual day on the 26th). The kids had prepared dances and poems and were all dressed so nicely! I definitely felt underdressed (and under-prepared, in terms of my dancing skills!). But, the afternoon spent on the rooftop watching the kids dance and perform was magical.
The teachers also joined in with the dancing towards the end and pretty soon it was one big dance party. Unfortunately, Amy and I didn't really have any dances prepared, and the kids really wanted us to teach them a dance. So, we are hoping to prepare one for a future activity day. Overall, the hard work of the teachers and students really shone through. We ended the day with the teachers singing some songs and reciting some poetry with Veena Ji.
Looking forward to continuing to get to know everyone and continuing to be amazed by their many talents and passions.
1/25/13
Attended the Jaipur Literature Festival with Amy and Dheeraj (from the Delhi Office) today. The event was awesome. It was thought-provoking in addition to being a fun and unique experience. Of course, it redoubled my desire to read for pleasure more often than I do! It was also nice to get a taste of home with some professors from my school ( Harvard University ) speaking at the event. Such a culturally enriching day!
1/28/13
After a weekend at the Literature Festival, I was definitely ready to get back to the Foundation. In class with the teachers, we read Robert Frost's poem "The Road Not Taken." Once again, the teachers' comprehension was impressive. We discussed what the poem was about and even got into some interpretation. We asked the teachers whether they liked the poem and also whether they think the speaker regrets (or will regret) his decision to take a certain road.
I taught with Payal Mam for the day and we went over question words (how many, why, do). I was also able to bring in singular versus plural (both how it affects verb conjugation and adding an "s"). I really liked the dynamic that Payal Mam and I had. She allowed me to teach the lesson, but helped with certain translations and differentiating between a question that asks "Do you…" and "Are you…" For example, we used the verb "play" to illustrate the difference. We asked the children, "Do you play?" The answer for all of them was of course "yes." We then asked "Are you playing?" And the answer was of course "no" at the time. I think and hope that this was an effective way of differentiating these two types of questions. Overall, a successful teaching day.
1/29/13
Today we unfortunately did not have class with the teachers because we spent the morning doing some sightseeing (which included City Palace, Jantar Mantar, and the Amer Fort). It was great to finally get to see some of these amazing sights, though I really enjoy class with the teachers so I missed that.
At the Foundation, I worked with Priyanka Mam's class. So, I have now spent one day with each class! Although Priyanka Mam's class is the highest level, I actually found it most difficult to teach. I think this may be because it is more challenging to plan lessons that are not too easy but also not too difficult for this level. The children are generally older, so they accordingly are more mature, have more varied interests, and I think generally expect more of the class (which is a great thing!). The first batch was quite small, so I had the three students read one fairy tale each aloud. I then had them retell the story in their own words. They drew three pictures (beginning, middle, and end) and wrote three sentences to accompany them. I then went over the major parts of a story (beginning, middle, end, characters, setting, problem/conflict, answer/solution). I asked them to identify each of these things in their own stories. I then had them write their own stories, using the same characters but changing everything else. This was definitely a good exercise for them, but I also think it's important to give the children enough time to do things- creativity is not something that can or should be rushed, in my opinion. It's a bit tricky navigating how much time to give them (different students work at very different paces), but I think more time generally allows the children to think and create more, so I will make it a point to give them enough time.
The next two batches were larger, so I changed the lesson a bit. I first had the students write sentences of the form, "If I were a ______ I would be a ________ because…" I thought that this activity would encourage them to reflect on their likes, dislikes, and who they are as people. I filled the first blank in with things like colour, animal, show, dance, etc. Some children struggled to think of reasons and simply stated that they would be green because they like green, or a dog because they like dogs. I guided them to try to give another reason (e.g. explain why they like green, or why they like dogs). I then had them use all of their answers together to write a short story. I think this worked well, but again, the lesson helped me realize that the kids need a lot of time to construct ideas and sentences. I will definitely be sure to give them this time so that they can brainstorm more and know that these are not meant to be mechanical lessons but rather open-ended ones.
Overall, today was definitely challenging. Priyanka Mam is also such a great teacher and I have been hearing wonderful things about past volunteers, so I'm a little intimidated by the big shoes I have to fill! Going to do my best though.
1/30/13
Today Amy and I got to the Foundation early, which was really nice. It gave us plenty of time to hang out with the teachers and have a more relaxed class with them. We finished discussing the Frost poem and even got into our own personal "roads not taken" which was absolutely touching and fabulous. It was so wonderful and inspiring to hear these girls talk about the tough decisions and struggles they have had in pursuing education over marriage. I am so proud of them and really respect and admire their strength. After finishing our discussion of the poem, we still had plenty of time so we started our next endeavour- O. Henry's, "The Gift of the Magi."
I picked this story out, despite some very challenging vocabulary, because I thought the teachers would appreciate the sweetness of the story. We read the story aloud and although the beginning had some tough descriptions, I think the teachers grasped and appreciated the plot and meaning of the story overall. After finishing up this post, I am going to make a worksheet full of definitions of difficult words to bring in tomorrow, so that should help I hope. There are also some other neat literary devices that the story has that Amy and I were hoping to discuss, so we could probably go over this story for the next couple of days.
I worked with the Sunflower Class (the first level) with Sonam Mam today. We first gave them some words to write in their notebooks. As usual, the kids were enthusiastic and ready to learn. After doing work in the notebooks, I started to go over the letters and their sounds, in order to help the kids take the first steps towards sounding out letters and words rather than simply memorizing them. We got through A-D in most classes (I wrote the letter on the board, followed by some words beginning with that letter and emphasized the sound that each letter makes). Although it was a bit difficult for the kids to grasp at first (I think this may be their first exposure to letters as sounds), they definitely picked it up within the lesson time, which is awesome. I think with some repetition and practice, they will be sounding out words! Sonam Mam also said that she would go over the letters and sounds with the kids even in my absence, which should definitely help. So, I was happy with my teaching today for the most part.
It was also Priyanka Mam's birthday, so she brought us amazing treats (samosas, gulab jamun, jalebi) and we sang to her. I was sad that I didn't know ahead of time, but Amy and I will pick something up for her soon.
1/31/13
Despite this being my first full week at the Foundation, it feels like it has gone by quite fast. Amy and I rocked out to some Disney music on the way to the Foundation and also made Priyanka Mam a (belated) birthday card.
During class with the teachers, we provided them a list of definitions of the difficult words found in O. Henry's story. We spent class rereading the story and going over this vocabulary. It was definitely tough and trying to get through it all, but the teachers were such champs and Amy and I did our best to use a combination of verbal explanations and physical actions to describe the words and their meanings in context. Tomorrow we hope to have a more chill discussion of the story and then spend the second half of class playing a game similar to Scrabble (which we picked up on our way home tonight).
I worked with Ruchi Mam's class today. I read the first two batches "Hansel and Gretel" and the last batch (which is slightly weaker) "The Boy Who Cried Wolf." The first batch really understood the story and I think even enjoyed it. They drew pictures representing the beginning, middle, and end of "Hansel and Gretel" and even had time to write a few sentences with some new vocabulary (sob, woodcutter, cottage, etc.). The second batch was a little bit weaker (with one very strong student). This created a dynamic in which the class relied heavily on the strong student to answer all of my questions. We reviewed the story after the first reading and I drew pictures on the board. Ruchi Mam also helped by translating some difficult parts into Hindi. The children then drew pictures representing beginning, middle, and end. I did not have this batch write sentences because we spent more time going over the story. I think they were not able to grasp the story quite as well, and I will keep in mind that the second batch is not quite as strong as the first for next time.
I read "The Boy Who Cried Wolf" for the third batch because it is shorter and easier than "Hansel and Gretel." The children enjoyed the story and practiced writing vocabulary words from the story (wolf, sheep, hill, true, lie, grinning, village, naughty, help, breath). They also drew some pictures to illustrate these words. This batch, though weaker than the first two, was very enthusiastic and ready to learn, which I really appreciated. Overall, I will need to plan more carefully for Ruchi Mam's second batch next time, but the stories went well.
Ruchi Mam also told Payal Mam the story of "Hansel and Gretel" to practice her own English at the end of the day, which made me really happy. I was glad that she liked the story and seemed to be gaining confidence in her English and comfort speaking around me. Now going to go plan a lesson for tomorrow!
2/1/13
After some refreshing morning yoga, Amy and I headed to the Foundation for a fun Friday. In class with the teachers, we discussed "The Gift of the Magi" a little bit more. Then, we played charades, which was incredibly fun (despite, or perhaps because of, the fact that I made a fool of myself) and good vocabulary practice. I think it also made everyone feel more comfortable around each other, which is great.
I worked with Ruksar Mam's classes today. For the first two batches, I read "Hansel and Gretel" to them. These students are more advanced than Ruchi Mam's students, so we only had to over the storyline briefly for the children to grasp it. We then had ample time to discuss the elements of a story: characters, setting, problem, solution. Amy told me that she would be writing a story with the kids, so I thought that learning about these parts of a story would be helpful. The kids grasped these concepts quickly and seemed to be really engaged with the story (especially in the first batch). We also went over some vocabulary words from the story (cottage, sob, witch, pebbles, etc.). Ruksar Mam said that she did not expect the children to catch on to the story so quickly and was impressed when they did, which made me happy.
Ruksar Mam's third batch is at a lower level than her first two batches, so I had to adjust the lesson. She advised me that they might not benefit much from a story just yet. This was great advice, because I was then able to tailor my lesson. At first, we played a word game called Hangman, which proved to be rather difficult for the children (who are also quite shy in this batch). When I saw that that wasn't working very well, I immediately switched to a different activity. I posed simple questions (e.g. What do you see in the sky at night?) and then wrote the answers, but scrambled the answers (e.g. nomo and trass). The children then unscrambled the answers (in this case, to get moon and stars) and wrote a full sentence answer to the question. Ruksar Mam said that this game was great for the kids, because it allowed them to practice their vocabulary as well as forming full sentences. I think the kids enjoyed it as well because they felt a sense of accomplishment when they got the answers and the game was suitable for their level. Overall, it has been a great week. I am definitely going to try to learn more of the students' names next week and continue trying to plan lessons that suit the students' levels but are also engaging. I'm also looking forward to continuing class with the teachers. In fact, a couple of other girls from the neighbourhood have also started to attend our class, which is heartening and makes me hope that they are enjoying it. Looking forward to activity day tomorrow!
2/2/13
After some tough morning yoga, Amy and I practiced a dance to Shakira's "Waka Waka" to share with the kids for activity day. When we got to the Foundation, we all congregated on the rooftop for some dancing. Some of the kids are just so darn good! Their sense of rhythm and genuine love of dancing really shines through their performances. Kiren, in particular, really seems to be in her element when dancing. We shared our dance with the kids, and also danced the Macarena with them. Ruksar Mam was teaching everyone her wonderful moves as per usual as well. Everyone was also graced by the company of Geeta Mam's little son Rudre (sp?). He is such a beautiful baby, and was so comfortable with everyone! It was very impressive.
For the last half hour or so, I escaped from the sun to go downstairs and play some games. While playing chess, several students showed me drawings that they had done depicting scenes from "Hansel and Gretel." Not only was it heart-warming and reassuring to see that the children liked the story enough to draw pictures from it, but it also served as a reminder of how important and memorable our time with the children seems to be. Rosenda, you had mentioned the reverence of guests in Indian culture, and I think that is particularly true at the Foundation. The children are just so warm and welcoming and genuinely curious about us volunteers, making what we do and say all the more important. I will definitely be reflecting on this as I continue to plan lessons and activities for them.
2/4/13
I was feeling a little bit under the weather on Saturday, but after a restful Sunday, I was glad to be back at the Foundation this Monday. We began by reading "The Story of Naku and Neeko" with the teachers. This story was really well-matched for their level. I think they enjoyed it and also were able to learn from it. Amy and I prepared a list of vocabulary words with their definitions for the O. Henry story and I think we will do the same for this story, because the teachers found it helpful. They were able to read through the story quite quickly, and we spent the rest of class going over some of the tough vocabulary. In the next few days, we hope to discuss the story more and finish our review of the vocabulary as well.
I worked with Payal Mam's classes today. The first batch was quite small and at a level slightly lower than the other two, so we played the game where I posed questions and then wrote the scrambled answers. The children then unscrambled the answers and wrote full sentence answers. I had played this same game with Ruksar Mam's 3rd batch. It proved to be a good way to practice vocabulary. Muksan very cutely spelled out everything she was writing aloud, and it seemed like a good activity for this batch's level. With the next two batches, we read "Hansel and Gretel" and went over the concepts of characters, setting, problem, and solution and identified these four things within the story. I think the students really enjoyed the story and were also quite motivated to get through it quickly in order to play the word game "Hangman" afterwards. We ended a few minutes early because of the impending rain. I would really like to make a small version of the witch's candy cottage to bring in for the kids, because I think that would be a fun way to bring the story to life for them. Hopefully I'll be able to acquire supplies this week or weekend and build one for them!
2/5/13
Unfortunately we did not have time for class with the teachers today, but I jumped straight into teaching with Priyanka Mam. Once again, I found her classes the most difficult to teach, because their level is such that some stories are too easy (e.g. The Elves and the Shoemaker) and others too difficult (e.g. Oliver Twist). The first batch read "The Elves and the Shoemaker" aloud and went over the meaning of the story. We then played "Hangman" using vocabulary from the story.
For the next two batches we attempted to read a more difficult story- Oliver Twist (which was actually sent along with a very sweet card from former volunteer Cleo!). The students read the story aloud, page by page. At the end of each page, we went over the main plot points. The students had quite a bit of difficulty understanding this story and the vocabulary in it. However, discussing the meaning of the story page by page and following this up with review of vocabulary really helped. After the students read aloud, we played two games. In one game, I scrambled vocabulary words from the story. The students would then unscramble the words and I would ask them how that word played a role in the story (e.g. Whose handkerchief was stolen? Who steals it?). We also played Hangman using the vocabulary words. These two activities proved to be useful tools for solidifying both the students' understanding of the words as well as the story more generally. Priyanka Mam's students are a bit older and also more advanced. This also means it is more difficult to find stories and activities that fully engage them. When reading aloud, they read quickly but sometimes struggle to understand the meaning of what they are reading. I think I may prepare a shorter story for next time, along with some reading comprehension questions (in the form of a game). I think the game will help keep them engaged and the shorter story will help keep them focused and hopefully less likely to lose sight of the overall meaning of what they are reading. I really want to find a way to engage advanced students like Lalit and Govinder. These two boys seem so intelligent, but also were easily distracted. Tailoring activities to their level and turning learning into more of a game should help (I hope).
At the end of the day, Amy and I did some grocery shopping and also picked up some colourful construction paper to make valentines with for Valentine's Day, so I'm really looking forward to that! And tomorrow I'll be with the Sunflower Class and Sonam Mam, which is always exciting.
2/6/13
We reviewed "The Story of Naku and Neeko" with the teachers today and finished going over the vocabulary. It was too bad that the teachers did not want to open up about what the story may have reminded them of in their own experience, but Amy and I chose to tread carefully and not push anything. We were able to get through the vocabulary smoothly and the teachers understood the story very well. Tomorrow we plan to take a break from stories and hopefully find a magazine or newspaper article to share with the teachers.
I worked with Sonam Mam's classes today and it was so wonderful to see that the kids are really understanding the association of letters with sounds. Amy and I are both working on this with them, which is great because I think two days per week of this lesson is much more useful than just one. The kids practiced writing their vocabulary words in their notebooks for the first half of class and we went over letters and sounds during the second half, getting all the way to the letter "L" in most batches. It continues to intrigue me how the most advanced students, rather than being the easiest to handle, are actually more difficult (I think because they get more easily bored with what is presented to them, and need more a challenge and more interesting lessons). For instance, Fardeen is probably one of the most advanced students in Sonam Mam's class, and so gets through his vocabulary words in his notebook very quickly. I think perhaps giving these more advanced students more challenging words and a greater volume of words at one time might help, to keep them engaged and occupied.
At the end of class, we enjoyed playing a game (Donkey Monkey) in which you have to freeze your body and the first person to move is out, which was really fun. The kids also happily recited the "Hey Diddle Diddle" rhyme that Amy taught them, which was charming. I think next week rather than the traditional lesson I may try to plan a game or two for the kids to mix things up. Now it's time to plan lessons for the teachers and for Ruchi Mam's class tomorrow! But, a final note: this evening was also really fun and thought-provoking. The "Ganga" dance was beautiful and evoked a mixture of feelings and thoughts. I think my favourite description that the piece gave of this vital cultural element was the phrase "regal mendicant." For some reason, this struck me as the perfect description of the Ganga- simultaneously sophisticated and utterly common. The beauty, I suppose, comes in the fact that this seeming contradiction is both accepted and lived on a day to day basis here in India.
2/7/13
Inspired by the "Ganga" performance last night as well as Amy's background in environmental policy, we brought in an article about the paradox presented by the river as both a holy, cleansing force and a body of water that is overused and polluted. The article turned out to be more difficult than we had anticipated in terms of the sophistication of the vocabulary and the technical aspects. We only managed to read through a couple of paragraphs. However, with some thinking on our feet, we decided to only read those two paragraphs and then gear the class more towards a general discussion of this topic rather than getting through the more technical article. The teachers seemed to be interested in this topic (although it is difficult to discuss considered the advanced vocabulary necessary for the discussion). So, we told them that they could think about the issue and write out any thoughts they have over the weekend. We will pick up the discussion on Monday and tomorrow we plan to play a game (as part of our "Fun Fridays" mentality).
I worked with Ruchi Mam's classes today and we played the "Question and Answer" game. I posed questions and scrambled the answers and the students unscrambled the answers and formed full sentences with them. This game has proven to be a really useful tool for solidifying the students' understanding of different words, questions, and phrases. Oftentimes, the students seem to be able to read a question, but they have difficulty grasping the meaning of the question and thus articulating a response. But, this game offers useful practice of different vocabulary words and basic question words. When posing the questions to the entire class, I came across the issue of the same student answering all of the questions. For instance, Samiya is one of the stronger students and is able to answer the questions much more quickly than the others. In order to avoid the same one or two strongest students in each class answering all of the questions, I had the children take turns answering the questions, which worked much better. Overall, I think this is a great activity for helping the children really understand the words that they are able to read and recognize but not necessarily translate. I felt like it was a really productive day.
This evening I have also been watching a film recommended by some of the teachers called "English Vinglish" which I am really enjoying. It is just so appropriate and easy to relate to (it is about an Indian woman learning English). The mixture of Hindi and English and (mis)understandings and things being lost and gained in translation is really wonderful. I suppose it's all the magic of language. I especially liked one scene in which two characters are speaking to each other in their native tongues (neither understanding the other, since one speaks French and the other Hindi). They then comment on how sometimes it's nice to just speak freely even if the other person cannot understand. I loved this idea and it just goes to show you how much can be communicated between two people just by picking up on non-verbal clues. Highly recommend this film! 🙂
2/8/13
We played charades with the teachers today and it was both fun and funny, just like last week. But, I also think it is a really useful game for learning the vocabulary that we study in our stories, so that makes me even happier. After class, we had a delicious lunch which included dishes prepared by the teachers.
I worked with Ruksar Mam's classes today and I decided to take on a new topic: the concept of point of view. I printed out 4 images, two of which were optical illusions while the other two were photographs that look like one things but in reality are something else. One photo was of a cabbage leaf, but looks just like a flowing gown. The other was of a drop of milk splashing into a cup, but looks just like a crown. The optical illusions consisted of images that could be interpreted in several ways as well.
I was a little bit hesitant because I wasn't sure if the students would be able to grasp the concept of point of view, but I think they ended up both understanding and enjoying the activity. I began by asking the students whether they could hazard a guess as to the meaning of "point of view." The first batch mentioned "looking" while a student in the second batch (Kunal) really impressed me by giving a near perfect definition (albeit in Hindi). I continued by defining point of view (a way of looking at something or a way of thinking about something). I then asked the students whether they thought everyone's point of view was the same or whether points of view varied. Both the first and second batch had good instincts and responded that different people think differently, which leads to different points of view. I then showed them the images one by one. After presenting the image, I asked what they saw and listed all the responses on the board. I think this helped to convey the wide variety of possible responses, and I made it a point to clarify that no one was right or wrong. Instead, everyone was correct so long as he/she had some reason for his/her answer. I had them write one sentence for each image of the form, "I think it is a _______ because…". The kids really enjoyed guessing what each image was and then finding out that the photographs were something completely different from what they appeared to be. In addition to emphasizing that everyone was correct, I also tried to explain how these photographs are interesting precisely because they can be interpreted in different ways.
The last batch is at a slightly lower level, so I played a mixture of "Hangman" and the question and answer game with them. The latter is really a great exercise because it can be tailored to the students' level and really encourages clear understanding of words and full sentences. So, overall, I really enjoyed teaching with Ruksar Mam today.
After work, we headed straight to Veena Ji's house for a delicious meal- what a treat! Mutton, rice, vegetables, sweets, and a movie on TV combined with the motherly company of Veena Ji was just the thing to celebrate the end of the week. Amy and I are turning in early (hopefully) tonight because we are headed to Agra in the morning! Looking forward a fun weekend and planning some more lessons for next week.
2/11/13
Our visit to Agra on Saturday was absolutely wonderful- the Taj is of course magnificent and the Agra Fort (which I had not visited before) was so dynamic. There was really a new discovery around every corner, which was great. The weather was good and lunch was delicious. We recovered with a lazy Sunday and headed back to the Foundation today. I had actually been thinking about the children and the teachers a lot on Saturday, in particular about how fun it would have been to enjoy the experience of the Taj with all of them. I also felt sad to have missed activity day on Saturday. Long story short, I was glad to be back today.
In class with the teachers, we discussed the complex issue presented by the Ganges as an entity that inspires faith and a natural wonder that is deteriorating due to various forms of pollution. This was a really tough discussion. Even I was rather silent because I definitely do not know as much as Amy (who has a background in environmental studies) does, so I cannot imagine how the teachers felt. But, as per usual, they rose to the occasion and left me very impressed. In particular, Priyanka, Ruksar, and Ruchi spoke up impressively. We read a short article about the Kumbh Mela in order to frame and begin our discussion. Priyanka shared that her maternal grandmother was attending the Kumbh Mela and that perhaps older generations still have strong faith and less concern for pollution and/or health hazards. She also brought up the very interesting point that there is a sort of common goods problem in the sense that each individual feels that he or she as only one person will not make much of a difference in pollution (but, of course, if so many millions of individuals feel this way, it amounts to significant pollution). Ruksar made the point that perhaps people will have to reconsider ritual practices like scattering ashes if they are harming the environment. And Ruchi defended the practice of bathing and washing clothes in the river. I myself was completely torn and puzzled by this issue. Of course, on a scientific level, I understand that practices much change to avoid pollution of the water and health hazards to millions of people. At the same time, the power of faith and tradition cannot be underestimated. Plus, it is really difficult to imagine an India where the Ganges isn't used in the plethora of ways it is currently used. Anyway, all in all a good, thought-provoking discussion.
After the discussion, both Ruchi Mam and Priyanka Mam approached me to ask about vocabulary they did not understand. I continue to be so impressed and delighted by the motivation and enthusiasm of these women. My respect for them grows every day and I hope I can remember and emulate their work in my own life.
I worked with Payal Mam's classes today. We worked on the concept of "Point of View" in the same way as Ruksar Mam's class did. The first batch had a little bit of trouble grasping the concept, but the next two batches caught on quite quickly. I think they enjoyed seeing the images and photographs and the long list of interpretations generated by the class. I made it a point to emphasize the large number of answers produced despite the fact that everyone was looking at the same image/photo, which helped clarify that everyone has a different point of view. Since the last two batches caught on quickly, we had time for some charades and Hangman at the end of class as well, which was really fun. In the same way that the teachers' enthusiasm is impressive, I continue to find reasons to appreciate the students' enthusiasm and respectfulness. In Payal Mam's class, Tanya and Nashid both responded so well to the lesson on "Point of View" and seemed as though they were genuinely interested and really wanted to understand what I was saying. Even the students who are not quite as "studious" respond really well to different types of lessons (in the form of games, for instance) so it is heartening to see them engaged. I am hoping that Priyanka Mam's class will respond well to the lesson on "Point of View" because I think it will suit their level and be more interesting than a simple fairy tale. Fingers crossed!
2/12/13
Today was a lovely day at the Foundation. Reading poetry with the teachers has really helped me appreciate the beauty of poetry. I somehow did not enjoy it quite as much while in school. Perhaps the pressure of grades and interpreting in the "correct" manner dampened my interest and genuine engagement with the poems. Anyway, today we discussed two poems: "Hope" by Emily Dickinson and "Stop all the clocks" by W.H. Auden. Ruchi Mam had suggested Emily Dickinson and the latter was a great pick by Amy. With respect to the first poem, we discussed how Dickinson uses a metaphor to compare hope with a bird. Ruksar Mam wisely suggested that this may be because hope is something that is freeing in the way a bird flies freely. Ruchi Mam also made the interesting point that a bird chirps continuously, and although we may not understand its song, we still hear it and appreciate it. Similarly, though we may not understand the reasons behind undying hope, we still feel its presence and are thankful for it.
It was heartwarming and impressive to hear the teachers discuss these poems at such a sophisticated and thoughtful level. The Auden poem was wonderful because it used simple language that the teachers could fairly easily grasp, but was nevertheless incredibly beautiful and touching. It dealt with the loss of a loved one and I think everyone was quite moved by it (Sonam Mam was nearly crying!). I was so happy that we could all share our feelings in response to the poems and that the teachers could really appreciate them. Payal Mam and Sonam Mam are quite shy when it comes to participating, but it is clear that they are listening, understanding, and appreciating, which I think is a great start.
I worked with Priyanka Mam's classes today. Rather than doing the lesson on point of view, I thought it would be nice to read "The Story of Naku and Neeko" so that they would be able to discuss it with the author next week J I had the students read the story aloud and they did a fabulous job. I requested that the students read loudly and slowly so that the others would be able to hear and understand. We also stopped several times throughout the story to recap what had happened. Going over the major plot points and certain vocabulary words helped the students fully grasp the meaning of the story. They seemed to really enjoy the story and appreciate its moral, which was great. It is so interesting to see that some of the shyest students are also the most advanced and excited to learn. For instance, Suraj is usually quiet and a bit timid when answering questions. However, it was clear from the answers that he provided that he understood the story very well. I suppose as a somewhat shy and timid person myself, I should not make the mistake of underestimating my own shy and timid students. Today served as a helpful reminder of that. After reading the story aloud, going over vocabulary, and reviewing major plot points, we also played Hangman to practice vocabulary from the story. It turns out Hangman is a nice reward and a fun way to wrap up class. Priyanka Mam also asked me an interesting question today: what my future plans consist of (e.g. job, school, etc.). I hope I can muster some semblance of an answer by the time I am done here. At the very least, I am really enjoying learning about myself and being inspired by the children at Tushita, and I have not doubt that the experience will help shape my future goals and plans.
2/13/13
Today was yet another insightful day with the teachers. We had an open-ended discussion about women's education in India. We opened with the question of what the primary barriers to women's education are. There was a general consensus that the people's mentality represents the main problem, although it also shifting now. All of the teachers also shared the fact that they have experienced discrimination for being women who have chosen to pursue work and education rather than domestic duties. Coming from a place where education comes relatively easily, I am in awe of the resilience and determination of people who must fight for an education.
It was also interesting to hear that in the teachers' experience, it was family pressure and the overall cultural mentality that prevent the education of girls rather than some more systemic problems. In articles and studies, I often read of the problems that prevent girls from feeling comfortable in schools (lack of uniforms, lack of separate toilets for girls, long distances to travel, etc.) and Priyanka Mam made the very good point that these systemic problems affect those plagued by extreme poverty, but are less present in Amer.
Working with Sonam Mam's class always brings a smile to my face. She is such a kind, warm-hearted person and thus the perfect teacher for this age group. The children clearly love her. The students worked in their notebooks, practicing the alphabet, actions, animals, colors, etc. Some of Sonam Mam's students (despite being so young) are clearly incredibly eager to learn and impress their teachers. Farha in the first batch proudly recited her spellings. In the second batch, Komal was so sweet and sang beautifully for me. After working in the notebooks, I worked on some senses with them (see the sun, smell the flower, taste the ice cream, touch the table, feel the cold). Like Farha, Fardeen was excited to demonstrate his knowledge and proudly recited the senses. We had some extra time during the third batch, so we played "Duck, Duck, Goose" which the children loved.
Sonam Mam also shared with me that Nashid (in Payal Mam's class) is her sister-in-law and has an arranged marriage with Sonam Mam's younger brother. It is intriguing to me how important marriage continues to be for people (especially girls), even among those who are pursuing work and education. On the one hand, I hope this means that marriage and education are no longer being viewed as two diametrically opposed paths. On the other, I wonder how long marriage will continue to be such a defining part of people's lives from such a young age. Amy and I are going to make some valentines for tomorrow and I'm looking forward to a fun day of dancing and celebration.
2/14/13
Today was a magical Valentine's Day. We continued our thought-provoking conversation with the teachers, discussing the advantages of women being educated. Priyanka Mam brought up the point that when a woman is educated, it benefits an entire society. The woman is better prepared to raise her children in a healthy way, educate her children, etc. Payal Mam spoke up today, which was amazing. It filled my heart with joy to see her really making an effort to talk more and see her working on improving her confidence. She also made very good points: that women's education empowers them to be independent, manage budgets and expenses, and provide for themselves. Ruksar Mam also made the point that education enables women to be self-reliant. When I asked if there were any disadvantages of a woman being educated, it sparked an intriguing conversation. Priyanka and Payal Mams brought up the point that some educated women choose to ignore traditional ways and family values, or become materialistic. Thus, there could be a tension between education and traditional values, they argued. Ruksar Mam disagreed, saying there are absolutely no disadvantages of getting an education for a woman. If she chooses to break away from tradition, that is her own choice and there is nothing wrong with it. Priyanka Mam agreed for the most part, but thought that girls should at least work to convince or explain to parents and families why they are making the choices they are making. This was all just plain fascinating to me, and I feel privileged to get their insight on this topic. We also gave all of the teachers some homemade valentines, which Amy and I made last night. I really enjoy working with Amy because I think we balance each other well. She is very outgoing and talkative, whereas I am a bit more quiet and reflective, which makes for a good combination in class.
All the kids came at 2pm today, so it was a very full house. Everyone was dressed in yellow (for Vasant Panchami) and red (for Valentine's Day) and looking beautiful and festive. Amy and I tried to explain the little we know about the history of Valentine's Day to each class and then spent the day drawing pictures and dancing. It was so therapeutic to just do crafts and play games all day. I ended up spending most of the day with Priyanka Mam's class working on drawings and valentines. There was such an outpouring of love from the children. So many of them made beautiful valentines for Amy and me. They also really embraced the valentine-making process. They are SO artistically talented. Many asked for help drawing and cutting out hearts, but they were doing just as well themselves. Even quiet students like Suraj worked up the courage to come bring me a valentine, which was so incredibly sweet. I think I probably felt more love on this Valentine's Day than any other Valentine's Day I've had before. I feel as though compliments from me also mean so much to the children, so I try to give a lot of positive encouragement whenever possible. Now getting ready to go to bed early and rest up for a fun weekend in Delhi. I'm sad to be missing out on a Friday and Saturday with the children and the teachers, but looking forward to the upcoming full week.
2/20/13
After the birthday extravaganza yesterday, it was nice to work with Sonam Mam's class today. The little ones somehow manage to make every day feel special. But, before I get into that, I should mention class with the teachers. We finished up our discussion of social media today. Interestingly enough, of all the topics we have discussed thus far, I felt perhaps the largest disconnect with the teachers on this one. I think a combination of higher security, more restrictions on free speech, less ease of Internet access, and less proficiency in English make the Indian experience of the Internet quite different from the American one. It seemed that the teachers were very concerned about privacy and people posing as other people on Facebook. Furthermore, YouTube and Twitter do not seem quite as popular among them as they are for us (Amy and me). We also discussed briefly the role of the government in making social media more or less safe to use (e.g. making arrests based on remarks on Facebook about certain politicians). It seems to me that less omnipresent Internet access and the fact that a huge proportion of information on the Internet is in English makes the teachers' experience of social media very different from mine. For instance, Ruksar and Sonam said that they are not very familiar with social media, although they wanted to learn more. Of course, we can still interact with each other on Facebook and they still said that they watch music videos on YouTube. So, there is certainly some common ground. However, I could not relate as much to their fears about the security of social media (although, I can definitely see how those are very real concerns in a place like India). An interesting, though difficult, discussion in the end.
After the challenging discussion with the teachers, it was so nice to work with Sonam Mam's class. For some reason (perhaps because I've been at the Foundation for nearly a month now and the kids are feeling more comfortable with me, and I am getting to know them better) I felt like I bonded with the little ones really well today. I joked with Kashish about how everyone hurriedly and aggressively asks, "Mam, please check my notebook!!!" It's also nice to see some quieter children opening up (e.g. Arshi and Komal) and other more advanced and older students being proud of their work (e.g. Zeneb). We did work in the notebooks as usual, but also went over senses (which the children remembered so well from last time!), played Simon Says, and ended with Duck Duck Goose in the last batch. These kids are so passionate and perceptive. Not only do they remember the senses that I taught them, they even remembered the fact that I can juggle, so they asked me to juggle the oranges today. I don't know why I continue to be surprised that the children really pick up on everything, but I am.
The day also left me feeling very happy because the teachers brought me some gifts for my birthday (a blouse, a necklace, and a bracelet). It was actually really overwhelming to experience so much kindness from these women that I've only known for a few weeks. I have a tremendous amount of respect for their hard work, and to see that combined with their kindness is wonderful. I feel undeserving and lucky to be able to work with such a group.
2/21/13
In class with the teachers today, we discussed Munch's painting "The Scream." I think the topic was rather challenging, which is completely understandable. I have trouble communicating my thoughts about art verbally in my mother tongue, so I can definitely see why it would be difficult to do so in a foreign language. Nevertheless, the teachers did their best and said that they enjoyed discussing the piece despite the difficulty. I was happy to hear that and am glad that they can be exposed to some famous Western artwork. We also read an article that provided some background and context for the painting (though we had our discussion first), which was helpful. Amy and I read it aloud so that the teachers can continue to get used to understanding spoken English and our American accents. We then began to go over vocabulary and have the teachers read aloud, paragraph by paragraph. We were not able to finish, but will continue on Monday.
During the drive home, Veena Ji mentioned how these kids at the Foundation are different from other kids, and I really couldn't agree more. I'm sure I'm biased because I've worked more closely with these kids than with others, but their enthusiasm, kindness, and energy really strike me as something so special. I really felt this today working with Payal Mam's class, because they are just downright funny. With her first batch, which is smaller and at a slightly lower level, I did an activity where I wrote a word on the board and the students would say words that they associated with the written word (e.g. I would write rain and they would say sky, water, clouds, etc.). They then wrote down these word associations. I think it was a good vocabulary exercise and appropriate for their level.
With the next two batches, we played a new game. The class split into two groups and I would pick a topic (e.g. fruits, means of transportation, colors, etc.). The groups alternated naming something that fell into the category and would have to use their answer in a sentence. So, for example, if the topic was fruits one group would say "Bananas are yellow" and the next would say "I love guavas." The challenge was to continue thinking of fruits, means of transportation, colors, etc. I think the kids enjoyed the activity and also really impressed me with their creativity and vocabulary (they went so far as to mention things like helicopter, submarine, and even wheelchair for transportation). Jatinder was very good at this activity. During the topic of body parts, it was very fun to see the kids pointing to body parts and trying to recall the names of them. At one point, Reshma stuck out her thumb and yelled, "I have… ears!" because she wasn't able to think of the word thumb and we all burst out laughing. It is really wonderful when I can see the kids laughing and having a good time, but also trying and learning.
2/22/13
As part of our "fun Friday" mentality, we played Pictionary and Charades with the teachers today. I really continue to feel a bond and level of comfort forming among all of us, which is really nice. The teachers were joking around and having a lot of fun with the games. Komal (Kiran's sister who joins us for class with the teachers) seemed to be opening up more as well (though she has been very quiet in the past), so that was really nice to see. Veena Ji even commented on the amount of laughter she heard from downstairs (we were playing the games upstairs).
I worked with Ruchi Mam's classes and we played the same game I had played with Payal Mam's classes yesterday. I think it was a good exercise in vocabulary recall, and also got the kids to form complete sentences (since they had to give answers in the form of a full sentence). Even if the sentences were simple (e.g. "My favorite color is blue") it was really nice to hear them gaining confidence in stating complete thoughts. It also helped build vocabulary when we went over body parts, means of transportation, etc. After classes were over, the teachers gathered in the office for our traditional evening debrief. Payal Mam asked me to sit next to her and despite the smallness and simplicity of this gesture, it affected me. I suppose it was continued affirmation that Amy and I are becoming closer to the teachers over time. I was also happy to hear that Priyanka Mam had asked Amy to help her writing her resume. I hope they continue to feel comfortable reaching out to us for anything.
In the evening, Amy and I went out to dinner at a nearby restaurant (Spice Court) and it was delicious (in addition to being a nice, relaxing way to end the week). Amy was super sweet and treated me to the meal, continuing in the parade of lovely things that people have done for me for my birthday this week. I will have to think of something to give to her soon! Maybe I'll surprise her with pancakes one morning for a little taste of home 🙂
2/23/13
For activity day at the Foundation, we did it all: dancing, drawing, playing games, and more. I spent the first hour or so enjoying the children's dancing on the roof and the next helping Priyanka Mam's students with their "Books of Me." I loved walking around and looking at all of the beautiful drawings and creative responses. As the students wrapped up their "Books of Me," we started to chat more casually and freely, which was definitely the highlight of my day. It just felt like the kids were really starting to feel more comfortable around me and even more confident with their English. In particular, Suraj and I seemed to hit it off with the topic of movies- a shared passion. We talked about superhero movies (his favorite is "The Hulk") as well as some animated movies ("Finding Nemo", "The Incredibles", etc.). I think we were both happy to find a shared interest that we could discuss enthusiastically, and it also made me so happy to see Suraj being able to practice his English in a way that was enjoyable for him. Shifa also joined our conversation as she worked on her "Book of Me." It is amply clear that she is an incredibly intelligent girl who has great English (she said that she wanted to be an English teacher in her "Book of Me" actually), which does not come across immediately because she is a little bit quieter. But, as she opens up it is clear that she is so bright and funny. After this chat with the kids, we played some musical chairs and then there was more dancing. Again, I was happy to see certain people opening up more. Ruchi Mam, who didn't dance much at all on the first activity day that I experienced, was dancing up a storm today and really having fun with it. And of course, Ruksar Mam was also dancing beautifully as usual. Even Veena Ji joined in the fun. Now I'm looking forward to meeting Somal tomorrow and visiting Pushkar with Veena Ji and Amy.
2/25/13
Driving to the Foundation with Veena Ji today, we discussed "English Vinglish," which she saw on TV last night after returning to Pushkar. I think she enjoyed it as much as I did, plus it took her mind off of missing her daughter after our daytime visit, which I was happy to hear. It was nice to bond a little more with Veena Ji during the car ride (we also had a pleasant car ride back from Pushkar last night, listening to music and chatting).
Amy wasn't feeling well today, so it was just me at the Foundation. It felt oddly quiet without her, and I really missed her boisterousness, company, and support in class with the teachers. Nevertheless, we continued our discussion of Munch's painting "The Scream." I had the teachers read an article that we began last week aloud and we then reviewed vocabulary from the article. With our remaining time, we began discussing another piece of artwork- a photograph entitled "Migrant Mother" that was taken in the United States during the Great Depression. We began with a simple discussion of what the teachers saw in the photo and moved on to how the photo made them feel, how they knew that the woman in the photo was the mother of the children next to her, the woman's facial expression, and other topics. When I asked whether the fact that the photo is black and white made a difference, Geeta Mam's response was very interesting: she said that the black and white color scheme made the photo seem more real, better conveying the mood and sadness of the situation. I commented on this, noting the seeming contradiction in a photo that is not in color better representing "real life" than a color photo. After discussing the photo, I read a short article about the photo aloud to the teachers. We will continue discussing the photo tomorrow and the teachers will read the article aloud themselves as well.
I worked with Ruksar Mam's classes today and we played the same vocabulary game that I had played with other classes last week. The first batch was rather large and rowdy, but improved after a little cajoling from Ruksar Mam and me. I was also glad to know that it wasn't just me who had experienced this rowdiness- I discussed it with Amy upon returning home and she had noticed the same thing. The second batch was smaller and more manageable, which was also better because all of the children were able to participate more fully and intimately. The game went well and Ruksar Mam liked it very much- it forced the students to challenge themselves to recall vocabulary words, allowed them to practice speaking full sentences in English, and also allowed us to review some grammar (since Ruksar Mam and I corrected the students as we went along).
In the evening, Amy was feeling better so we did some groceries before coming back home for dinner. Tomorrow Amy and I were thinking of starting a short story with the teachers, and I may read the same short story with Priyanka Mam's class (or perhaps give them some more time to work on their "Books of Me"- I think not feeling rushed is a large part of creativity and enjoying the work they are doing in their books).
2/26/13
Today we read the short story "Idgah" by Premchand with the teachers. My mom had actually recommended this story, which was originally written in Hindi. So, I found an English translation online (the miracles of the Internet) and brought it in. The teachers already knew the story because they had read it in grade school as children. The piece describes the dilemma of a young orphan boy who goes to the Idgah with his friends. He is very poor and cannot afford the toys and sweets and rides that his friends are indulging in. He decides to spend the small amount of money that he has on tongs for his grandmother, because he remembers how she always burns her fingers when making chapatis. The boy manages to convince his friends that the tongs are actually better than all of the other toys (which can and do break easily). When he returns home at the end of the day, his grandmother first reprimands him for not buying any food or drink for himself all day. When he explains why he bought the tongs, his grandmother is moved to tears and incredibly proud of her grandson.
Amy and I first read the story aloud for the teachers and then had them read it aloud and went over vocabulary. I think it helped that the teachers knew the storyline more or less. Their comfort with the plot allowed them to better grasp the vocabulary and also enjoy the story. It was also a nice turning of tables as the teachers helped Amy and me pronounce the names of people and sweets that we were not familiar with.
I read the same story with Priyanka Mam's classes as well. The students had also read the story (in Hindi) when they were younger, so they were similarly familiar with the storyline. I think this actually was quite beneficial, because it allowed them to move beyond the basic plot and focus on understanding the vocabulary. I also think being familiar with the story gave them more confidence and interest. I also noticed that it made a big difference when I gave each student a copy of the story. Other days, one student might read from a book and the other students must rely on listening alone. This often makes things difficult because a student's pronunciation may not be completely clear or loud enough for everyone to understand. Each student having his or her own copy of the story allowed everyone to follow along, support their fellow students when they came across an unknown word, and stay engaged. I will definitely keep this in mind for future classes. I thought it was a successful lesson in getting the kids reading, speaking, and building their vocabulary as well. I hope I'll be able to find something as good for next week!
2/27/13
Today we finished up reading "Idgah" with the teachers. Because the story is rather simple, we did not discuss it much. Geeta Mam did mention that she was happy to read the story in English. She said that knowing the Hindi version and then seeing the English version was beneficial and facilitated understanding the vocabulary, which made me really happy. I hope the children in Priyanka Mam's class felt similarly.
We continued the class by reading a poem by Tagore entitled "Freedom." While I can't claim to know what Tagore was writing about, it seemed fairly clear that he was referring to freedom for India from the British and the people of India awakening from their silent obedience to take control of their own fate. I think the teachers appreciated the poem a lot. I read the poem aloud to begin. It was not very long, so each teacher read the poem aloud once as well. We then went over vocabulary, after which Amy read the poem aloud one final time. I thought this repetition was particularly useful for poetry, since it often takes several readings to begin to understand the metaphors, sentence structure, etc.
We then began our discussion by asking what emotions are prompted by the poem. Priyanka Mam was on the money (in my opinion) when she said that Tagore was trying to encourage the people of India to take some action. We also discussed how it seemed that Tagore might be angry/upset/frustrated with the people of India (he refers to them as "puppets") and hurt by their condition. Overall, the teachers really understood the comparison between Indians and puppets, which allowed us to discuss metaphors and similes as well. At the end of the day, before everyone went home, Geeta Mam showed me that she had written her thoughts about the poem in her journal. It was really fabulous. She had shared some of the thoughts during class, but it was fabulous to see her practicing her writing, understanding the poem, caring about our class, etc. She had also written about our discussion of social media and how it allows women who are sometimes geographically restricted (even to as small a geographic location as their own homes) to have a wider-reaching voice.
I worked with Sonam Mam today and the children worked in their notebooks and then played a spelling game in which there are two groups. The first group spells a word and then the next group must respond by spelling a word that begins with the last letter of the previous word (e.g. "applE" followed by "EgG" followed by "Girl" followed by "Lion" and so on). Sonam Mam's students are so incredibly fun and funny. They certainly use any excuse to make physical contact, which is completely unique to her class and wonderful. I suppose it's a quality of small children to just feel comfortable with human touch (and actually desire it so much). The kids scrambled to sit next to me while working and while playing the games- they really know how to make a girl feel loved! I also love the fact that they can joke around with me (e.g. when Kashish and Payal and Komal and Rohit and basically all of the children tried to give me their biscuits, I jokingly made an angry face and told them to "Eat it please!" or "Have good manners!"). It's amazing how much a simple high five can mean to these kids. Come to think of it, it's amazing how much a simple high five can mean to me! Long story short, they are a joy to be around and we had so much fun together today.
2/28/13
It's hard to believe it is the last day of February and tomorrow is already March. Time is really flying. In class with the teachers today, we discussed a second Tagore poem that really spoke to Amy and me: "Journey Home." The poem discusses a wanderer/traveler who must search far and wide to ultimately gain a more profound understanding of himself/herself (at least, that's my quick interpretation). The poem was rather difficult for the teachers (more difficult than the one we discussed yesterday), which Amy and I didn't anticipate fully. Nevertheless, after going through the tough vocabulary and explaining certain sentence structure, the teachers managed to grasp the poem quite well. In fact, despite saying that the poem was challenging, Priyanka accurately summarized it first in just a few sentences. Geeta Mam followed and made the thoughtful point that Tagore's "journey" could represent any of life's challenges- which I agreed with. I was also really happy when Geeta and Ruksar showed me their notebooks with some thoughts they had written down about the poem at the end of the day. Amy and I also offered in class to read the notebook entries and correct them. We tried to make it very, very clear that this was not necessary and that it was totally up to the teachers and their personal preferences. We definitely want the notebooks to feel like a safe place to practice English, so we didn't want anyone to feel pressured to share, but also wanted to at least offer our services in helping correct any grammar or spelling confusion. I think they understood and appreciated what we were trying to do.
I worked with Payal Mam's classes today and we practiced vocabulary as well as forming complete sentences. I would write five words on the board, and they would have to give one related word for each of the words, resulting in five pairs of words. Then, they would write one sentence with each pair. I think this activity served as very good practice for them, and I am always happy to hear them speaking full sentences with more confidence and accuracy. We ended each batch with a game (either Hangman or charades) just for fun. It is so nice getting to bond with the kids more and just gaining their trust and respect. Tanya complimented my teaching style, which was such a nice little confidence boost. I always joke around with Aresh about his catchphrase in class ("that's enough"). We had a visitor (a woman traveling here from Australia, who is studying psychology) today, and Aresh (being his silly, friendly self) asked her whether she was married. It was so cute and funny and I joked with him about it for the rest of the afternoon.
I was feeling a bit nervous in the evening because I had a phone interview with some teachers from the Mountain School in Vermont. On the one hand, I am course very happy to have the opportunity to interview, but it is also a bit stressful and making me think more seriously about the future (which isn't so much a bad thing as it is a tough thing). Hopefully things will work out for the best.
3/1/13
We played Scrabble with the teachers today and I was initially worried that it would be too difficult and/or slow and/or boring. But, the magic of Scrabble came through and once the teachers got the hang of the rules, we were really enjoying ourselves. It was great because the players can tailor Scrabble to match whatever their respective levels are.
I worked with Ruchi Mam's classes today, which was a pleasure for multiple reasons. One is of course that I really enjoy her batches and think they are at an exciting point in their English progress, where they have some solid vocabulary, but need to build it and use it to form full thoughts and sentences. We played the word association game in which I would write a word on the board and the students would list as many related words as they could think of. Then, the students had to form sentences with the resulting pairs of related words. (The sky is blue, the mountain is tall, I use my legs for jumping, etc.). I think the first two batches did really well with this, and the third batch definitely managed to complete the activity as well although they struggled a little bit more. At the end of the day, as the third batch was leaving, the all surprised me by giving me huge hugs as they left. I'm not sure what prompted this (perhaps it was because we had been having a rather fun, lively class), but it made me smile for the entire car ride back home. I also love teaching Ruchi Mam's class because it is right next door to Sonam Mam's class, so the little ones always run over to our class to proudly display their artwork. Amy and I were brainstorming ideas for a more long-term project for March last night. We were hoping to get the older children (those not in Sonam's class) disposable cameras (as Saguna had mentioned in her proposal) and have them take photos. There could be some structure to the photos as well, perhaps matching up with the "Books of Me" (e.g. a photo of What makes me happy, my country, my neighborhood, etc.). We thought since Sonam's kids may be a bit too young for the photos, we could acquire a hole puncher and some thread or ribbon and make them individual books of all of the artwork that they make in class, so that they can also have something to proudly display. We could then have an exhibition, perhaps during the first week of April just before Amy and I leave. At dinner, Amy and I also discussed dedicating one Saturday as "America Day" during which we could share different aspects (history, culture, geography, music, food, etc.) about the United States with the children.
Anyway, apologies for the digression. I was happy that the kids were able to have fun with forming sentences and even happier with all of the hugs.
3/2/13
Today for activity day, I played games with the students (everything from charades to a version of a spelling bee). It is simultaneously marvelous and intimidating how much the kids listen to the teachers. They really get excited about any idea the teachers have for a game. Some highlights included: Suraj showing me an amazing picture that he had drawn, Aresh saying "You are beautiful, Ma'am," and Payal Ma'am dominating every game that we played. The first highlight was heartwarming because Suraj strikes me as a generally shy person, so I was really happy and impressed that he initiated showing me his drawing. The second highlight (in addition to being a nice ego boost) just emphasized how honest, open, and uninhibited the kids can be at times. I really hope the kids continue to feel comfortable around me so that I can keep enjoying their honest, funny, refreshing comments and so that they can continue expressing themselves freely. And the third highlight is just downright fun, watching Payal beat everyone at every game in existence. Amy and I had a nice evening as well. We saw Silver Linings Playbook at the mall and had a nice rickshaw ride home (the rickshaw had rocking music and some neat lights too- quite the experience).
3/4/13
We read a story about Karvachauth with the teachers today from a book of short stories that Amy has. It was a good story that the teachers could relate to and that was appropriate for their level as well, so I think everyone enjoyed it. Amy and I read the story aloud first and then we had the teachers read it aloud and went over the vocabulary paragraph by paragraph. The dictionary has been an incredibly useful addition to the foundation, and especially to our class with the teachers. Amy and I do our best to describe certain words and their meanings, but a dictionary can just be so invaluable in certain cases. The teachers laughed when I described a "lump" as a "bump," which made me laugh as well. I am so happy that they feel comfortable enough to laugh at me and that we can subsequently laugh together.
I worked with Ruksar Mam's class and she mentioned something that made me really happy. She said that while flipping through the channels on TV, she came across the English news. She said that she typically does not understand the news in English, but after spending time listening to Amy's and my own accent, she was able to pick some things up this time around. I am so glad that Amy and I are contributing something useful to the teachers and that they are becoming more fluent and confident. Another reassuring occurrence was when the students from Ruksar Mam's class asked to do the same activity that we did last week- I was really glad that they enjoyed the activity and that they remembered it. So, we did the same activity, splitting into two groups and having a topic (e.g. "animals") and each group would have to say the name of a different animal in a complete sentence. This was a great way to practice vocabulary and speaking skills, with the students forming complete sentences. It was also amazing how excited the kids were about this practice simply because it was in the form of a game. In the last batch in particular (which is at a slightly lower level than the earlier two), it was great to see a quiet student like Neeraj speaking up (and in complete sentences!). I could see his confidence growing over the course of the class, which was wonderful.
After work, Veena Ji and Gajju Banna treated Amy and I to a drink and some appetizers. It was so, so nice to spend some relaxed time with the two of them and to celebrate acquiring the plot of land. Veena Ji was a little bit down because Snoopy passed away today. After having a dog for 17 years, I can imagine that it is inevitably a member of the family. Plus, they mentioned how loyal and helpful he was. But, Amy and I tried to reassure her by reminding her that hopefully this ends Snoopy's suffering from old age. We also discussed plans about the photo exhibition and the potential for a day during which Amy and I discuss the United States. And in the closer future, we are planning to have an inauguration for the new plot of land, explaining to the children that it is their land to care for and enjoy. And we listened to some great music on the car ride home! Hopefully many more nights of fun and great company with VJ and GB.
3/5/13
Amy and I were not sure what to do with the teachers today. Luckily, I remembered a short story that has really stuck with me since I first read it in middle school. The story ("All Summer in a Day" by Ray Bradbury) is actually quite simple. It takes place on the planet Venus, where it rains all of the time. The sun shines once every seven years for about one hour. The school children in the story are 9 years old, so they don't remember the last time the sun was out (they were only 2 years old). One student (Margot), however, is different. She was born and raised on Earth and therefore can remember the sun and what it looks and feels like. This makes her different from the other students, and thus a target for teasing. One boy who is particularly jealous (William) does not believe that the sun is actually coming and locks Margot into a closet as a practical joke. Then, the sun appears and the children get so caught up in enjoying its majesty that they forget that Margot is in the closet. When the rain starts again and the sun disappears, the children remember Margot and slowly let her out, feeling guilty about what they have done.
Although the storyline itself is rather simple, the story is told in quite sophisticated language. Amy and I read the story aloud for the teachers. Priyanka Mam understood the story very well, while the other teachers seemed to struggle a little bit. Luckily, there was a really nice short film that was made from the story. So, we watched this short film and then the teachers were able to completely understand what had happened. The combination of the written story with the visual film was really wonderful and I think the teachers enjoyed it. We will continue to discuss the story and its vocabulary tomorrow.
I read the same story with Priyanka Mam's classes. I read the story aloud for the students, because I figured it would be a bit difficult for them to read on their own. In each batch, after reading the story, I asked the students how much they had understood. I asked them to do a thumbs up if they completely understood, a sideways thumb if they understood a little bit, and a downwards pointing thumb if they didn't understand at all. The reactions were mostly downwards pointing thumbs or sideways pointing thumbs. I then went over the characters and setting with the students (which they were able to determine by looking back at the text). We then went over the basic plot points, and I guided the students to the specific paragraphs that held the crucial information so that they could understand what had happened. By the end of class, everyone was able to give a thumbs up for their understanding. I felt really good about my teaching today (something that I do not often feel in Priyanka's class). In fact, today really helped me appreciate how important having energy and enthusiasm are for teaching. I think my excitement for the story in combination with explaining it to the students by directing their attention to key sentences and paragraphs worked really well. It made my day when Priyanka said that I had done a good job because it made me think back to my first days at the Foundation. When I first arrived, I was actually pretty intimidated by the teachers and wondered what they would think of us foreigners coming into the Foundation and trying to teach a group of kids we barely knew. Contrasting that intimidation with the comfort and confidence I felt today makes me so happy about the progress everyone seems to be making. I am really learning to love and appreciate teaching much more. I think it was exciting for me and for the students to see their progress from the beginning of class (understanding very little about the story) to the end of class (understanding it very well) and the process of discovery that they were able to engage in with the text.
A couple small points about today's classes. The reason I say energy and enthusiasm seem vital for teaching can be illustrated through an example. In the second batch, I asked the students how the children in the story felt when they finally saw the sun. Minnie gave a funny (but accurate) answer- she "oohed" and "aahed." The other students in class giggled, but I told her that she was absolutely right. And then, whenever the topic came up again, I would have her do the action to convey the feeling of excitement and happiness upon finally seeing the sun. We all giggled a bit when she did it, but it was a funny, memorable way to convey what happened in the story. I think it's important to remind myself how far a little fun in the classroom can go.
Another point: when Kiran came into class, she didn't seem too thrilled that we were reading a story. By the end of class, she told me that she really enjoyed the story and that it was very nice. This reminded me of how the teacher's end of a bargain is bigger than we treat it at times. Sometimes Amy and I discuss how the children did in class, but I think it's vital for me to remember that how the children do is often a direct result of how I am doing. If I put in more work, I will probably see more results from the children. I shouldn't expect great things from them without doing well myself.
Finally, I just wanted to reflect on a very small point. When reading the story with Priyanka Mam's classes, we needed more copies of the story so that each student could follow along. Priyanka Mam quickly and efficiently gathered all of the teachers' readily offered copies, practically in the blink of an eye. As I returned the copies of the stories to the teachers at the end of the day, I couldn't help but think of how standard it was for them to share copies of their story or accommodate a shortage or deal with small setbacks. I just feel like we are not used to many setbacks back home, and are therefore typically ill-equipped to deal with them. This is one of the things that impresses me most about India overall- people here just manage to make things work. Barriers and setbacks and inefficiencies are assumed to exist and arise, which can be frustrating to a foreigner but also makes for more flexible, patient, and innovative people I think. Today was clearly a big learning day for me and I enjoyed it immensely.
3/6/13
We had the teachers reread the story aloud today and they did a wonderful job. I hope I'm not imagining it because of wishful thinking, but it really seems like they are improving. After reading the story, we discussed it a bit. It was interesting to hear the teachers' thoughts and feelings and to discuss the differences between the written story and the video. We then began going over vocabulary- there was quite a bit of tough vocab in this story. We managed to get through about half of it and will continue with the next half tomorrow.
I worked with Sonam Mam's class and that is always a pleasure. Farha greeted me with her usual sweet line of "You're looking good today ma'am." Payal and Arshi and even some of the boys just love proximity to me and physical contact, which is nice and so unique to the young ones. They worked in their notebooks for the first half of class and then we practiced vocabulary through "Simon Says." They are all so enthusiastic and pleasing their teachers is so important to them. Zeneb took my empty tea cup along with Sonam Mam's to the sink, and it just struck me as such a strange (but wonderful and thoughtful) thing for a small child to do. Next week, I think we'll work on sounds of letters more so that they can practice their reading skills. The notebooks are certainly effective ways of practicing writing and vocabulary, but "Simon Says" was useful for listening skills and I think letters and sounds will improve their ability to read rather than memorize. I also hope we can do an art project together before my time here is up, because they are always so proud of the drawings that they produce. I was also thinking that as part of "America Day" we could have all of the kids decorate small stars and paste them on a large American flag, which something that could stay at the Foundation as a memento from Amy and me.
3/7/13
We finished reviewing the vocabulary for the story "All Summer in a Day" with the teachers today. The dictionary has really been a tremendous addition to the Foundation and particularly to our class with the teachers. Despite our best efforts, Amy and I struggle to describe certain words well enough to help the teachers fully understand what they mean. In this sense, being able to get a quick and accurate translation helps our class move with more ease and efficiency. Amy read the story aloud one more time after going over all of the vocabulary. It's amazing to me what you can discover hearing a story read aloud (for the third or fourth time). The story so vividly describes the endless rain on the planet Venus, and the words used when it is raining are repetitive and dreary like rain. The words and sentences used when it is sunny, on the other hand, are drawn out and brighter. It made me think of how the story really lends itself to an interpretive dance or a dramatic reading. Overall, it was a pleasant reminder of how much can be done with one single piece of literature.
I worked with Payal Mam's classes today. With the first batch, we did the activity in which I write a word on the board and they list related words. They then form sentences with the resulting pairs of related words. This was great for the level of the first batch (which is a little bit lower than the other two). With the next two batches, we did they activity in which two groups form and must list an item in a given category (e.g. animals) using the name of the item in a full sentence. The items and sentences cannot be repeated. This activity is great practice for the kids to practice their speaking and for them to realize the many different types of sentences that they can make with the English that they know (rather than every sentence being "I like [insert animal]" or "This is a [insert animal]"). I am happy that the kids are practicing their English, and I've also noticed a decent number of new students (two in Payal Mam's class, one in Ruchi Mam's, one in Sonam Mam's, and four in Priyanka Mam's). This is really encouraging and I am hoping it means that good comments and feelings about the Foundation are being shared in the community.
3/8/13
It is so fun to see the teachers get invested in Scrabble on Fridays. Priyanka Mam very generously asked me to be her partner for the game today, which was exciting. And I must say, we made a great team. I am really impressed by her knowledge of English and ability to apply that knowledge in different settings. Scrabble is also just a really fun way to joke around with the teachers, pretending to be "competitive" about the results. I feel more and more comfortable around the teachers and students, and that seems to be reflected in the nature of our interactions and even the physical contact that we share as well. In short, I have been getting many more hugs, high fives, handshakes, pokes, etc. and I am happy and hopeful about what that indicates.
I worked with Ruchi Mam's class today and we did an activity in which I wrote five questions on the board and the answers to those questions (but the letters of the answers were scrambled). The first group of questions were "what" questions, the next "where" questions, and the last "who" questions. The students would read the questions aloud, and give possible answers. They then worked to unscramble the answers. Once they had completed this and written the questions in their notebooks, I had them use the one-word answers that I had provided to form full sentence answers. I wrote these full sentences on the board and had the students write them in their notebooks as well. I was so happy to hear so many students forming full sentences. Even students who typically struggle seemed to feel engaged. For instance, Krishna is usually on the quieter side and struggles to form full sentences. But, he managed to speak up during the activity. On the other hand, some students struggle, but are still quite talkative. Nahid for example struggles to form full sentences, but doesn't seem too timid to try, which I really appreciate and love. I also tried to make it a point to compliment the students who are very forthcoming and always provide answers (e.g. Jayant), while also making it clear that they should remain quiet after providing a few answers so that other students have the opportunity to speak and practice.
3/9/13
Amy and I woke up early and a little bit stressed this morning, because we had to get things together for our "America Day" at the Foundation. We had purchased 70+ apples yesterday to make apple sauce, so Amy got to work slicing, coring, and peeling. Bim Singh very kindly lent a hand, and I contributed a little bit. Lal Singh also ran out to get small disposable bowls and spoons, so it was a nice little team effort. But, I spent more of my time making two posters- one featuring some facts about India and the other facts about the United States of America. I thought comparing the facts about India to the ones about the U.S. would be helpful for the children to understand what we were talking about (e.g. Hollywood vs. Bollywood, comparing the populations, capital cities, traditional food, traditional dress, number of states, languages, sports, etc.). This comparison helped the younger children in particular, but the older children really impressed us with their knowledge about the United States. In addition to the apple sauce snack and the posters, we also cut out stars for the younger children to color and plan to use them in a large U.S. flag that we can leave at the Foundation to remember the first American volunteers. We also played some American songs, including the national anthem, "Somewhere Over the Rainbow," and "What a Wonderful World." Amy had the great idea of having some gestures to go along with the songs. The younger children and the teachers both really enjoyed the music, I think. I hadn't realized this before, but the latter two songs are actually quite simple (and sweet) in terms of their lyrics, so I think the children and teachers could appreciate them almost immediately. We had luckily printed out a few copies of the lyrics to share with everyone so that they could follow along. We also opened by showing the children where the U.S. is on a world map (and demonstrating how far it is from India). So, overall, we tried to hit on many different topics (history, geography, demographics, cultures and traditions, music, and food). Amy and I also shared a little bit about our respective states with the students. I think it was a pretty comprehensive overview, and it really warmed my heart to see everyone dancing and doing the gestures to some classic American tunes. The little ones and the teachers really seemed touched by the songs. And, I was really impressed by how much the older students already knew about the United States of America. Kiran and Lalit were the standout students who shouted out all of the answers to questions Amy and I posed, but the other students participated in other ways (swaying along to the music, mumbling answers in their own way and repeating them when asked to, etc.). As a somewhat quiet and sometimes timid person myself, I can appreciate the difficulty of making your voice heard in a hot, packed room full of your peers.
So, while we started out the day a bit frenzied and nervous, it was wonderful to see how appreciative and receptive the students were to information about the U.S. I think it was a nice break from the traditional activity day and something new and different for the students. I just cannot believe that it is already mid-March. Trying to savor the remaining time with these beautiful kids.
3/11/13
We arrived at the Foundation a little bit late today, so we did not have much time with the teachers, unfortunately. We watched the trailer for "Half the Sky" and introduced the sorts of topics that we want to discuss this week (e.g. the plight of women in developing countries). We plan to continue that discussion tomorrow.
I was in Ruksar Mam's class today and because Amy had read "All Summer in a Day" with them, I thought it might be fun/interesting to watch the video of the story. The children really enjoyed the video. In fact, they were much more emotionally moved by it than I expected them to be given the fact that it was in English. Afrin in the first batch was actually crying, and a few girls in the second batch were close to tears as well. I remember the video being very emotionally wrenching for me as well, so I am glad that they also felt moved by it. Indeed, the story is quite a sad one, as Margot's classmates lock her in a closet. She was so looking forward to seeing the sun and now will presumably not see it for another seven years or until she moves back to Earth.
I then discussed the differences between the video and the story with the children (because the video does not remain true to all aspects of the story), which format they liked better, how Margot felt, how the children felt, etc. This was a much more free form discussion than I usually have with the children, but I was impressed with their ability to respond despite the lack of structure. A vast majority of the students said that they enjoyed the video better, which I think is to be expected since it allowed them to vividly experience the story. The video also portrayed certain emotions (sadness, jealousy, etc.) very well, which enabled us to discuss these emotions a bit in class. Overall, I was really happy with the discussion. Even in the third batch, which is a little bit weaker, the students (especially Neeraj and Arbas) did their best, even if that just meant saying a few words and me putting the sentence together for them.
3/12/13
Instead of continuing with "Half the Sky" today, Amy and I decided to discuss some plans for Amy's last couple of weeks here (since we realized how short we are on time, especially with the holidays for Holi coming up as well). We are hoping to make portfolios with the artwork of the students in Sonam Mam's class, put finishing touches on the "Books of Me" for Priyanka Mam's class, and have the students in the other three classes take photographs under different topic areas (e.g. feelings, beauty, etc.). We will need to start explaining the project to these classes this week and then having the kids take photos next week, so that they can write up descriptions of their photos and mount them the following week. This will hopefully allow the project to wrap up the Saturday before Easter, when we could showcase the photos, artwork, and "Books of Me" either in the Foundation or in the garden, depending on how progress in the garden goes. The teachers seemed on board with this idea and totally ready and willing to work to make it happen in the next couple of weeks, so I'm really excited to get going. We also thought the students could even brainstorm what they would like to photograph before actually having the camera, which might help both speed things up and encourage more thought to go into each photo.
Sonam Mam could not make it to the Foundation today, so Amy and I offered to take over her class. I think it was a humbling experience for both Amy and me, to say the least. I certainly left with a newfound appreciation for the magical combination of sweetness and authority that Sonam seems to have to keep her little ones under control. The kids really managed to take advantage of the lack of Hindi and lack of strictness that come along with me and Amy. In particular, Fardeen, Kashish, Hizba, and Farha all really vied for our attention. Of course, this was coming from a very sweet place, but it manifested itself as misbehavior unfortunately. Towards the end of the first batch, things did not seem to be getting any better, so I asked Ruchi Mam next door to help us out a bit. The kids immediately became quieter when Ruchi came into the class. We decided that Ruchi and I could work with Sonam's class and Amy would take Ruchi's class (because she had initially been planning to teach Ruchi's class today anyway). This worked out much better. Ruchi and I had the kids work in their notebooks for the first half of class and then draw for the second half of class. It amazed me how hesitant some of the children were to draw even a rainbow or a cloud. They would draw a few lines and erase them or simply stare at their blank page and say that they couldn't do it. Prachi definitely faced this problem. The approach that seemed to work best was simply encouraging the students and reinforcing that they could totally draw very well. If they still felt unable to put pencil to paper, I would guide their hand a little bit for the first stroke and then tell them that could absolutely do it- in fact, they just did! The last two batches operated smoothly and I really enjoy working with Ruchi Mam. I think we have similarly sarcastic senses of humor, which makes for a very fun dynamic. As the day wrapped up, Priyanka Mam said that her students had asked about me (because I was supposed to be with their class today), which warmed my heart. I will work with them tomorrow and show them the video of "All Summer in a Day" since we read the story together last week. I am looking forward to seeing their reactions and discussing it with them.
3/13/13
We finally got around to watching the clip from "Half the Sky" with the teachers today and had a very interesting discussion about it. After class, Priyanka Mam mentioned that she found it particularly interesting to see that places other than India (the clip dealt with a village in Kenya) faced similar problems (e.g. poverty, lack of education for girls, poor infrastructure, etc.). She also found it very interesting to learn (from Amy) that in Africa, men rather than women pay dowries. I think the teachers found the discussion interesting, but it proved rather difficult. Nevertheless, they rose to the occasion as they usually do. We discussed the fact that the woman co-running the NGO in Kenya was American and what the Tushita Foundation would look like if the teachers and GB and VJ were American rather than Indian. Priyanka made the excellent point that it would be better if the woman were African so that the young African girls being educated by the Foundation could have a good role model of an African woman in power. Geeta Mam and Ruksar Mam both pointed out that it would be difficult to Americans to run a Foundation like the Tushita Foundation, because it would be hard to explain the purpose of the Foundation and its good intentions to the community. Overall, the teachers seemed to feel that cooperation between Americans/Westerners and local people from communities that are being served seems to work best.
I screened the video of "All Summer in a Day" for Priyanka Mam's classes today and the kids really enjoyed it. Once again, the video spoke to them in a more emotional way than the story alone did. The first batch had a little bit of trouble speaking up regarding their thoughts on the movie and the differences between the movie and the story. I tried to ask more basic questions and Priyanka Mam helped me translate. Satyam did a good job of trying his best to speak up, but didn't always listen carefully to the questions being asked. I tried to push some of the quieter ones (e.g. Anju), not to be mean but simply to encourage them to speak. After the first batch, we have a wonderful interlude during which we had a small, informal inauguration of the garden. The children were so excited to help plant the Bougainvillea that will line the front of the wall of the garden. In fact, groups of children were already enjoying playing games within the garden (though there remains some cleanup to be done before it is totally functional). We took a video as well as many pictures on GB's iPad, so hopefully those will be shared soon! It was great to see the children and teachers so excited, and even some of the local mothers. After the inaugural planting and a bit of playtime, we all came back inside for the third batch. Priyanka mam's third batch was much more talkative and bold in reacting to the video, which was refreshing. They did a great job responding to my questions. I was surprised to learn that about half of them actually preferred the story over the movie, which was also refreshing. The four new students are doing a good job of speaking up already, and Suraj (who absolutely loves movies) was all over discussing the video. He stated in a mixture of Hindi and English his strong preference for the movie, because it brings life and color to what is otherwise just black and white words on a page. Spoken like a true film buff! As someone who loves film myself, I could not help but smile from ear to ear hearing him talk about the video like that. As class was wrapping up, we played Hangman and Suraj continued to discuss movies with me- our newfound shared passion. He told me that he had just recently watched Van Helsing and Twilight (apparently he is into vampire movies). Another small occurrence that made me think today was when one student asked me what time it was. I responded that it was 5:45, and asked her how to say that in Hindi (just out of personal curiosity). She didn't quite understand my question and a minute later I turned to Sheefa and she responded with the answer. Perhaps this small act seems meaningless, but I guess I was just impressed by Sheefa's maturity to not blurt out the answer just because she knew it, but rather to give the student I had initially asked a chance to answer. Sheefa had the patience to wait until I turned to her inquiringly and did not see any need to show off or make it known that she knew the answer. Maybe I'm reading too far into things, but it just really struck me at the time. At the end of the day, everyone was happy (perhaps the little break in the garden put a little pep into everyone's day) so we laughed and joked before heading back to the office, where a small cake was awaiting us for GB and VJ's anniversary. They are so sweet and kind that they said the way they were celebrating was the inauguration of the plot of land at the Foundation. It is amazing what a big part of their lives the Foundation is. I hope they treat themselves to some rest as well!
3/14/13
3/18/13
We watched Shabana Basij-Rasikh's TED talk today with the teachers and I found it so interesting and important. I think the teachers could all relate to Shabana's message and were interested to know about the situation for girls in Afghanistan under Taliban rule. Geeta, Priyanka, and Ruksar Mam were the most vocal. Unfortunately, the other teachers spoke less, but I was very interested to know their opinions, so I will have to make it a point to ask them for their thoughts one on one. It seemed that both Geeta Mam and Ruksar Mam were touched by the anecdote regarding the father and daughter who just barely avoided the bomb while returning home from SOLA and the father's response to the person who threatened him over the phone: that the person giving the threat could kill him now, but he would always work to give his daughter her right to education. Indeed, it was a powerful message and a touching sentiment. Priyanka Mam picked up on another piece, which was one that resonated strongly with me as well: the importance of a father viewing his daughter's successes as his own. She also pointed out how usually the tables are turned: a daughter is convincing her father that she wants an education. But, in Shabana's case it was the other way around: a father convincing his daughter that she needs an education despite the difficult circumstances surrounding getting one. I really loved this speech and the thoughts and feelings it provoked.
I found in particularly interesting that my reaction to Shabana's message was so mixed: I was in love with her rethinking of the role of the father and the incredible importance of male support (particularly in heavily male-dominated societies) for a young girl. And yet, a part of me was disgusted by the fact that a young woman still has to rely on male support for something as basic as an education. Geeta Mam actually agreed with me (somehow, I wasn't really expecting the teachers to take this view). She said she felt that it was a girl's individual right to decide whether or not she wants an education and to get it for herself.
I had similarly mixed feelings regarding Shabana's higher education. The (largely Western, it seemed) audience clapped enthusiastically upon hearing that she had graduated from Middlebury College in the U.S. I was likewise impressed and touched. At the same time, it saddened me and made me upset to think that she had to travel to the U.S. to pursue higher education rather than being able to enjoy it in her home country.
There was also one other small point that I had mixed feelings about. On the one hand, I understand that growing up in Taliban-ruled Afghanistan is light years away from the life that I have experienced. Yet, I could relate so much to what Shabana said about the importance of a father's support in a daughter's education (even having grown up in a relatively progressive American household). Of course, in a society where less than 6% of girls are able to attend school and their lives are threatened when they do, male support is much more critical than it was for me. Nevertheless, I will never forget my dad telling me that he felt 5 years younger after I told him the good news of my acceptance to Harvard. His complete joy in my educational pursuits meant (and means) the world to me. The fact that he treats my personal successes as his own (as Shabana and Priyanka Mam both talked about) is something deeply important to me. So, I think Shabana's argument may even be stronger and more universal than she realizes.
I worked with Ruksar Mam's classes today and we wrote about a sketch. The picture is of a girl sitting on the edge of a coffee mug and the coffee mug rests on a table in a kitchen. We wrote sentences about what would be good about being so small and what would be bad about being so small. The first batch had a lot of fun with the assignment and really used their imaginations to think of different possibilities (riding on animals, spinning on the fan, taking chocolate unnoticed by a shopkeeper, etc.). I appreciated their enthusiasm and liveliness. I also noticed Kunaal's continued resolve to not speak Hindi. He would work and work to communicate in English while other students would blurt out answers in Hindi. I don't think I would have the same self-discipline or determination he does. The second batch struggled a little bit more with writing sentences, but managed to get through the exercise successfully (with only a few sentences copied). They had more lingering nerves about their ability to produce ideas and sentences, but I tried to tell them there was nothing to be nervous about and no wrong answers. I knew the third batch would struggle with writing sentences, so rather than having the students write individual sentences in their notebooks, we discussed the topic as a class and I wrote the ideas on the board. The three boys in the class did not speak up at all at first, which I allowed. However, after the initial discussion, I told them we would come up with seven more sentences (one from each student). I gave them time to think, and told them I would help them along the way. I think this gave them just enough of a push to speak up, which was great, and everyone ended up contributing.
A small final note: the students from Ruchi Mam's first batch asked me to take their class today because I had missed her class on Friday (due to our weekend in Udaipur). It is simultaneously uplifting and heartbreaking how much a single absence matters to the children- and to me. I really really missed them this weekend, and thought about them a lot on Friday and Saturday during the times we would've been at the Foundation. I suppose this is the nature of the beast when temporarily volunteering abroad, but it's already becoming difficult to imagine leaving everyone here.
3/19/13
Because we missed our Scrabble day last week with the teachers, we decided we would make up for it today. I was on Sonam Mam's team and it was so much fun. Sonam is just so sweet and though quiet sometimes is really so funny and even snarky at times. Geeta Mam also joined our team, which was quite helpful. The teachers really get into Scrabble and Amy and I enjoy it as much as they do, so it was a nice class.
I read Shirley Jackson's "The Lottery" with Priyanka Mam's classes and it proved to be a difficult story for the children (however, there is also a short film based on the story that I can show them next week that will hopefully clarify it). The story tells of a lottery that takes place in a small village. The villager that draws a slip of paper with the black dot on it is then killed. So, this is a lottery that no one wants to win (though the reader does not know that until the very end). Essentially, the story (I think) is a commentary on tradition- the village continues to hold this absurd lottery every year simply because it is tradition to do so. The first batch managed to grasp the story very well and clearly understood that the lottery was not at all like the lotteries we usually think of, with desirable prizes. We actually did not have time to finish the story in the second batch, so we will continue it next week. The third batch struggled a little bit more with understanding the ending of the story, in which the reader discovers that the lottery is such a terrible thing. Govind in particular felt that perhaps the woman was killed out of jealousy and envy rather than as the "prize" of the lottery. Indeed, this was a quite valid interpretation because understanding that the "prize" of the lottery is a terrible one relies on clues within the story that would be subtle and difficult for the children to pick up on. Nevertheless, the students certainly understood the plot of the story and will hopefully find some clarity in the video.
3/20/13
Amy and I discussed our portrait project with the teachers today (and Amy began working on the project with Priyanka Mam's class). I am really excited to see all of the portraits on for the children to experience taking photos, working in this intimate way with each other, and celebrating themselves and their artwork. We thought it would be good to start right away given our limited time frame and the fact that some children have exams these days, so they may not be attending the Foundation every day. The teachers seemed on board with the idea and thought it was feasible and fun. We thought we could have the students take the portraits and then mount them on craft paper. They could then make some designs and write the subject's name and some fun facts about them (e.g. his/her hobbies or what is important to them). Inevitably, a couple of unanticipated questions arose during Amy's first go at the portrait project: should girls and boys pair together, or would this make them uncomfortable? She said that initially the girls and boys were a little bit nervous and hesitant to work together (at least in Priyanka Mam's first batch), but it was not really a problem ultimately. Amy also asked me how she should present the portraits (e.g. who has artistic direction, the photographer or the subject). Amy thought that the photographer should have control over the artistic direction (e.g. asking a subject to have a certain expression or be doing a certain action). I think this is a good approach, since it allows the children to have the experience of feeling like a photographer with a degree of control over the subject of their photos. I am glad it sounds like it went well today and I will introduce the project to Payal Mam's class tomorrow and Ruchi Mam's class on Friday (Amy will introduce it to Ruksar Mam's class tomorrow as well). With Sonam Mam's class, we still plan to make small books with all of the children's artwork, and I was thinking that I could take portraits of Sonam's children to put on the front of these books.
After discussing the project with the teachers, we had some time leftover, so we asked the teachers whether they would like to discuss anything with us. Geeta Mam posed a question to Amy and me, asking what we thought about the teachers' teaching and how they could improve. Since Amy and I are not professional teachers and because we spend most of our time teaching the children and not necessarily observing the teachers, we didn't really feel comfortable giving this type of advice. However, Amy had the good idea of providing some more general thoughts/feelings about everyone's teaching. Amy mentioned the importance of emphasizing the sounds of letters so that the children can learn to sound out words and we both discussed the importance of encouraging English rather than Hindi (and trying to translate to Hindi only when necessary). I think the teachers responded really well to this feedback and generally agreed and really took it to heart, which was really nice. I would definitely be interested in talking to each of them more individually about this, but I also really think they do such a great job (catering to children with such a range of english levels, juggling the goals of English language learning and also creating a safe, comfortable, affirming environment, etc.). After this discussion with the short amount of time remaining, we just played a short game of charades. I am really impressed by the teachers' vocabulary, and I think they have learned many new words from our class, actually. They are very motivated and really take away as much as they can from it.
I worked with Sonam Mam's classes today, which is always a joy. We did work in the notebooks for the first half of class and then I taught them about the question "What color is the ______ ?" I filled in the blank with different words that I thought they would not recognize immediately but would be able to sound out (e.g. wall, shirt, strawberry, table). This allowed them to learn some new vocabulary and to understand the meaning of the question word "what." They picked it up very quickly. I first had them recite the questions and answers as a class and then asked for individual volunteers to stand up and read a question aloud and then provide the answer. This gave each student a chance to practice his/her speaking. During the discussion with the teachers, Amy and I also agreed and shared the fact that we should really encourage the children to speak English as much as possible. This is because even when their reading and writing are quite good, they still feel nervous and hesitant to speak. I can certainly relate to this feeling- I still feel quite embarrassed and hesitant using my Hindi. So, I definitely realize that this is something much, much easier said than done. However, I think encouraging the little ones to speak from such a young age will hopefully serve them well in the future. I like combining work in the notebooks with oral work because it gives them a chance to practice all of their different skills.
The little ones are also so enthusiastic to have the chance to speak and demonstrate their knowledge, so it was nice to see them raising their hands so excitedly. I am also very impressed with their progress in understanding the sounds of different letters and I hope they continue to make such giant leaps in their knowledge.
3/21/13
We read two excellent poems that Amy introduced me to with the teachers today- "I Know Why the Caged Bird Sings" by Maya Angelou and "Annabel Lee" by Edgar Allan Poe. The former compares a free bird with a caged bird, and seems to use the birdcage as a metaphor for the restrictions and limitations imposed upon us while the latter laments the death of a beloved wife. The language of the poems was very appropriate for the teachers with enough new vocabulary to be useful but not so much that it was overwhelming. The challenge in these poems was understanding the sentence structure more than the words themselves. After reading each poem aloud, Amy and I went through the poems stanza by stanza in order to clarify the content and the meaning of certain phrases or metaphors. Ruksar Mam pointed out that this is the second poem in which the bird has been used as a metaphor, which was a great point (because we had previously discussed why the bird serves as a good metaphor). The teachers really seemed to grasp the poems well and seemed to enjoy them too. Veena Ji also helped with some translations, which was great.
I worked with Payal Mam's classes today and we started the portrait project. I framed the discussion by talking about artists and the different types of artists (dancers, singers, painters, directors, actors, etc.). I then told them that they would be artists today in the form of photographers. The artist (photographer) would be able to guide his/her subject as he/she wished. The kids were so incredibly excited to take photos. The first batch was no nonsense and no frills. They took their photos quickly and then had time for the next step. I asked them to write 5 sentences about their subject in their notebooks. Ruksar Mam's class made even more progress by decorating and writing on nice craft paper. Payal Mam's students were a bit more captured by taking photos, and I wanted them to have the experience of taking more if they wanted to. So, the first batch paired up, took photos, and wrote sentences in their notebooks (which will eventually be rewritten on craft paper next to the mounted photographs). The second and third batches actually spent all of their time taking photos. From the terrace to the garden, we were all over the place today, but it was great to see the children having fun. They also took great care in their photos, carefully zooming in and out and framing their subjects. Putal and Aresh, in particular, really mastered those functions.
What really impressed me was how little fuss the children created. Perhaps I was not giving them enough credit, but I was anticipating issues over picking partners, issues over artists directing their subjects, issues over deleting photos, etc. Instead, the children paired up quickly and welcomed a third member when we have an uneven number. The artists and subjects were generous and relaxed and came to mutual understandings for the location and pose of each photo quite easily. Amy mentioned that she told Priyanka Mam's students that they would not be able to see the photos in which they were subjects until later. I thought this was a very good idea in case the students made a fuss and wanted to redo the photos or were self-conscious about how they looked. However, in Payal Mam's classes, the students really wanted to see the photos and no problems arose when they did, so I continued to allow them to see the photos that had been taken. The portraits came out very nicely. They are all dynamic and different despite our geographic limitation. All were taken in or around the foundation, but all managed to have their own unique flair. I am looking forward to beginning the project with Ruchi Mam's classes tomorrow. All of those students were intrigued when they saw today's students working, so I am sure they will be excited to get in on the action. Amy and I will continue to work with the children (after they have taken their photos) in writing and decorating the posters on which the portraits will be mounted. I think the exhibition will be beautiful- full of lovely faces, funny poses, creativity, and the spirit of the children.
3/22/13
We played Scrabble with the teachers today and Amy and I actually teamed up. Although this put us at an unfair advantage, the teachers are quite good at Scrabble, so it worked out just fine. I then worked with Ruchi Mam's classes and introduced the portrait project to them. We first discussed what photographers, portraits, and subjects are and then I told them that they would all be photographers today. I also mentioned that the photographer would be able to decide where the photo would be taken and how his/her subject should behave or pose for the photo. Almost all of the children wanted to take their photos in the garden, which actually worked out well because the freshly painted wall provides a nice backdrop for a photo. A few took their photos on the terrace, in the classroom, and in the entryway of the foundation as well. I had them pick partners randomly, which luckily did not meet much pushback. The children, once again, were quite flexible. They easily decided on locations and poses and were satisfied with the photos that they took.
The students then wrote five sentences each about their subjects. Because Ruchi Mam's classes are at a lower level than Payal Mam's, their sentences were a bit simpler and a bit less varied. Nevertheless, the writing exercise was a good chance for them to think about their subjects and thus get to know each other (in addition to practicing forming full sentences in English, of course). They wrote these sentences in their notebooks and Ruchi Mam and I checked them. I then told them they would rewrite the sentences on nice, large craft paper along with a mounted photo. I am really looking forward to seeing the final products.
3/23/13
Today was absolutely magical. We arrived at the foundation with Veena Ji, Somal, Lucie, her friend Marion, and Bim Singh (our cook), so it was a full house. The kids were all dressed a little bit differently today- not in their usual uniforms, but rather in old clothes prepared to get dirty. Many children were dancing in the classroom upstairs, while a few others were drawing, and the little ones were with Sonam Mam in their classroom. After a quick lunch, we all joined the fun upstairs, dancing with the children and the teachers. About an hour later, dancing was just about to finish and Payal Mam came up to me and put just the slightest bit of red color on my cheeks saying, "Happy Holi." And so it began. We finished up our last dance and all headed downstairs to throw colors and unleash our inner child- running, jumping, dancing, spinning, laughing, and (most importantly) enjoying each other's company.
It was so fun playing Holi with the children. They all had different styles of play- some gently rubbed a bit of color on your cheeks, others threw a handful at you before you could even see who had done it, and still others tickled you while sprinkling colors all through your hair. Some children preferred to stay away from the colors completely. It was so fun to see so many people enjoying the festivity, whether they had colors on them or not. Some children came up to me multiple times to pat my cheeks and say, "Happy Holi, Ma'am." It was also great to see the teachers letting loose and enjoying themselves. We all joked and made fun of one another lightheartedly, danced, rubbed color on each other's faces, hugged, took photos, etc. The general merriment was so wonderful and I'm really happy that Lucie and Marion got to visit on such a fun day. The children then had a nice snack, washed up a bit, and continued to dance and play and run around. At the end of the day, when the children had left, the rest of us came together in the office to have some tea and a snack and take a breath and wash off a little. Ruksar comically commented that everyone was looking strange and Ruchi corrected her say that we weren't looking strange, but rather colorful. I appreciated that line. Other highlights from the day included: the subtle, loving way in which Payal Mam began the Holi celebration with the gentlest brush of red color on my cheeks, seeing Priyanka Mam (who I somehow always imagine as a bit more serious and reserved and mature) with colors on her face and putting colors on me, Amy being COMPLETELY unrecognizable, the children coming to my face multiple times to rub color all over it, dancing with the girls in the garden, the occasion feeling even more special thanks to visitors (Lucie, Marion, Somal, Bim Singh, etc.), helping wash color off of Sonam's face, making mustaches using the colors, and ultimately just letting loose with everyone for a day of celebration and joy. The only thing more difficult to wash away than the colors are the beautiful memories from the day.
3/25/13
Today we wanted to do something light with the teachers that could easily fit into one class, since tomorrow and the day after are holidays for Holi. So, Amy had the nice idea of talking about some American holidays and then opening up the discussion to what the teachers' favourite holidays are. I gathered some pictures from the Internet to aid our discussion and Amy and I shared fun stories about Halloween (our favourite holiday), Thanksgiving, Christmas, New Year's, the Fourth of July, and Easter. I think the teachers enjoyed it (especially our description of Halloween and how fun and crazy and strange it is). Unfortunately, Ruksar and Sonam were not able to attend class today, so the discussion of the teachers' favourite holidays ended up being unanimous agreement that Diwali was best.
I worked with Ruksar Mam's classes today and they finished up designing the papers on which they will mount their portraits. As I was sitting on my stool, helping the children with their sentences and double checking some spelling and grammar issues, I was dazzled by the fact that every student in the class appeared to be an artist. Most of the girls drew floral designs and patterns. Even though the boys did not take to these designs as much, they were equally creative, making patterns using cricket bats and balls or monster faces. It was really a delight to see the children let their creative juices flow through the markers and colored pencils. I cannot wait to see the final product.
3/28/13
I was not really looking forward to the two-day break because I just did not want to miss any time with the children at the Foundation. But, the holidays did end up being surprisingly enjoyable. Amy and I knocked off a couple of things on our "Jaipur to-do list" since our time here is winding down. We visited the Albert Hall Museum (which had some unexpected treasures) as well as the Birla Mandir (which was so beautiful) and ended the day meeting up with a fellow American that we had met in Delhi at the Lotus Temple. The next day was incredibly relaxing. Veena Ji had (of course) worked much too hard and cooked up a feast for us to enjoy. We spent the day at her house eating, chatting, and watching movies. Soomal and Pierre are home as well, so it was really nice to spend some time with them.
Back at the Foundation today, we read newspaper articles with the teachers. There were some good things and some bad things about it. I think the one biggest difficulty we faced was that not everyone had a copy of the same article in front of her, so it could be difficult to follow along as someone was reading aloud. However, the benefits were that I think it was interesting, allowed us to stay updated on current events, and also provided a boost of confidence to the teachers (proving to them that they are capable of reading and understanding the newspaper in English). Most of them had said that they do not typically read the news in English (which is understandable- I probably would not have the motivation to read the newspaper in a language other than my mother tongue). But, I hope today's experience showed them that it can be good practice and that they are fully capable.
I worked with Payal Mam's classes today and the children wrote sentences about the subjects of their portraits and then decorated large sheets of construction paper on which they will mount their photos. Again, I was really happy to see the children letting their creativity flow. I gave them the entire class period to work on their portraits so that they could feel relaxed rather than rushed through it. There were also a few lingering students who hadn't been present last week when we took photos, so they finished up taking their photos today. Unfortunately, I didn't have quite as much energy as I usually do today (feeling a little bit under the weather), but hopefully will be all well soon.
Amy talked to Dheeraj on the way home way home and we're very excited to see him and meet his mother tomorrow. I am really glad that they will be able to join us for the Easter celebration. I think our field trip will be so, so fun and allow for plenty of bonding and merriment. A final, small anecdote from today that made me smile: the students were asking whether tomorrow would be a holiday for the Foundation (it is a holiday for schools for Good Friday). Tanya and Putul both voiced their hopes that it would not be a holiday at the Foundation and I couldn't have agreed more. After two holidays for Holi, I was not ready to give up another day with the kids. Luckily, we will be having classes tomorrow!
3/29/13
As is Friday tradition, we played Scrabble with the teachers today. I was getting a little bit competitive (and I was pretty confident since Priyanka Mam was my partner and she is fabulous at Scrabble). Dheeraj and his mother also joined us at the Foundation, which was such a treat. Unfortunately, the letters were not in our favor for Scrabble, so Priyanka Mam and I faired pretty terribly in the game. Nevertheless, everyone had a lot of fun (as always with Scrabble). It was nice to see Dheeraj's mother (who used to run a school) interacting with the children at the Foundation and feeling right at home, it seemed.
I worked with Ruchi Mam's classes and they worked on their posters for the portrait project. The children had already written their 5 sentences about their subjects last week, so this week just involved transferring the sentences onto the larger, thicker construction paper and making some colorful designs. This made for a rather relaxed, fun atmosphere. The kids worked on their posters diligently, carefully copying their sentences from their notebooks and then making some beautiful designs. Again, I was really impressed by how artistic every single student is, when given the opportunity and the time. We took a few remaining photos for students who were not here last week. We are hoping to have them printed by Monday or Tuesday so that everyone has time for the final touch: pasting the photo on their beautifully decorated frames.
On the way home, we enjoyed dinner with Dheeraj, his mother, VJ, GB, and a few of the agents from the office. It was a pleasant, relaxing evening to gear up for the upcoming weekend, which should be incredibly fun and perhaps a little bit hectic.
3/30/13
After having lunch with the same gang from last night's dinner, we headed out to the Foundation to find the students, teachers, and parents as well. In some kind of logistical feat, all 70 some students who are coming to Samode Palace tomorrow managed to get their parents to the Foundation to sign the permission form. I think the fact that the parents mobilized speaks so well for both the children and the Foundation. The fact that the children were responsible and excited enough to inform their parents of the day trip and the fact that all of the parents took the time to come to the Foundation and sign the permission form was really impressive to me. It also made me quite happy because I imagine that this is at least in part because of how utterly special this kind of trip is for the students. It made me all the more excited for the big day tomorrow.
Aside from all of these logistical preparations, it was a typical Saturday filled with dancing, games, and improvisation. We even started playing catch with one of the cloths that we usually use as an eraser for the whiteboard. It actually turned out to be very fun and entertaining- a nice reminder of how little is needed to get joy out of life when surrounded by the amazing children of TF. All of the teachers were working so incredibly hard to get all of the logistics in order while still creating a fun Saturday for the children. I'm sorry to repeat myself, but I am really in awe of these women and the care and thoughtfulness and downright love that they put into their work at the Foundation. Priyanka Mam, in particular, had a lot on her plate, but was a shining star under the pressure. We stayed a bit late, making sure we had all the name tags for the children in order and a rough game plan for tomorrow morning.
In the evening, Amy and I were pretty exhausted, but VJ had us over to her house for dinner, which was incredible as usual. Her cooking is just out of this world and it was great to spend the evening with her, GB, Dheeraj, Soomal, and Amy. We tried to wrap things up quickly, though, since we would have to be awake and ready 7 hours later.
3/31/13
I'm not quite sure I have the right word to describe today in my vocabulary. Or perhaps it doesn't exist. Joy, fun, and satisfaction begin to capture the feeling, but no single word quite covers it. Perhaps by virtue of the fact that I am in India, only a Hindi phrase can properly encapsulate the day: mazaa aa gaya. Mazaa is a very difficult word to translate, and I don't think we quite have a word that is wonderful enough to be a perfect translation in English. But, it is completely apt for today. The morning was a bit sleepy. I overslept my alarm, so I jumped out of bed when I realized that it was already 7am and took a quick shower. When we arrived at the Foundation, all of the children were already present and in lines by class. After sorting out last minute logistics, we walked the children over to the buses. I was with Ruchi Mam and Priyanka Mam's classes. Almost as soon as the bus ride began, everyone began singing, dancing, laughing, and joking. We danced and fell over and got up and danced some more. The children took turns singing some songs on the microphone. In order to play songs from the teachers' cell phones, they held them up to the microphone (yet another example of simply "making it work" in India- I think I'm getting more and more used to it since I was pretty unphased by this). There was a bit of sadness only because we missed the people on the other bus and wished we could've all been together. Nevertheless, we were awake and energized and moving for the hour that it took to reach Samode Palace.
Upon reaching the Palace, Amy and I slipped away with Dheeraj for a quick tour and to jump ahead of the children so that we could hide the Easter eggs in the garden. At one point, we were on the second floor of one of the main rooms in the palace overlooking the children seated below. I thought it would be neat if they sat in a formation to form the letters "T" and "F" (for Tushita Foundation). Unfortunately, we had to scurry away too quickly so I didn't get to see the implementation, but Soomal showed me a picture (and I believe the photographer snapped a few too) and it looked very, very cool. The Palace was incredibly beautiful and included the traditional Indian hand painted decor, using the long lasting vegetable colors.
Hiding the eggs was a lot of fun. Amy briefed us on the best strategy and we tried to make things a bit difficult since the kids are older, smarter, and quicker than average it seems (indeed, they did manage to find many of the eggs despite the fact that we hid them so well). They ran about the garden in search, and almost everyone was able to find at least one egg ( some found in the double digits!). The children then regrouped and came together to enjoy their chocolates. Of course, the well-mannered, thoughtful children listened to GB's instruction not to eat the chocolates before making sure that every child had some.
Everyone then had lunch and the respectfulness and kindness with which the staff at Samode Palace treated the children was remarkable and heartwarming. The food was delicious and followed by dancing (there were women who performed some traditional Rajasthani dances, but we all of course could not help but join in on the dancing). There was also a very fun puppet show. In the end, everyone had a full stomach and enjoyed dancing around, watching the amusing puppets, and simply enjoying each other's company. Pardon the trite saying, but time really does fly when you're having fun. It seemed like the blink of an eye and we were already lining up to head back onto the buses. The bus ride home was equally wild and fun (if not more so)- everyone looked a bit disheveled by the end, but I thought it was a pleasant indication of what had transpired.
Back at the Foundation, the children hydrated and then sat for a short bit to enjoy one more sweet for the day: a chocolate bar. I hope they all left with a literal and metaphorical sweet taste in their mouths today, because I certainly did. After the children were dismissed, the teachers all gathered together and had some chocolate and looked at each other's photos from the day and chatted and laughed. We then went into another classroom where music was playing and we all danced like crazy together, letting loose all of our energy from the day and giving one final hurrah before we were too pooped to continue. Bhim Singh (our cook), Devi Singh (our driver), and Mahinder Bhaya even joined in on the dancing and it was magical to see them let loose a little. Amy managed to get a video of the festivities, so I am very glad that the merriment has been documented properly.
We sat down for one last breath before saying goodbye for the day. As everyone filed out of the Foundation, Payal Mam spoke in a sincere tone that was a stark contrast to the laughter and jokes and sarcasm and pranks of the rest of the day. She said that she would miss me very much when I left. This, of course, filled my heart with joy. At the same time, though, it forced me to think about the fact that my time here is so limited. Despite the potential for visits in the future, I know (and think it is important to remind myself) that my experience during this 3-month stay will never be replicated. I realize that that is simultaneously the most wonderful and terrible thing. Since I began with a very apt Hindi word, I think I'll close with an apt English one: bittersweet. The thought of leaving is so bittersweet. Bitter because I hate to part from everyone here and absolutely sweet because I know it wouldn't hurt so much unless it meant so much to me.
4/4/13
Monday and Wednesday were holidays at the Foundation and I took Tuesday off because I wasn't feeling well, so it was great to be back at work today. Sonam and Payal Mams couldn't make it to class because of their exams, but we still had an interesting discussion about child marriages with Geeta, Priyanka, Ruchi, and Ruksar Mams. We watched a short video that featured an Indian man and woman who were both advocating for the end of child marriages. We also read a short article about a woman who watched a video (made by a fellow woman who had experienced child marriage) and was inspired by her. The article also talked about an NGO that works with such women to help them recover from the hardship of being married off so early. As usual, the teachers provided really good insight about this issue. Geeta Mam mentioned that when girls marry early, their lives are determined by their in-laws, and oftentimes there is not motivation to educate them. Ruksar Mam mentioned that she feels that child marriages happen in both rural and urban areas and Priyanka Mam suggested that raising awareness and community discouragement of child marriages would help reduce the number that take place. It's always really nice to see how open the teachers are to discussing different topics and the fact that they are open-minded. I think it also makes a big difference that they are younger and therefore perhaps more progressive-minded.
I worked with Payal Mam's class today and we pasted the printed photos onto the sheets that the children had made. The finished products looked fabulous and we are planning to have them laminated tomorrow and ready to go on Saturday for the students to share and display. I think the kids really enjoyed seeing the printed photos and the different poses and such. We also printed a few extra photos that we had snapped in the process and the children really loved seeing those as well. Overall, it was a relaxing day of pasting photos and admiring finished products and giving the kids some extra time to review for their exams. Some of them have English exams tomorrow and had me quiz them from their workbooks. Sonam Mam had an exam today and she said it went well, which made me very happy. Because it was a quieter today, I also got the chance to chat with Ruksar Mam while the students were working on their portrait projects. We discussed interfaith marriage a bit, the ways in which children can sometimes open their parents up to new ideas, the importance of success, her choice to pursue education and work over domestic responsibilities, her friendship with Sonam, and some of the students. It was really nice catching up with her and it somehow continues to be fascinating to me how much I can relate to her struggles (even though the context and content of my own personal struggles is completely different). Anyway, it was a very nice conversation.
After work, Amy and I wanted to do something small for Devi Singh, Bhim Singh, and Lal Singh for everything that they have done for us. There is clearly no way to repay them for their kindness, hospitality, and overwhelming amount of help. But, we decided to treat them to dinner and ice cream because it was the least we could do. I tried my best to be a translator of sorts and we actually ended up eating without any awkward silences or pauses. We were able to use bits and pieces of Hindi and English to make a conversation and it was really nice to share a meal together and tell them how much we appreciate everything that they have done. I hope they enjoyed dinner and that it gave them a little bit of a break. Amy liked the food too, which made me happy since these are her last few days in India. I think these next few days might be a bit emotional, but also hopefully very fun.
4/5/13
Unfortunately I think I am still not fully recovered from my ailment earlier this week, so I slept the entire ride home from the Foundation today. But, at the Foundation itself, we had a lively day. We played Scrabble for what will probably be the last time with the teachers and Veena Ji and Soomal joined in too. I think it may actually be a good thing that we are ending these games, because everyone just keeps getting better and better. I was with Priyanka Mam and we tried our best, but ultimately were no match for Amy and Geeta Mam, the reigning champions.
I taught in Ruchi Mam's class and we played the game in which the students list different items of a given category, providing answers in full sentences. As usual, it was great to hear the children speaking with confidence. I think I have noticed a marked improvement in the children's ability to form complete sentences and their confidence level. Of course, as part of the perks of being next door to Sonam Mam's class, some of the little ones ventured into our classroom to show us their beautiful drawings. Tomorrow will be our last activity day, so Amy and I are planning on getting some chocolates for the children and presenting the portraits to them.
4/6/13
Today was perhaps the best last activity day that Amy or I could imagine/ask for. Veena Ji had the brilliant idea of getting traditional Rajasthani dresses for all of the teachers to wear. When the children saw us come upstairs in our new outfits, they literally screamed with surprise and delight. We spent the afternoon dancing despite the heat (which was amplified by the Rajasthani attire). Because it was Amy's last day, she spent much of her time saying goodbye to students individually, leaving them with a chocolate and some wise words of advice. There was also a lot of picture taking and video making. Unfortunately, many of the students had to leave early because of their exams. Essentially, they had come to see Amy off, which was so incredibly sweet. Because they had to go early, they all lined up to say goodbye to Amy Mam. The resulting mayhem led Amy and I to rethink distribution of the finished, laminated portraits. After talking it over with the teachers, we decided that it would be best to give out the portraits while the students are in their individual classes and not overwhelmed by exams. We really wanted the portraits to get the time and attention that they deserve.
So, the afternoon was full of music, dancing, goodbyes, pictures, and videos. I am a huge fan of what Ruksar Mam refers to as "crazy dancing" (which is basically dancing that is not based on choreography, but rather wild enjoyment of whatever song is playing as the dancer sees fit). In particular, Tohid and I had enjoyed dancing together on Holi and we continued with the tradition today as well. It was really nice to see the boys dancing today as well. I think because Amy was leaving and also because Soomal encouraged them to, they began to show off their moves. I was shocked to see the boys from Ruchi Mam's class (Anas especially) and even Govind letting loose. They are actually all incredible dancers and it was nice that their skills were finally revealed!
The kids that did not have to leave early for exams lingered a little bit longer today, and I don't think any of the teachers minded. We all wanted to savor this last activity day (and last day with Amy) for as long as possible. When all of the children had finally trickled out after showering Amy with gifts, hugs, kisses, and love, the teachers gathered in the office. We snapped some more photos of everyone in their traditional Rajasthani garb and then changed because we all felt so warm. We then sat together, a bit solemn but adrenaline still rushing from the vibrant afternoon. The teachers each had a present for Amy and she opened them one by one with care. She also presented gifts to each of the teachers. It was strange to watch all of these heartfelt goodbyes, trying to ignore the fact that I would be experiencing the same all too soon. Soomal had also baked a cake for everyone, which was delicious and made the occasion a little bit sweeter (given the bitterness of Amy's departure). Finally, after we could simply linger no longer, we gathered up all of our things and Amy said a final goodbye to everyone with a hug. She held up very bravely, only shedding a few tears at the Foundation and saving the rest for the car ride. I hope I can emulate her composure.
It was actually a pleasant, albeit somewhat stressful evening. After receiving so many gifts, Amy had to repack her bag. We sat in her room together stuffing everything as neatly and compactly as possible into her backpack. Once we were through, we headed off to bed only to wake up a few hours later to go to the train station. Veena Ji, Bhim Singh, and I waited on the platform until the train pulled out of the station. I'm already looking forward to seeing Amy stateside.
4/8/13
The mood at the Foundation today was noticeably subdued by Amy's absence. It seemed like everyone was a little bit quieter, a little bit sadder. And I really cannot blame them, because I think the same mood overtook me on Sunday in Tushita House all alone. But, I had good day with Ruksar Mam's class. I allowed the children to spend some time teaching me some Hindi and then allowed them to ask any questions they wanted to about my life (in English). It was a nice day for relaxed conversation and a break from studying for exams. In particular, I really appreciate the enthusiasm with which Nurain greeted me and seemed to look forward to me teaching her class. Gulafsha had a similar attitude and Mehzabi even went so far as to say that her attendance today was largely determined by the fact that I usually take Ruksar Mam's class on Mondays. It makes such a big difference to know that the children are expecting and looking forward to me teaching their class. I was happy to share a little bit about my life and my family with the children and to have the tables turned for a short bit as they got a chance to correct my Hindi pronunciation and grammar.
During the last batch, the students were preparing for their exams so I had a really nice conversation with Ruksar (and Geeta Mam for part of it). It continues to surprise and hearten me that I can have so much in common with the teachers despite it being in a completely different context. I suppose the opposing forces of tradition and change, parents and children, and personal desires and societal pressures can be found in everyone's life in different shapes and forms. It was also so sweet because Payal Mam managed to stop by to say hi despite having an exam. Based on how palpable the sadness after Amy's departure was today, I know I will have to lighten the mood tomorrow and day after. I am looking forward to some more laughs, jokes, and games before taking off.
4/9/13
Today's class with the teachers was a small one. Priyanka Mam, Geeta Mam, and Ruchi Mam were able to come, but the rest were busy with exams. Nevertheless, we really enjoyed reading two Rumi poems: "Only Breath" and "A Moment of Happiness." Priyanka Mam was on such a roll today. She really impressed me with her interpretations and her understanding. Honestly, I certainly did not grasp all of the nuances and meanings of Rumi's words myself, and the discussion with the teachers was a great learning experience for me. In the first poem, Priyanka Mam made the great point that Rumi's subject was breath. While this may seem obvious from the poem's title, it certainly was not obvious to me upon reading the poem. But, this interpretation fit very well and was supported by each and every line of the poem. Geeta Mam's reaction was simple and concurrent: "She's right," she said. While reading the second poem, in which Rumi discusses how two beings merge together to become one soul, Priyanka Mam made another great point. In one line, Rumi says "The stars will be watching us, and we will show them what it is to be a thin crescent moon." My interpretation of this was that Rumi uses this metaphor to convey how stars (other beings) are separate, independent entities that are not united with a partner, whereas the moon (the two united beings) form one whole entity. Priyanka agreed but went on to add that the moon also shines more brightly (by virtue of it's union, according to the poem) than any lone star, which I thought was very insightful. Geeta Mam and Ruchi Mam also agreed and both made very interesting comments regarding the poems title, which refers to a brief moment, and its relationship to the last line of the poem which speaks of "a timeless sweet land."
I worked with Priyanka Mam's classes today and I showed them a video of the short story "The Lottery," which we had read together a couple of weeks ago. The children really impressed me by remembering the story quite well. I think they enjoyed seeing the story visualized. The video only lasted about 20 minutes, and since it was my last day with Priyanka Mam's class we thought it would be nice and interesting to just have a conversation with the children and allow them to ask me any questions they wanted to. They asked me all types of things, from my favorite fruit to my family members' names to what I want to do with my life. They were very interested in my family and I showed them pictures on my computer as well. When there was a lull, I also asked the students about themselves: what they wanted to be when they grow up, what their favorite thing about the Tushita Foundation is, which part of the "Books of Me" they like best, etc. It was really nice to open up the discussion to any topics the children wanted, and this worked particularly well with Priyanka Mam's students because they are the most advanced and most comfortable with conversation. It is difficult to explain to the children that the volunteer position only lasts for three months (I cannot imagine how difficult this must have been for the first batch of volunteers). Even the teachers have been asking me to stay longer, which is so incredibly sweet but also difficult to hear. But, I try to reassure them (and myself) by letting them know that I will visit them before going back home in August.
After work, Veena Ji invited me over for dinner at her house (we thought it would be best to do a meal together tonight rather than tomorrow, since my train on Thursday morning is so early). As always, it was so nice to spend the evening with Veena Ji and Soomal and I even got to see Gajju Bana who is home for one night during his tour. As I said goodnight to GB and thanked him for everything that he has done, I was tearing up a bit, but managed to suppress them. There is simply no way to thank them enough for all that they have done for me. I told VJ as much, telling her that it is very difficult to feel at home when 8,000 miles away from home, but somehow her kindness has made me feel that way. Looking forward to enjoying one last day at TF tomorrow.
Dear Geeti,
I can sense that tomorrow it is going to be a memorable day.
Your last day at the Foundation will be a celebration of you and all that you have shared and taught and learned in Amber.
Don't worry if emotions come up, embrace them and watch them go.
How fabulous that you concluded the work with two poems from Rumi, His universal message is so appropriate for all of us.
Breath is the key to experience life to the full.
Do not fear the next step, dear Geeti, we would love to keep the volunteers forever, but we cannot be so selfish. We must let them fly away with the conviction that they can make a difference. Please do never forget that your work has made a great difference in the lives of the children and the teachers at the Foundation.
I understand that you are going to be in India until August, what will you do before?
Let us know if there is anything we can help you with and keep in touch, it has been lovely to get to know you through this correspondence.
With my best wishes,
Rosenda
Dear Rosenda,
I'm sorry that I haven't been in touch since coming to Delhi from Jaipur. The relatives that I am staying with do not have great Internet access, but I am currently seeking refuge at a cafe (in Khan Market, of course). Anyway, my last day was absolutely wonderful, memorable, and magical.
Veena Ji arranged so much for me, with a DJ and dance floor. It was perfect because in the business of dancing and enjoying ourselves, it was much easier to keep emotions in check and focus on how much fun we have had rather than the fact that I was leaving. We danced all afternoon despite the heat and sweat, and listened to all of our favourite songs (which will certainly evoke fond memories of the Foundation for the rest of my life).
When sitting with the teachers at the end of the day, I just couldn't muster the strength to withhold my emotions and ending up crying. But, after gathering myself a bit, we ended with one last dance and hugs and the comfort of knowing that I will be back to visit in July or August (I honestly cannot imagine how much more difficult goodbyes must be for those who do not know when or if they will be back).
The car ride home involved more tears, but Veena Ji and Soomal were so sweet and understanding about it all. The night was filled with packing and then in the early morning Veena Ji and Bhim Singh saw me off at the platform.
I really cannot thank you enough, Rosenda, for the experience that I've had at the Tushita Foundation. I still remember the time in November when I took a few days to decide definitively whether I would join, and I am so, so glad that I did. The love, passion, and hard work that you and Jan and GB and VJ all put into the Foundation really shines through. The opportunity to work with the amazing children and teachers at the Foundation was something that I can truly say comes along once in a lifetime. Each of the children is so funny and talented in his or her own way, and they all just deserve the best in this world. They welcomed me with so much love, as did the teachers (amazing women in their own right). I'm sure I'm already repeating things that you already know, but I don't think these things can be said enough really. The organization that you have worked to create is really fabulous, and I will certainly work to support it in any way that I can in the future.
My plans for the summer in India (I think) are to go to Dehradun for a couple of months- actually to work on the organic farm that Vandana Shiva has set up there. For my last month, I will be doing some traveling (and I spoke with Veena Ji and she said that I could talk with the agents about helping me plan an itinerary for that). I plan to visit the Foundation during that month, to see everyone once more before heading back to the U.S.
Thank you again for everything (these words really aren't enough, but I hope this rambling email communicates how grateful I am and what a wonderful experience I had). I hope we meet again soon and I will of course be in touch.
With love,
Geeti