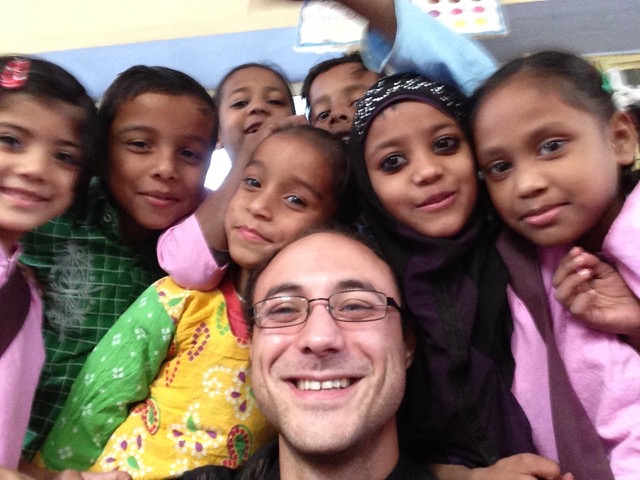 Ferruccio Eva, a musician from Milan has spent six months with us and has gifted us the Tushita Foundation song.
---
---
Questionnaire
This Questionnaire was taken at the end of the volunteering program at the Tushita Foundation.
 Q. How do you feel about yourself and your work?
Ferruccio: I feel great and grateful. It's been a very good chance to work with people of a different culture, a different world. If you can do this with children is even better, it becomes a useful mutual teaching.
Q. How do you feel about the Foundation as an institution?
Ferruccio: The Tushita Foundation gives you a "third eye", making you look deeply in India's environment. Then the plans and the purposes behind the institution are one of a kind. I think of it as an "opening doors" institution, a great occasion for both sides, volunteers and locals. A truly unique school!
Q. How do you feel about the students and the teachers there?
Ferruccio: The most wonderful people I ever met. Welcoming, curious, attentive. Sometimes too attentive, but always with the purest intentions. I wish to be with them again, to see how they grow up or get older.
Q. What has been the most challenging aspect of your experience?
Ferruccio: To create a good relationship with everyone. In the end I did and I'm proud of it, I even argued with a couple of students and just after we were best friends. Sometimes is hard to think of the different approach they have with us and also because of us, the challenge is to enter the familiar circle without disturbance. I think the TF is the best place to make it.
Q. What has been the most rewarding aspect of your experience?
Ferruccio: The new friends, the TF song, having found such a peculiar place. This experience taught me how to relate with children and made me discover that I like it more than I ever thought.
Q. What do you wish you would have done, but you couldn't?
Ferruccio: Unfortunately I can't tell that I couldn't, but I wish I'd spent the same time with all the students instead of taking no more than two classes a day. I haven't been that good in planning classes with all students and teachers. Anyway I don't regret anything, we did a lot of stuff all together.
Q. Do you think that this experience has in any way changed you?
Ferruccio: Definitely. To be a reference figure for children, in such a peculiar context, has been motivating and fulfilling. I never had the chance to play this role before and now I'd like to continue in the future. Working at the TF made me feel more confident and happy of what I was doing.
Q. What do you hope to have left behind?
Ferruccio: I hope to have left good friends and a still open door, we gave each other something precious to keep in our hearts for the rest of our lives!
Q. If you knew this would have been your experience, would you have done it anyway?
Ferruccio: Yes, and I would recommend everyone to do it at least two times!