Giunia Petrillo – Summer 2011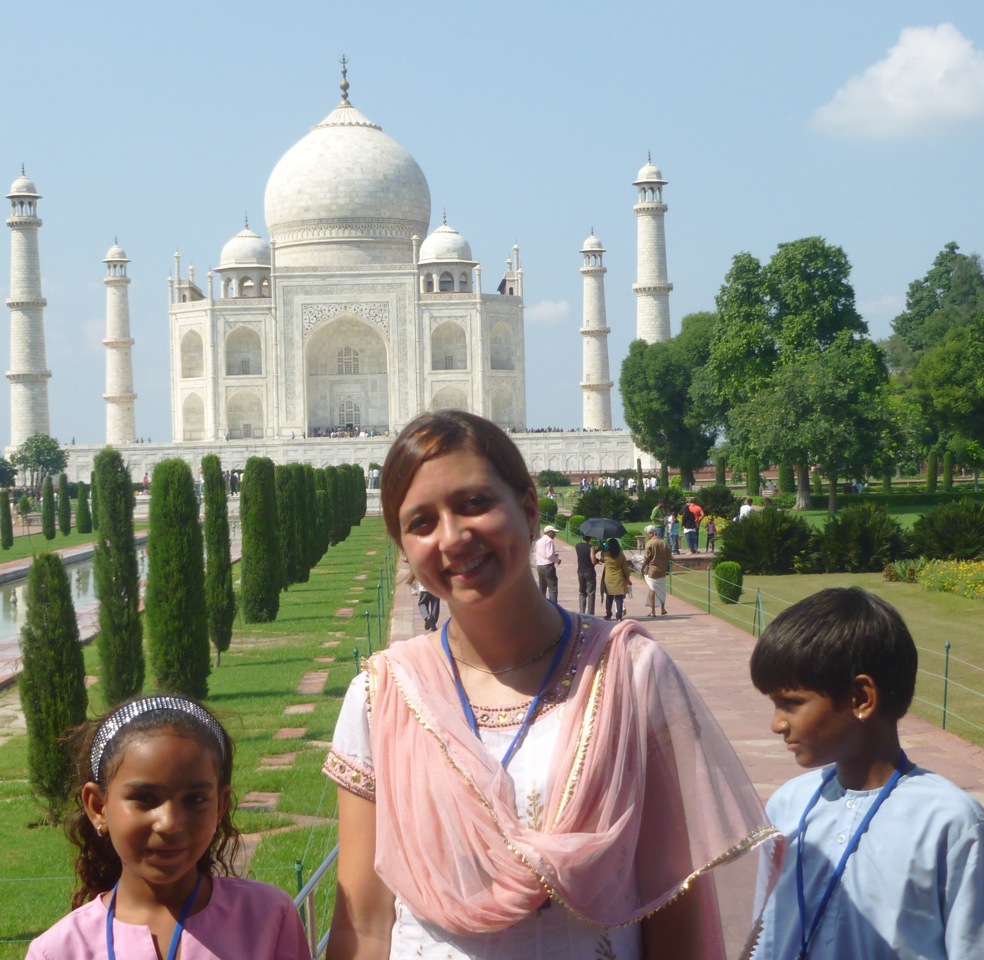 India, Summer 2011
Diary of a Volunteer By Giunia Petrillo
My experience at the Tushita Foundation
My first day, July 17th
It has been a very long trip, I had to take three flights: Paris-Bahrain, Bahrain-Delhi and finally, Delhi-Jaipur.
Subesha, who works at Tushita Travels, came to pick me up at Delhi airport.
He took me to a hotel where I managed to rest before his colleague Mohit brought me back to the domestic flights airport where I boarded to Jaipur. Once landed, Veenaji and Gajjubana, the representatives of the Tushita Foundation welcomed me. They came along with Sara, another Volunteer like me who had also just got there. We went altogether to the Tushita House, a very welcoming home with a lot of light coming through and especially a lot of smiles…
I felt at home straight away with Veenaji and Gajjubana. They welcomed us with a beautiful flower necklace and had also organized our first days in India with some Yoga classes. After a nice nap, we went for dinner at their place and now at the time of writing, I feel a bit tired; it is only midday over here, in Europe it is 8.30 a.m. and I cannot wait to see what the day has planned for us.
From my little experience of India, what I can say now is that it reminds me of Naples in Italy, with a huge difference though, there is definitely more space over here! Especially in Delhi as it has a lot of greenery with the heavy rains and the heat that the region encounters at monsoon time. We need to keep the air-conditioning in our rooms.
Today Veenaji told us we would go see the Bazaar, the very famous market in Jaipur.
July 18th and 19th
The following day we rested a bit and I took the opportunity of this rest to start preparing the classes for the students of the Tushita Foundation. In the afternoon, we finally met the children that had been divided into 4 groups of different age. They were looking at both Sara and myself with curious eyes, full of admiration. We explained to them where we came from and they spoke about their country, their lives and their dreams … and this was enough for me to already feel comfortable around them.
It has only been two days and I already realize, by being here, how lucky I am to have come from such a privileged world where education is easy access. Something strikes me here: despite the distance between Europe and India, these children look very familiar and I recognize myself in each one of them in the way they smile, joke and some sides of their personality. That shows me once more that we are all equal no matter where we come from.
Before leaving Europe and arriving to India, I had no clue what to expect from that country and what I was going to find there. I feared not being able to feel comfortable in such a different culture. The opposite happened. All India has given me up to now is comfort, self assurance and serenity especially thanks to the sweetness of the children, the warmth of the people, the magnificent street colours and noises and the smiles in everyone's faces. I still have so much to discover and learn, it gives me a new passion for life that I never felt before.
August 2nd
It has already been two weeks in India and I have learned a lot.
I remember when I just got here and how everyone was looking at me with wide eyes the same way they look at foreigners.
I feel good now, I love this country, its culture and their people, and everything is fascinating here. This country has a lot of personality especially when you get to learn more about its music, clothing, architecture and its many religions.
Today we did not go to the Foundation because there is a National Holiday.  The streets that lead to Amer village, where the Foundation is, are shut. Now that I do not get to see these children I realize I already got emotionally attached to them after two weeks. I love working with them, they are so motivated and happy, they give me an inexplicable desire to live. I have been reading to them in English "The Little Prince", Saint Exupéry's book. I read it to the elder ones and they are enjoying it a lot.
Taking inspiration from the story, I made the older ones recite a chosen passage from the book. The younger ones did manual work that kept them busy: they planted seeds in vases, while I spoke to them in English and right after they finished planting it started to rain! Veenaji said it was a good sign. I feel so comfortable with the children and everything comes quite naturally with them.
The previous weekend, we all went to Amjer and Pushkar with Veenaji, Gajjubana and one family that works for Tushita Travels in Delhi.
I really enjoyed Pushkar as it is very colourful. It has a lot of small shops and Hindu temples. Later, in Amjer we went to meet the son and daughter of our hosts (Gajjubana and Veenaji) at their campus: Pierre, 17 years old and Soomal, 14 years old. Both are studying at Mayo College boarding school, which has a school separate for boys and girls. They have a beautiful campus in the middle of a garden surrounded by Indian buildings. Pierre and Soomal showed us around, they also have a golf course, tennis, cricket and football camp… everything! It also has a horse stable. Then at night we left to Jaipur. Soomal and Pierre are very sweet.
Right now, I am at the Tushita House, soon we will go watch a celebration in front of the City Palace in Jaipur. It used to be the Maharajah residence. Every morning I have a yoga class with a teacher named Manisha, she is very sweet. I have to learn how to meditate when I wake up. I practice my Asanas, my poses, and I meditate. I also have to practice the Surya Namaskar, the salutation to the sun.
In the evening, sometimes, we take Hindi classes with a neighbour who is a University professor. I have a Hindi exercise book from which I take the following words:
Namaste o Namaskar: hallo
Ap kese ho: How are you?
Me tik hoon: Fine, thank you
Or Ap?: And you?
Me bhie tik hoon: Me too
Bukh: hunger
Tomater: tomato
Khana kesé hé: how is the food?
Khana kesé ta: how was the food?
Garam: warm
Tanda: could
Ghee: clarified butter
Aagh: fire
Kabuter: bird
Bandar: monkey
Langur: another kind of monkey
Hati: elephant
Bagh: garden
I just finished eating, it has been spicy food for the past two weeks, which I quite enjoyed, but my body is requesting some pasta!
We are eating a lot of Chapati, which is a flat whole-wheat bread as well as rice prepared with different spicy meat or vegetables, such as Bryani.
I forgot to mention that the first weekend here we spent it in Samode, which is a village 45 minutes away from Jaipur. It has a beautiful Palace, transformed into a hotel, we had a lovely time.
August 4th
Dear Diary,
Today has been a very relaxing day for me. I started with one hour of Yoga at 9 a.m., then did one hour of massage. In the afternoon, at the Foundation, we continued the plantation of seeds. We can already see leaves coming out of the ones we planted yesterday! The children were very proud. I simultaneously asked the older ones to do a self-portrait. It is the beginning of a project that we have called 'the book of me' where the students talk about themselves, where they come from, what they enjoy doing the most and so on.
August 5th
Today I started that same project in another classroom so that every child will have his own book of me. At the beginning Sara, the other Volunteer, and I were working together, but Veenaji thought it would be better for each of us to be responsible of a group.  She was right; I feel better on my own and can thoroughly express my ideas. Sara complains we do not go out partying. I do not think she understands I am in a totally different place than she is. In fact, I have come to work on myself and to focus on the children. I want to fully relax and embrace a new fascinating culture. I feel so good here that nothing can distract me. Those emotions are quite hard to describe…
Oh! I almost forgot this anecdote! Today I got locked outside of my bedroom so the guys from Tushita's Jaipur office who work downstairs, have climbed the wall, broken the window glass and managed to enter from outside… We had a good laugh!
I want to go shopping now! I love Indian dresses the 'Kurti' that is a short tunic and the 'Choori dar' – tight trousers up to the ankle with a large scarf, the 'dupata'. These outfits are beautiful and easy to wear as they are made of pure cotton, which also makes them cool and pleasant. I got my favorite one from 'Soma' – a beautiful store Veenaji took me to.
August 9th
Dear diary, yesterday I went to the Foundation but I was a bit sad as my mother told me over the phone that my grandmother was not feeling well and I was worried. I felt so far away from her as she lives in Boston. Above all, I feared something could happen to her without me being there. Once I got to the Foundation, I started crying. Veenaji took me in her arms and the children gave me a lot of attention. They are so sweet.
After that episode, we continued to paint the flower vases in red while another group of girls was making penholders.
Sunday we went to visit Jaipur with a guide: the City palace and the observatory. It was so interesting. We are lucky to be able to visit Rajasthan at the same time as working with the children.
Saturday is an 'activity day' at the Foundation: we dance and spend time talking with the children; we have a lot of fun. My friend Ruksar, one of the teachers there, has put henna, called mendhi in Hindi, on my hands. She drew flowers and arabesques on my hands and arms. I really look like and Indian girl now.
Today I did not do yoga for long because I was feeling tired. I believe it is because of the heat. Later on, with Veenaji, we went to buy some books: fairy tales and colouring books for the children. I will cover them up with plastic as humidity and dust could ruin them very fast. Veenaji got me a book to learn Hindi… so thoughtful of her!
August 10th
What a nice day! The younger ones continued painting the vases. They love being able to take care of the plants and seeing them grow. Plants reflect the state of mind of the person who takes care of them; ours show how happy the children are at the Foundation, because they are growing fast.
After the gardening session, I decided to start on a new project. Veenaji and I thought it would be a good idea for the children to have a personalized bookmark that they could use at the library. Obviously it is too early to talk about a 'library' but the amount of books is slowly building. I sat in Veenaji's office and I started cutting different colour cardboards in rectangular shapes. This would be the base of the bookmarks. I then distributed those cardboards to the class. I told them not to be afraid to use their imagination and I surprisingly saw them worried, as it was a freedom they had not experienced before. They needed some guidance, and they did not dare to paint anything until I gave them specific instructions. After a while, they understood what needed to be done and started to gain confidence. In fact, the results were amazing. These children have a real need to express themselves and they never really get the opportunity to do so. I believe they all have a strong artistic side.
After this tiring day, I went to the hairdresser to put henna in my hair and I now have some red shades! Then at night we went to Veenaji's place to celebrate the birthday of her niece Chaarvi. She was dreaming to blow the candles and her aunt made a beautiful cake in star shape with ten candles on top to blow. The little girl was delighted.
There is a person that meant a lot for me during this experience and we even shared a room together. It is Sarah, 'Sarah' with an h, a girl who works for 'Kamalan'- part of Tushita Travels. She is doing a tour of Rajasthan on her own and I am looking forward to read about her trip. Sarah was also there that night.
August 11th
After a nice lunch at 'Samode Haveli', Sarah and I met at the Foundation. She was leaving and she told me how sad she felt and how she would have wanted to stay here longer with the children.
We continued to do some gardening and painting, then I read to the students a tale about a young boy who had the moon as a friend. We then looked at the beautiful images of the book and I made them draw. At the end of the day, Sarah and I went to the terrace to take pictures. Later on a few children joined us, since they adore cameras. The light that afternoon was just beautiful.
We then went with two students to see the elephants. I want to mention that they are my favourite creatures. When I saw them chained to the ground, it made me realise that they are tied to their obligations, just like us humans! I had never been that close to an elephant before, they are harmless animals. A five year old elephant made me smile by playing with my bag and trying to take it with its trunk.
That same day, for dinner, we went to a restaurant where the naan was delicious – that is the bread cooked in the tandoor oven with some melted butter on top…
August 12th
Today at the Foundation we celebrated 'Rakhi'. The tradition of this day is for brother and sisters to exchange bracelets-bangles. It is a way of expressing their love and protection towards each other. All the children were dressed up for the occasion. We sang and danced, my arm was full of multicoloured bangles.
Last, we went to the city centre where there was a lively atmosphere with people wearing all colours. Then, we went back to the house where we met with Gajjubana who had just come back from his trip. I forgot to mention earlier, but his main job is to be a guide. He also manages the guides from Tushita Travels in North India. I was very happy to see him again. At their house, Veenaji taught us how to cook some Indian dishes. She is a very good cook, and she made me realise cooking is an art, especially if you put your heart into it. She makes every dish special by using many colourful spices. When Veena opened the drawers in her big kitchen, I saw them full of different aromas in little containers… how different from my kitchen back home! I could see coriander, paprika, cinnamon, ginger and a lot of chilies. We then tasted all the dishes that were delicious with no exception.
August 13th and 14th
This weekend I felt even more immersed in the Indian culture. We went to visit Shekavati, a region in Rajasthan where one can see beautiful Havelis (private mansions). We went to Nawalgarh and Mandawa and we met very interesting people that were not only travellers like us but also some locals. For instance, a son of a noble that had a real passion for horses. One evening we also assisted to a Puja, a prayer, in a Hindu temple and it was very touching. In that atmosphere I thought of my family and all the things that make me happy; those thoughts came in my mind and I was not expecting them.
August 15th
Independence day in India
I miss the students at the Foundation. I miss their faces and their smiles. That is why I take the opportunity these free days to think about what needs to be done at the house and how to improve our work. I want to give individual attention to every child, as all of them are different.  In fact, some of them need more attention than others; some need company, some affection, and some knowledge. I just cannot wait to see them again.
After watching celebrations of that important day, we went to Bikaner, which is three hours drive away. The beauty of this old city impressed me. I would have liked to share those moments with my family. We then went to visit the camel stable, actually they were dromedary and they travel through the desert. It is surprising how these animals have very long lashes. They have a funny way of walking too. We also saw some little ones that were still feeding on their mother's milk.
August 17th
We are finally back to Jaipur after a long bus drive, I got the materials for the puppet show ready so we can perform parts of the 'Little Prince'.
We took out the sticks from a broomstick and Lal Singh, the person who takes care of the Tushita House, went to get some strings. Tonight, I worked till late in the office. I just finished dinner now, and I am happily going to bed.
August 18th
Today was a very productive day for us at the Tushita Foundation. I now believe that the children are more relaxed around me, and so am I around them. Their English has improved now and we manage to communicate better. This is already an amazing achievement.
August 29th
It has been a while since I have not written in this diary as I had so much to do lately. We have a very natural relationship with the children now. We continued to work on 'the Book of me' throughout the week. This was Rosenda's idea. She and her husband Jan Meer, Tushita Travels' director, contributed to the creation of the Foundation. They have been able, together with Gajjubana and Veenaji, to give it its wings so that it could become what it is today and what it will become tomorrow.
The students are personalizing the copybooks that Veenaji and I bought. On the first page we asked them to draw their own portrait. I find that it has been difficult to explain to them the idea of this project for the same reasons as the bookmarks above. Make this book as personal as possible seems simple for some but they are not used to express themselves and do not dare to use their own imagination. They are always scared to make a mistake and to be told off for that.
Therefore, the hardest part of the project has been to be able to get their real personality to come out; all that makes them special and unique.
One of the children in particular surprised me. Her name is Kiran and she has a very anxious temper. Every time she has some homework to do, she wants it to be perfect. When I asked her to draw something the way she liked, giving her those instructions: 'if you were a tree' or 'if you were an animal' she begged me to show her how to do them and wanted to copy from my model. When I refused to do what she asked me, she started panicking and begging me: 'please I cannot do it, please'. So I took her hand and said: 'Now, breathe and breathe again, close your eyes, relax. No one is here to judge you, you are free to express yourself!'. That made her instantly feel better, and what she came out with, her drawing, was stunning. I complimented her and I told her: 'you see? You are capable of doing it!'
Now the books look very interesting, they are taking different shapes and every day new students want to contribute and be part of this project. The Book of Me has become one of my favorite things to do here with them, as I enjoy seeing what they come up with and how they express themselves.
August 31st
Today we are resting and not going to the Foundation as yesterday we all went to visit the Taj Mahal! It has been a real dream come true; a day that I will never forget.
I woke up at four in the morning, took a shower and dressed elegantly for the occasion. Veenaji and Gajjubana came to pick us up and we went to the Foundation. The students were already there: the girls were wearing a pink kurta uniform and the boys a blue one. They looked sweet with their just woken up faces and so excited! We then asked them to form a queue so everyone could get on the bus easily. Once on, we realised we were too many and we did not have much space. Luckily another bus met us half way. We took the opportunity to rest a bit and walk outside. There was so much happiness in those children who were running around. Fifteen minutes later we went back on the road. I went on the smaller bus with all the girls thinking the ride would be quieter but I was wrong. During the whole bus drive the girls were dancing, jumping, laughing and listening to all kinds of music. We then sang and put on make up, the girls even did my hair.
After five very short-lived hours, we arrived in Agra. It was so hot. We split the children into different groups and we walked towards the Taj Mahal. We were all very excited.
At the end, after a long walk, and after jumping on another bus we passed the security doors and arrived in front of a huge entrance door. It was very beautiful, but I could only imagine that what was behind these walls was going to be breathtaking. My heart was beating very fast. I took my group of children and together walked towards the incredible palace that was waiting for us. Once under the gate at the entrance, I closed my eyes and I told the children to do the same. This was one of the best moments of my journey and I will never forget it. We were holding hands and laughing with our eyes shut, excited to see the Taj Mahal. We suddenly felt the heat of the sun on our faces so we opened our eyes.
I cannot describe in words what I saw. I felt I was on a cloud. The Taj was magnificent; it was glowing under the sunlight surrounded by gardens. The first thing that came to my mind was: 'this represents an everlasting love between a man and a woman'. In fact, the Taj Mahal is much more than a monument; it is a work of art that touches your soul. When I turned around and saw the children's faces I realised that I was not the only one to be feeling that way. For the first time, I saw them peaceful.
Gajjubana used his knowledge as a professional guide to teach them what was the Taj, its history. The Volunteers such as myself, entered inside the site. It was fresh and dark inside, the atmosphere was calm but also intense, so I spent that quiet moment thinking.
Outside, the children were waiting for us. It was already time to go back to Amer. We slowly walked towards the bus and we were terribly thirsty. Luckily, the great Veenaji and Gajjubana had brought fresh drinks for everyone and kept them in the bus. What a relief!
The children were incredibly happy after having seen the Taj Mahal. Throughout the trip back, they danced for quite a while. It is only at the end of the journey that they started to fall asleep. Finally, when we almost reached the Foundation, we woke them up. Their parents were waiting for them impatiently at the gate. I noticed by the looks of their faces relief and happiness as soon as they saw their children. Relief, because it was the first time that they had let their children travel and they probably were worried. Happiness, because they knew their daughters and sons had an amazing time and had the opportunity to see something that the majority of the people from Amer would never see.
Before we went home we gave all the children a souvenir so they could always remember that day: a keychain with a mini Taj Mahal and some sweets.
September 3rd
Today Rosenda arrived at the Foundation. She was very happy to see the children with a smile on their faces and always so eager to learn.
After a couple of days observing what was going on in the Tushita house, we spoke about what needed to be done in order to improve: we need to find an outdoor space for the students. The younger ones especially cannot stay indoor all the time. It is important to keep in mind that the first objective is for the Foundation to maintain a high level of English, therefore we need more Volunteers and hope that they will continue to come over here and teach our children in creative ways.
We also had to talk about a tricky subject: the number of children attending the Foundation. There are too many students at the Foundation and some of them are not coming regularly. The question is: should we close the doors to the ones that are not regular as Rosenda suggested? I partly agree with this idea, however it is not an easy situation. If we refuse the access to some of them we will on the positive side increase the education level of the ones that come on a daily basis. However, this idea goes against our primary concern, that is to help everyone in need. Therefore, we decided to leave the door open until we manage to find more room.
September 4th
Today at the Foundation we did another excursion trip with 114 children. We took them to visit the Amer Fort as if they were real tourists. The fort is actually right on top of their village but they had never been there. We went with five teachers, Veenaji, Rosenda, Naeem and Gajjubana, and another four guides from Tushita who know the Fort very well. The Fort is on top of a hill and most of the children went up on a jeep while twenty amongst the elder ones , some teachers and I climbed the hill on the back of elephants. The children were surprised and happy, as they never rode on the back of an elephant before. As for me, it has been a unique experience to climb on such a big and peaceful animal.
The entrance to the fort is a beautiful square circled by walls from where you can see the Amer village. We got divided into groups so we could discover different parts of the fort, which is very much like a maze. The guides explained to us the the architecture and the history behind this magnificent monument, while walking under heavy monsoon rain.
The day ended at the Foundation where we all had lunch together. From where I stand now I see my experience in a totally different way: the children, the teachers, the classrooms. This place has now become a second home for me, a home filled with love.
September 7th
This was my last day in Jaipur. That morning I woke up with stomach pain similar to the one I feel before the first day at school or before passing an exam. I knew I was about to leave the children and the teachers. I got emotionally attached to them in these past two months. I promised myself not to cry and not to show I was sad, especially in front of the children. I did not want make my departure a dramatic moment.
When I got to the Foundation everything seemed normal, they were waiting for the habitual lesson and, as they usually do, they were calling my name every second and grabbing my hand to show me some drawings. Only a few realised it would be my last couple of hours with them, so they were giving me memories for me to bring back to Paris: rings, bracelets or pens. Darlings, I do not think they realise how much happiness they have given me today and forever. Not knowing how to express myself, I cut a big heart out of a pink cardboard on which I wrote 'Children of the Tushita Foundation, you are always in my heart'. After showing it to the children I fixed it at the entrance wall of the house. I then told myself 'this way they will never forget how much they meant to me'.
Time flew that day. Finally when it was time for me to leave, the children were waiting for me outside. I said goodbye to the teachers and when I stepped out the entrance door the children came towards me with affection and sincerity. They hugged me one after the other. Some whispered to my ear: 'I love you', others were asking when I would come back.
The child that touched me the most was Shalesh. I had been very close to him for the past two months in India. He would always give me his beautiful drawings but he barely spoke. That day, when I was going away I saw him from far away behind a wall and he was staring at me intensively. His eyes were deep and sad as if he had woken up from a nice dream. It was a quiet but beautiful moment. Each time I think about it my heart beats fast and I feel tears in my eyes. I did not want to leave him.
Today I realise how much this experience made me grow up and how it made me find peace inside, and this thanks to the children of Tushita Foundation with whom I will always feel a special bond.
Thank you.