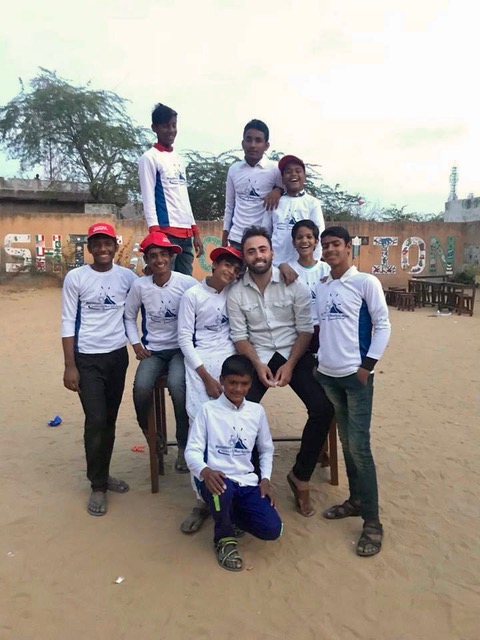 Dimitris Chaidas's Questionnaire
How do you feel about yourself and your work?
I am very happy about my decision to join the Foundation and its volunteering program. The whole experience was very enriching and revealing. My project aimed at the development of the communication skills of my students and their ability to argue with evidence. Together we covered topics, such as Democracy and the Olympic Games, and we learnt how to structure a text and its smaller units (i.e. paragraphs), so that we communicate in an organized manner. The improvement of the kids' overall communication skills makes me feel satisfied and proud of them. Last but not least, my grammar classes with the junior teachers is something that I will remember for a long time, since those sessions were very challenging and yet very rewarding at the end of my work.
How do you feel about the Foundation as an institution?
The Foundation is a place of creativity, fun and empowerment; a place where students, teachers and volunteers become members of a big family. As one of its members, I was able to see the contributions of the Foundation to the local community of Amber, the amazing spirit of its founders and their social responsibility. I believe the Foundation has many more to offer in the future and I am only looking forward to hearing its next initiatives for the support of the students.
How do you feel about the students and the teachers there?
Previously, I mentioned the word 'family'. I made strong bonds at the Foundation. Bonds that will stay. In class, I was a teacher for my students (be it the kids or the junior teachers). And as if this relationship was not strong already, the teachers and I became good friends. Together we shared many great moments that I will remember for a long time. As for my students, we used to play together every day after our classes. Playing Kabaddi together was our everyday ritual.
What has been the most challenging aspect of your experience?
My exposure, involvement and participation took place very smoothly. As a result, all the initial challenges that I met (e.g. familiarising myself with the background of each and every student of mine) were overcome relatively soon. I think that bridging the varied proficiency level of the kids was the biggest challenge for me. Trying to find the right balances, so that the less advanced students can catch up with the more advanced ones without the latter feeling bored or less interested.
What has been the most rewarding aspect of your experience?
The growth of my students, it goes without saying. This pertains to the teachers and the kids alike. And of course, the bonds that I developed with the people at the foundation.
What do you wish you would have done, but you couldn't?
Despite my constant effort to dedicate as much time as possible to all students of mine, I wish I would have had more time to give to them.
Do you think that this experience has in any way changed you?
Absolutely, yes!!!!
If yes, how?
Teaching at the Tushita Foundation reminded me of what it means to situate yourself within the bigger context of a local community. What it means to offer what you have gained (e.g. experiences, knowledge) to the people around you, especially the younger ones, through your services. During my time at the Foundation, I learnt to maintain an open ear, but above all an open heart. And I owe that to my students. They have also been my teachers.
What do you hope to have left behind?
I hope I managed to instill three qualities into my students: love for knowledge, willingness for constant improvement and empathy.
If you knew this would have been your experience, would you have done it anyway?
To be honest, I would have come earlier.