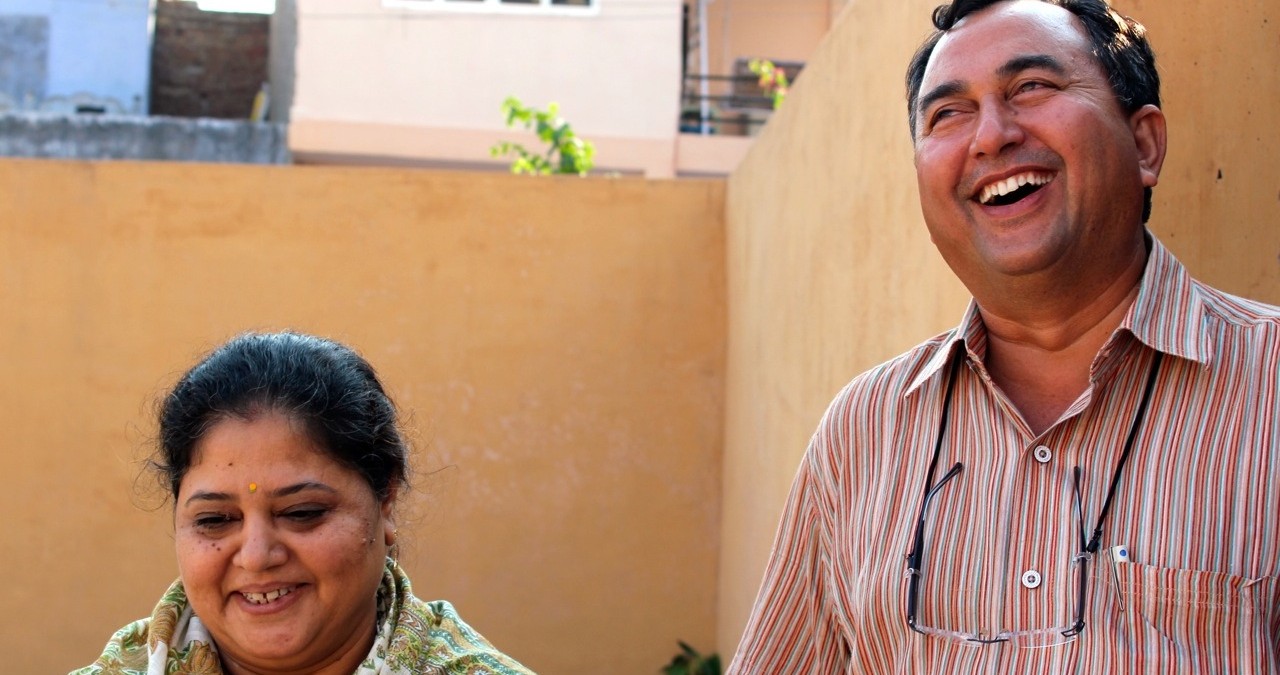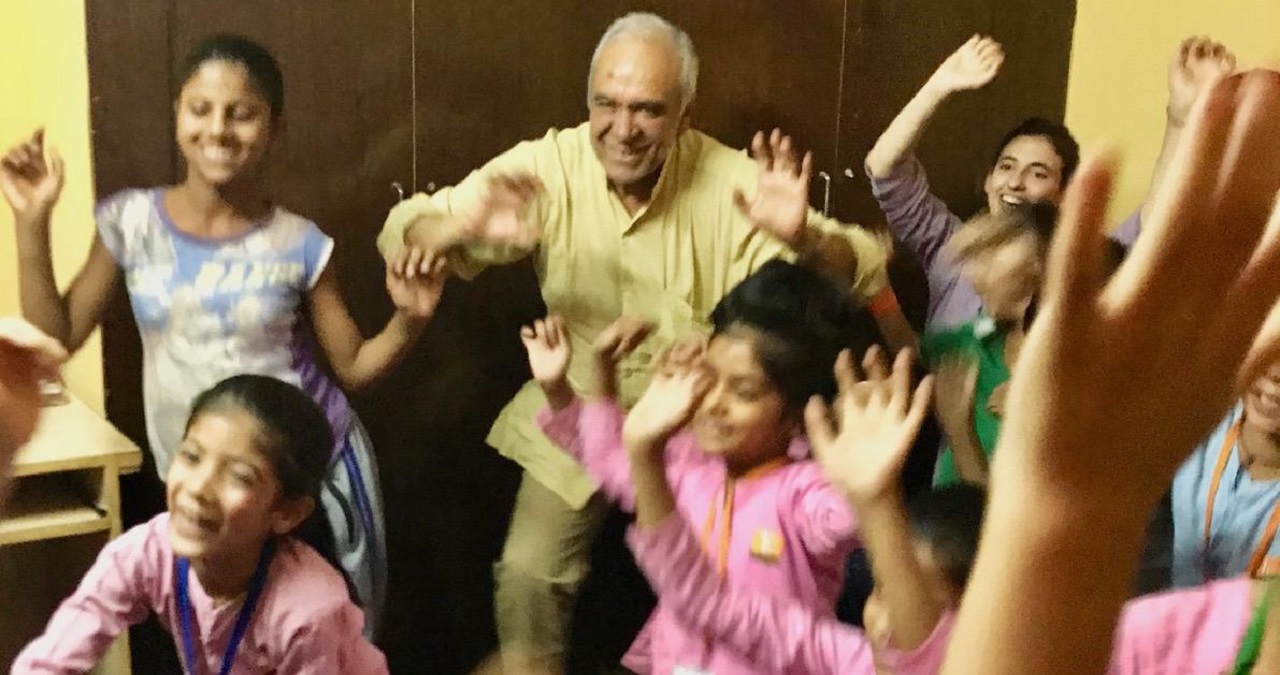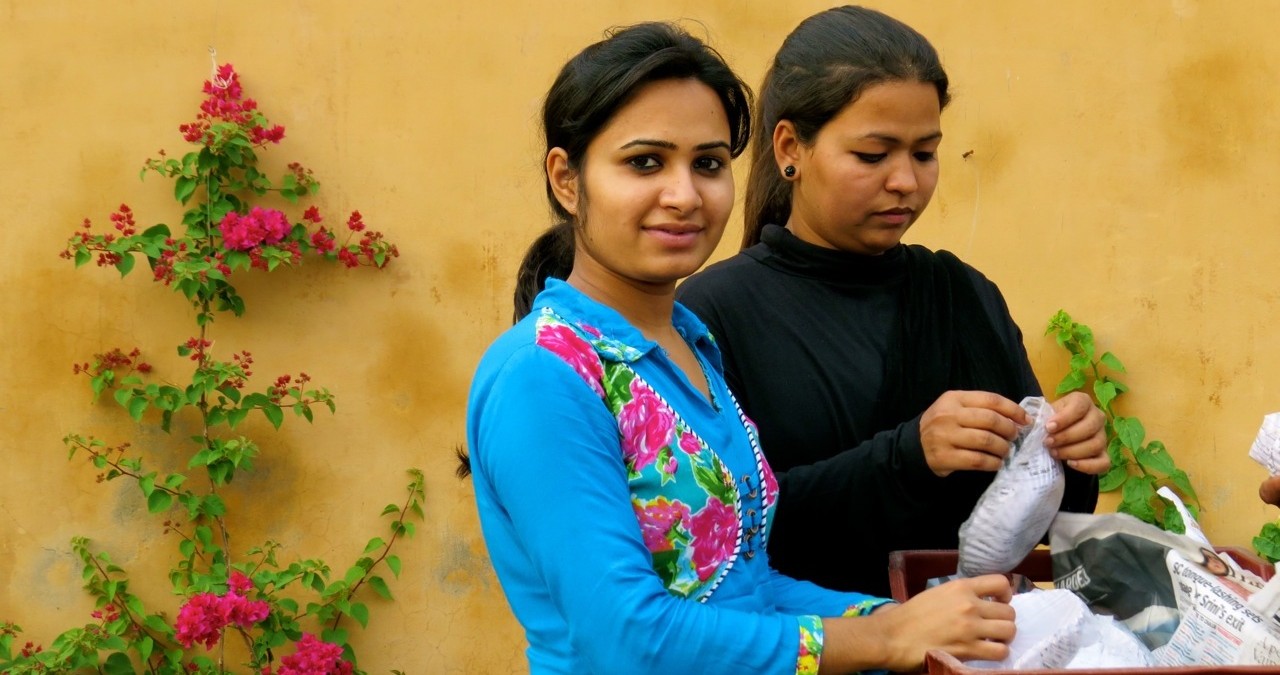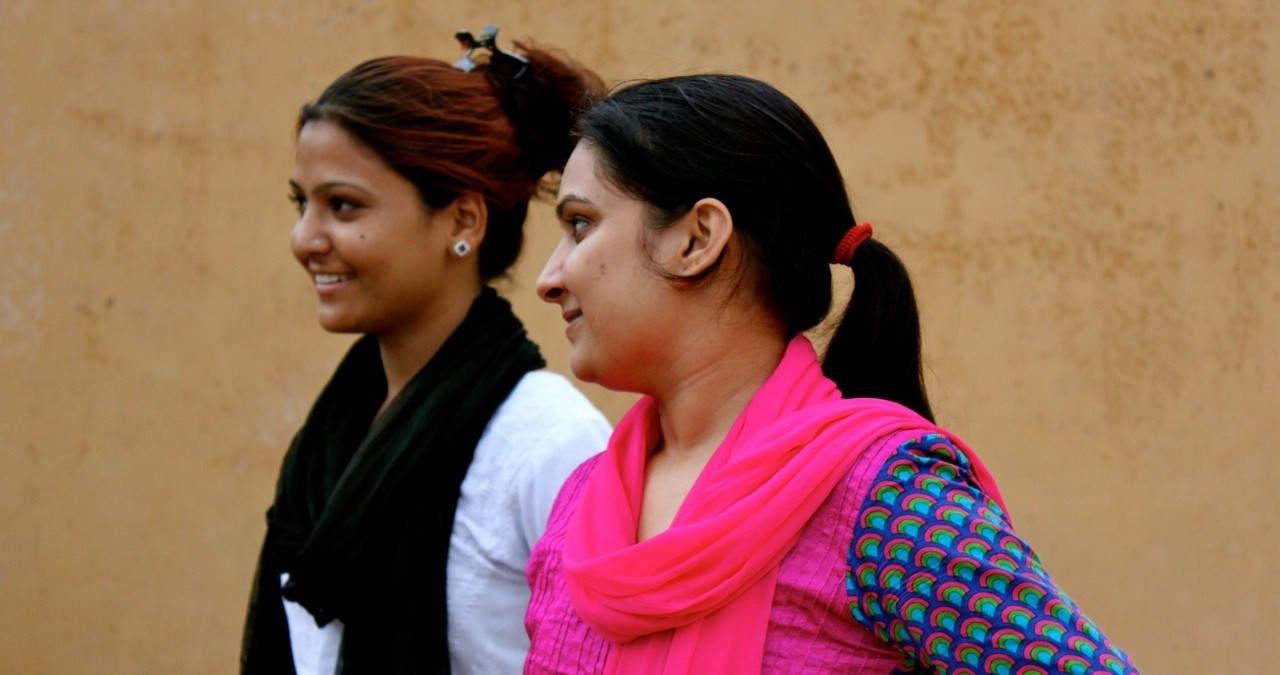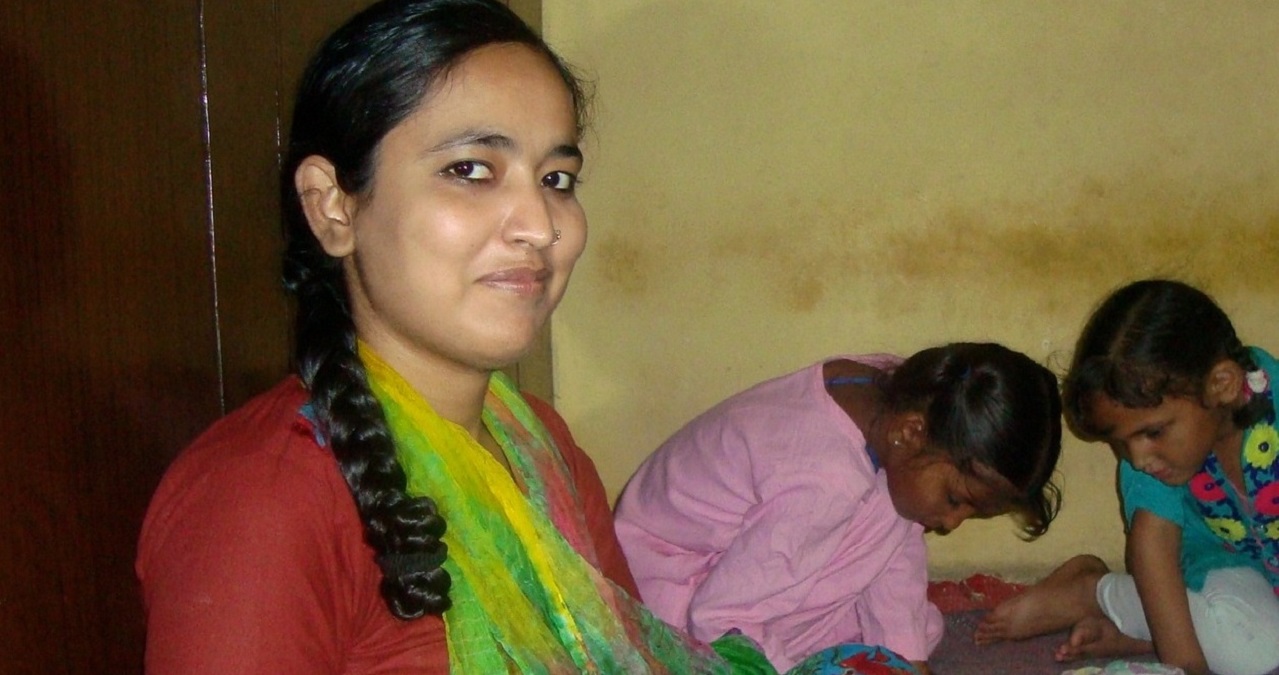 Geeta Pareek
Born in Alwar, Geetaji came to Amer after marriage. She is the mother of two children and has been teaching at the Tushita Foundation since its inception. Teaching is her passion and teaching at the Tushita foundation makes her feel free, content, and empowered. She loves reading Harry Potter and playing badminton in the Tushita Foundation playground wearing a sari.
---
Ruchika Tripathi (M.A)
Ruchika has a master's degree in Sanskrit as well as English. Teaching at the Tushita Foundation from 2010, makes her look back at the time when she first came here and did not want to be a teacher! Now she cannot picture herself enjoy anything else other than being around kids and teaching them.
Ruchika is one of the most loved teachers of the Foundation. With the best collection of the latest Bollywood songs, she makes all the celebrations at the foundation more enjoyable and fun!



---
Priya Sharma
Priya is a young woman from Amer who completed masters in history at Maharani University. For her, the Tushita Foundation is a safe place to practice and speak English. Her sister Priyanka who also taught at the Foundation before marriage, convinced her to take over her work even though Priya at the time felt intimidated by foreigners. She loves cooking South Indian food and delights the team with idlis and sambhar.
---
Ruksar Pathan (M.A.)
Having completed masters in Urdu at the Rajasthan University, Ruksar is the only educated person in her family. She advocates education, and has even started a collective in her neighborhood to encourage young women to pursue their studies. She always says that the Tushita Foundation was a lucky charm that allowed her to be respected in her family and community.
Ruksar loves to teach as much as the children love her as a teacher. Working at the Tushita Foundation since 2011 has helped her widen her horizon and she now aspires to become a tourist guide, a profession considered 'unfit for women' in her community.
---
Payal Sharma (M.Com)
Payal is a brilliant and confident young lady who loves to learn English, and for that reason she loves to teach it as well. She has been with us since 2012, teaching English Grammar and shouldering the responsibility of managing inventories at the Tushita Foundation.
In her free time, she paints portraits and sketches the world around her. She loves photography and is always ready to strike a pose. Teaching at the Tushita Foundation gives her joy; whenever she is sad, she needs only to walk through the door of the Foundation to forget her troubles and return back to her usual happy self.
---
Rahela Khan (Pursuing M.A.)
Rahela is also from Amber and has a bachelor's degree in History, Public Administration, and Sociology. Her calm and loving character makes her a perfect match for our youngest children.
Since 2014 at the Tushita Foundation, she has learnt effective Montessori techniques from the volunteers and passionately uses them to help students learn and grow. She hopes to continue teaching in the future, but wishes to open her own restaurant someday as well, and share her love of fine cuisine.
---
Saleha Khan (Pursuing B.A.)
Rahela's little sister who followed her sister's footsteps to the  Tushita foundation,  Shalu, as we lovingly call her, has the world's most innocent laughter and a day without her makes the Foundation look dull. She is a big time foodie and the best person to contact if you want to know anything about the local cuisine and delicacies.
---
Pooja Mishra (Pursuing M.A.)
Pooja got married at the age of 18. She is a rare combination of being a child at heart and a mother in reality. She has a beautiful six year old daughter, Dia who is also a student at the Tushita Foundation. Pooja's dream to see Dia as a well educated, independent woman brought her to us.
After joining the Foundation last year, Pooja decided to pursue her studies further. Her bright smile lightens up the whole room and her caring nature makes our young ones feel at home with her.
---
Jyoti Mishra (B.Sc.)
When Jyoti completed her graduation, she realized how important it was to learn English to get a job. For her the Tushita Foundation is a perfect place that helps girls like her to interact with volunteers from different parts of the World, learn English as well as earn at the same time.
Jyoti's house isn't ordinary; she lives in the magnificent Amber Fort! Her father serves the Fort temple as a priest.
---
Firdous Jannat (Pursuing B.A.)
Tushita Foundation's own encyclopedia, as all the other teachers call her! We are amazed at her vivid knowledge about almost everything under the sun. It has not been very long since she has joined the Foundation, yet she has impressed us with her beautiful henna arts and Guajarati folk dance moves!
Fun loving and self motivated Firdous fits perfectly in the Tushita Foundation culture!
---
Ankita Bhandari (MBA(HR)-MBL)
A graduate from LSR, Delhi University and a post graduate in Management and law, Ankita found her calling at the Tushita Foundation. As a coordinator, she manages to be a link between the volunteers and the local teachers and takes care of the overall administration. She feels that there isn't a greater joy in life than being part of an endeavour where children learn and grow.
---
Gadju Bana and Veenaji
Mr Gajendra Singh and his wife Mrs Veena Rathore, whom we lovingly call Gadju Bana and Veenaji, guide our team of teachers, eight girls from the village of Amer who keep learning and improving their English skills in order to pass their knowledge to the children. Through sheer dedication and hard work, this couple of passionate travel agents has created and animates the Tushita Foundation, a house of learning and empowerment not only for the children of Amer, but for all who come in contact with it.
---
Federico Di Puma
Federico spent three months as a volunteer at the Tushita Foundation in 2014 and, since then, couldn't stop going back again and again to Amer and to the Tushita family, so much that he has later become an integral part of the team. Over the months spent at the Foundation he has worked with volunteers, children and teachers and has coordinated the first health care camp as well as the creation and publishing of the "Everything is pink in my garden" book.
He is now based in Milano from where he manages the volunteers' recruitment process and the Tushita Foundation newsletter.
---
Isabelle Lambotte Caforio
Isabelle, a pharmacist from Belgium, visited the Tushita Foundation in 2013 and literally fell in love with it. Her enthusiasm convinced the founders to welcome her into the team and she has been since a powerful motor for development. Familiar with the health care environment, she was able to organise biannual Health Camps in collaboration with Save the Children, and when she realised the presence of regular gastro-intestinal diseases, she was able to provide access to clean water through the distribution of water filters in the community. Thanks to her fundraising activities in the US and in India, we were also able to hire a nurse, and this is only the beginning of a long list of other initiatives.
She lives in Princeton with her husband and their two children and works actively to develop and implement new programs to benefit the community of Amer. Thanks to her, the Tushita Foundation benefits from strong relationships with a few US based organisations working in India as well as with Princeton University from where we are very fortunate to recruit highly skilled volunteers. Her regular visits to Amer bring great hope and enthusiasm to the entire community.
---
Jan and Rosenda
Jan Meer is the founder of Tushita Travels who has worked relentlessly with his wife Rosenda to share his love for India with travellers from all over the world. Fired by an unshakable belief in the oneness of life and a burning desire to be a bridge between cultures, Jan and Rosenda have dreamed for long to create a home of learning and empowerment. Once they found in Gajju bana and Veenaji the generous allies who could make their dream come true, there was no looking back. Jan is in charge of the financial viability of the project and the logistics, while Rosenda coordinates the selection of the volunteers as well as their training.
---